The Lenovo Yoga 9i 2022 is a 2-in-1 ultrabook premium Windows laptop powered by the 12th Gen Intel Evo processors. Last year's Yoga 9i was a great machine in some aspects but not so great in others. The latest Lenovo Yoga 9i seeks to refine last year's model and introduce a couple of new additions. Starting off, the Lenovo Yoga 9i costs close to Rs 1.80 lakh for the top-end version, which I am currently reviewing. The starting price is a much more approachable Rs 1.35 lakh, and we will also discuss whether you can opt for that version. So is this the best 2-in-1 laptop on the market or not? Let's find out!
Lenovo Yoga 9i review: Specifications
Processor: Intel Core i7-1280P featuring 14-cores and 20-threads and a 28W TDP
Graphics: Intel Iris XE integrated GPU
RAM:16GB LPDDR5 (soldered)
Storage: 1TB M.2 2280 SSD
Display: 14-inch touch-based OLED screen with 3840 X 2400 (4K) resolution and 400 nits peak brightness
Battery: 77Wh
Weight: 1.4kg
Lenovo Yoga 9i: Build quality & design
The Yoga 9i 2022 variant looks less edgy compared to last year's model. The laptop's ends are now circular, and the laptop's lid sits perfectly proportional to the base, unlike the last year's slant design. The entire design language reminds me of the iPhone 11 Pro with its glossy edges and matte surface. Likewise, Lenovo's new design is not just for esthetic purposes; it also makes the laptop very sturdy. The deck area is very stiff, and almost no part of it suffers from even the slightest flex.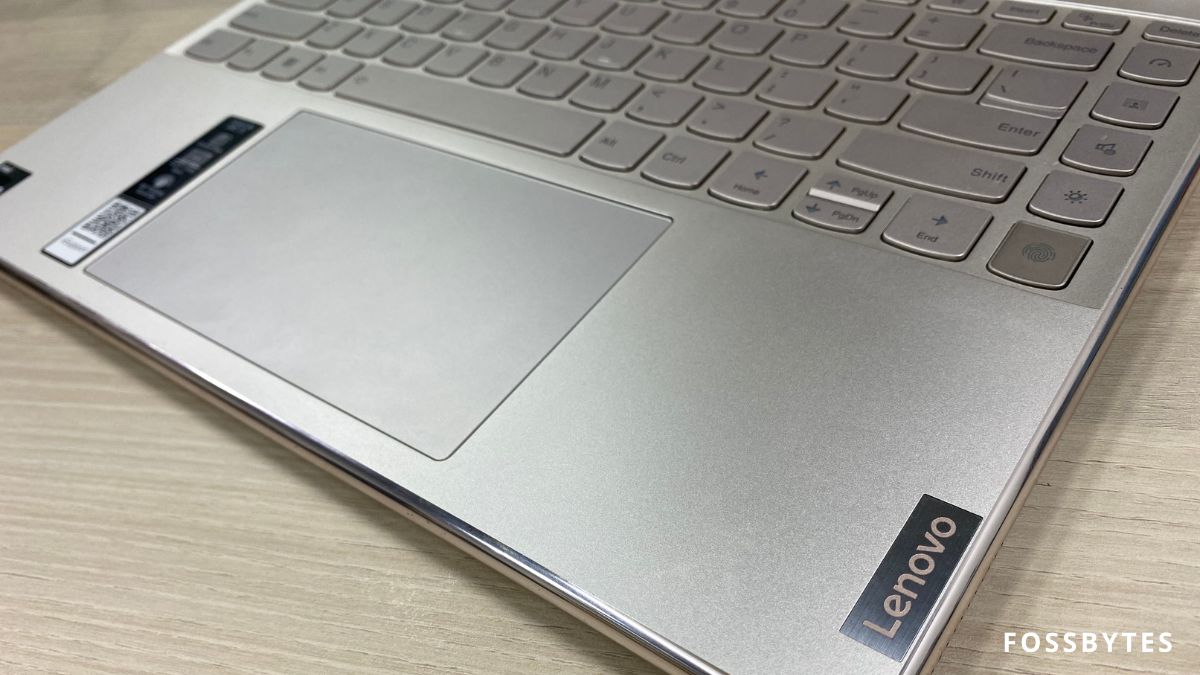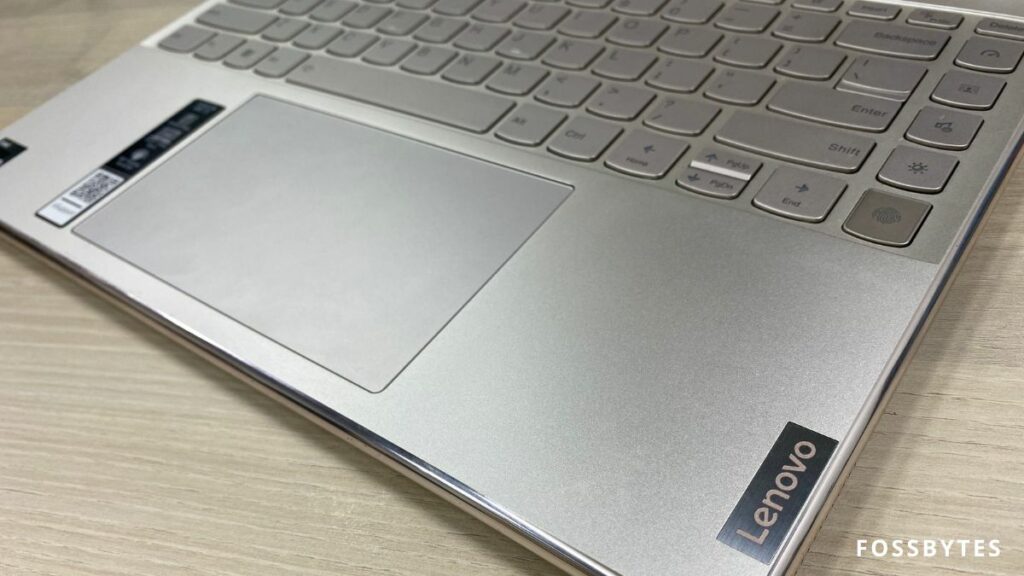 A really great design choice is the inclusion of a speaker grille on the hinge. Not only it makes the hinge thick, which prevents the screen from shaking if you decide to use the laptop on your lap, but it also increases your immersion when consuming music or video, as it houses tweeters. I like how its shade matches that of the glossy circular edges as well. The top of the lid is very minimalistic and has the "Lenovo" and the "YOGA" branding on it.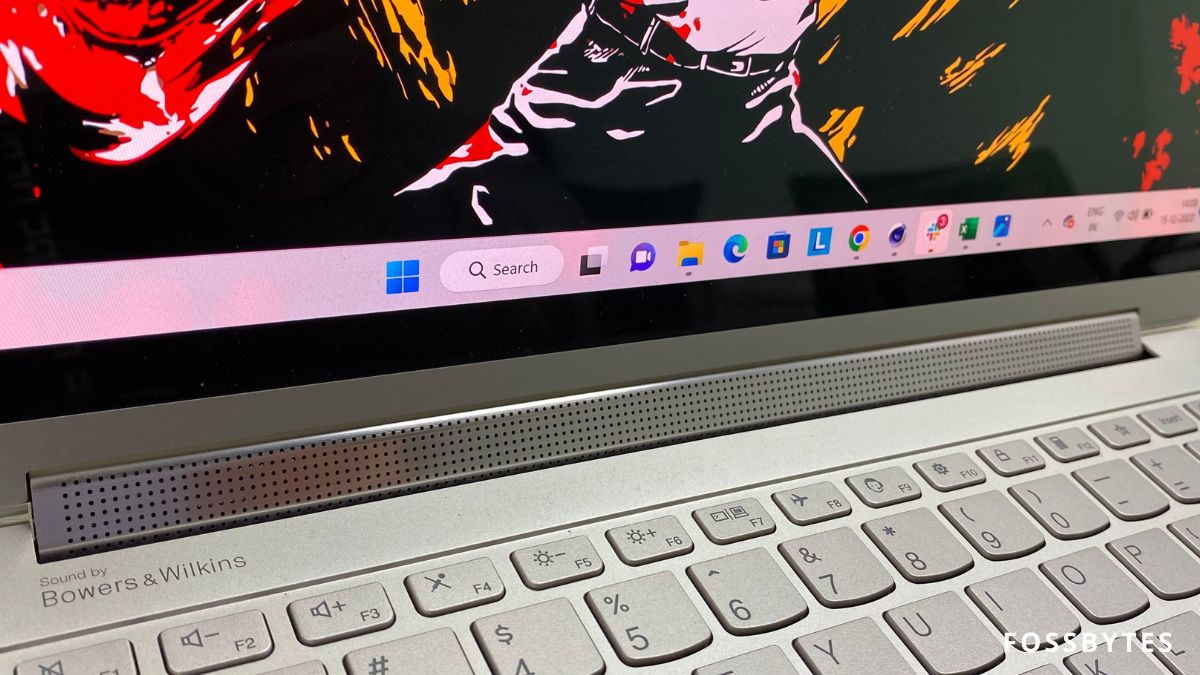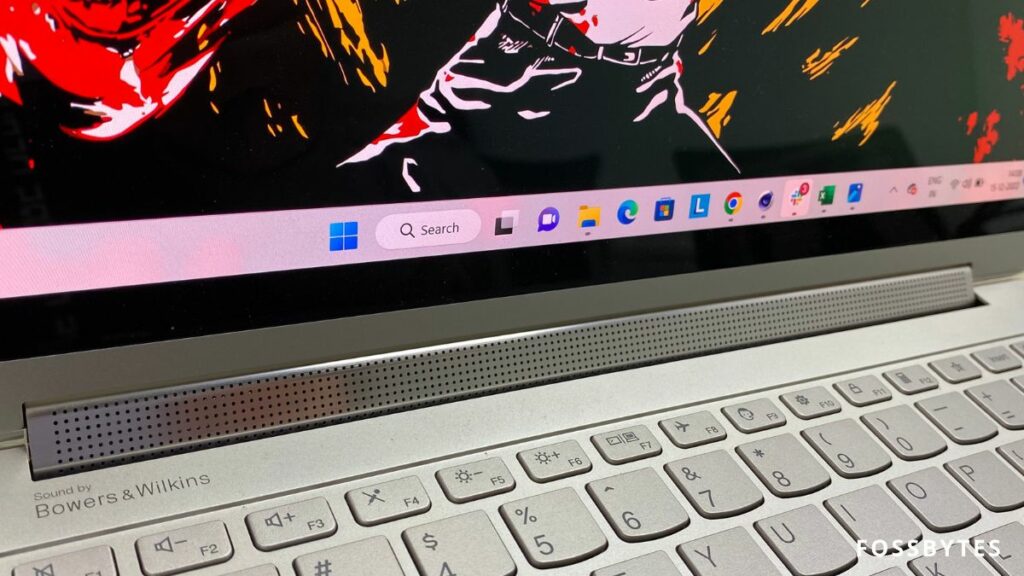 The laptop doesn't lay absolutely flat on the desk, as it has several rubberized grips underneath it. But they are not very protruding. The other two laptop speakers are also placed downwards. In terms of I/O, the Yoga 9i gets a USB Type-A, two USB Type-C Thunderbolt ports, a normal Type-C port, and a 3.5mm jack. For a thin and light laptop, these ports seem just enough. An SD card reader is missing here, but that's just me.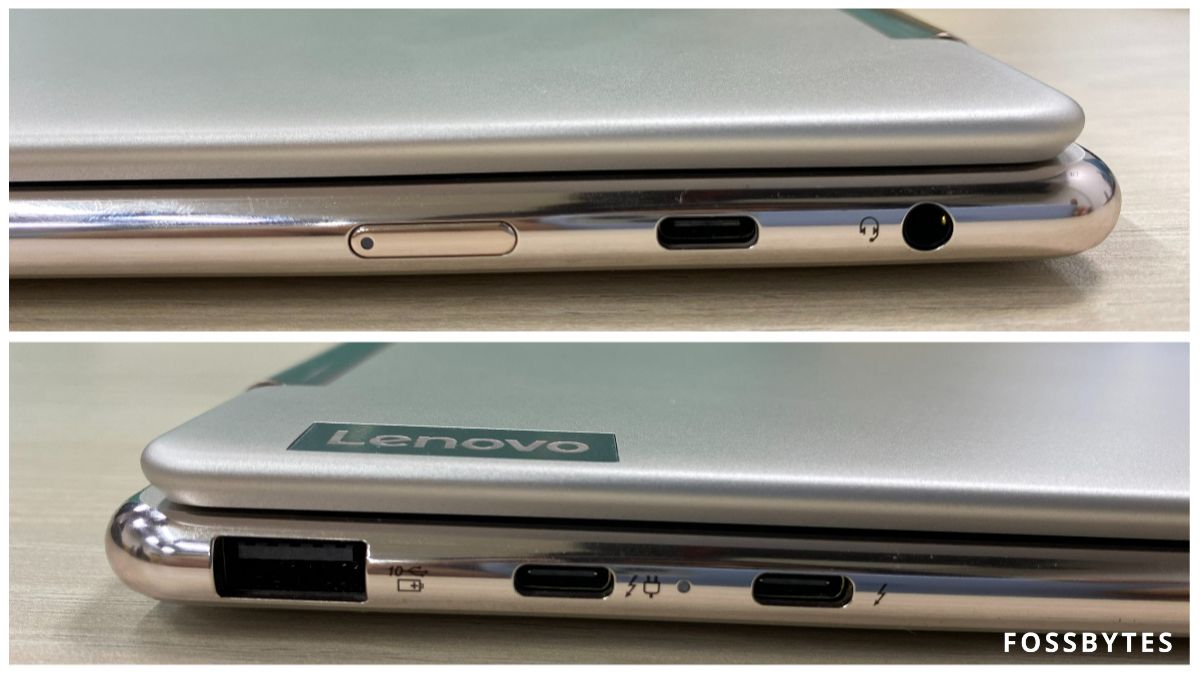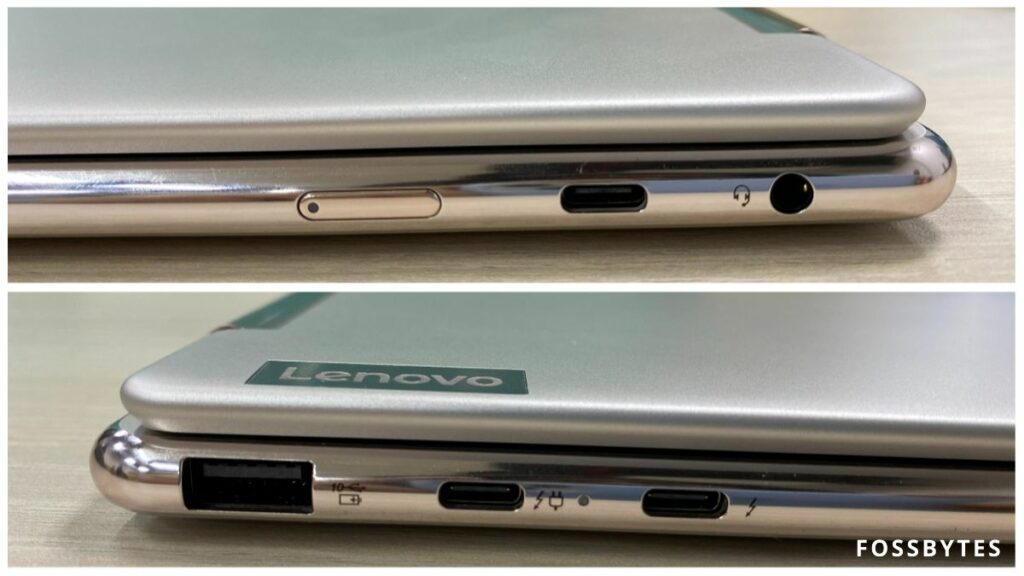 Lenovo Yoga 9i: Keyboard & Trackpad Review
The keyboard on the Yoga 9i feels just like the last year's model, and it is a great thing. The laptop's stiff chassis prevents every press from feeling wobbly, and the essential travel is good enough. The keyboard is a 60% one and does not include the Numpad. But it does include multiple function keys and a fingerprint scanner.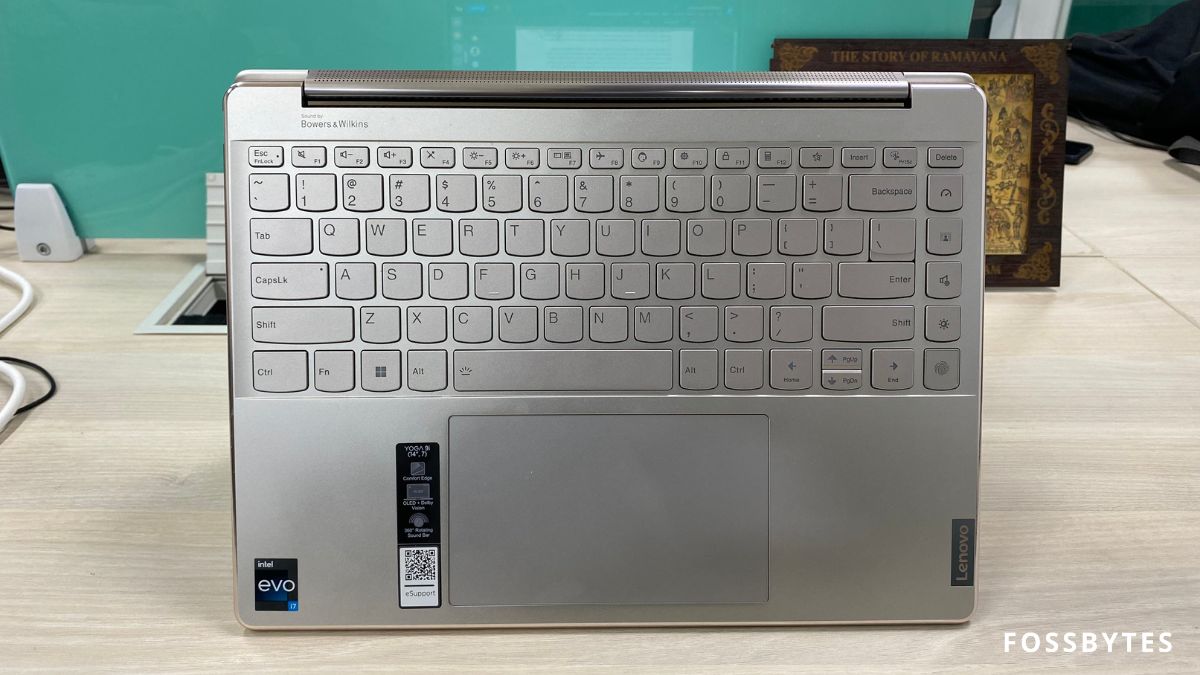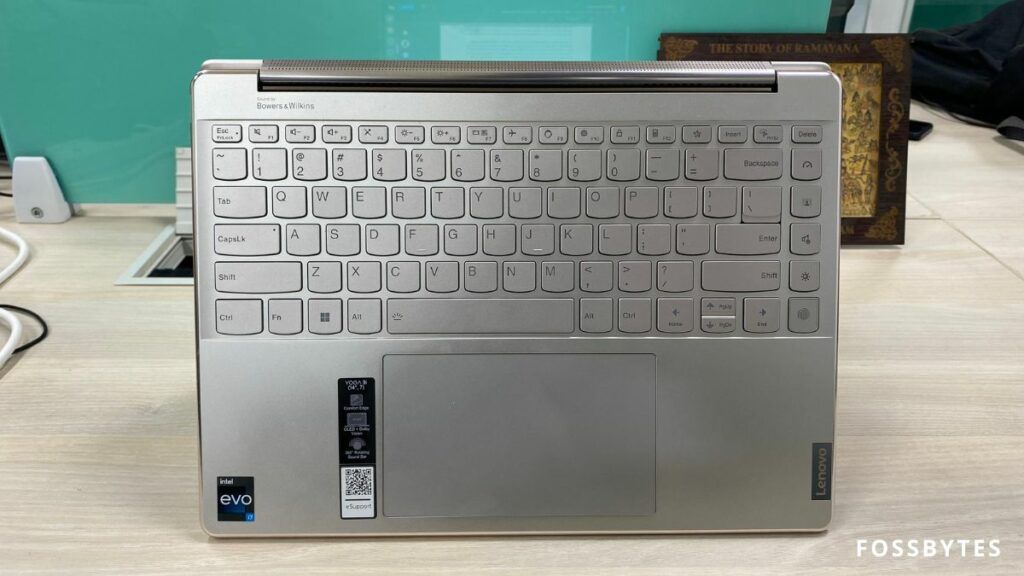 Moving on to the trackpad is more significant than last year's model. It feels very smooth and responsive. The laptop's screen is only a 60Hz panel, but the trackpad processes your every input very fast. Also, the trackpad is proportionately installed on the left and right sides. This means that its left and right clicks feel identical. It further indicates the overall quality construction of the Yoga 9i.
Lenovo Yoga 9i: Screen & Speakers
The screen on the Yoga 9i is a 14-inch OLED display with a maximum resolution support of 3840 X 2200. Furthermore, the display also has 100% DCI-P3 coverage and a DisplayHDR 500 certification too. The screen comes with touch functionality, and combined with a 360-degree hinge; it can be used like a tablet as well. Windows 11 is not an OS optimized for touch-based inputs, but having the option to do so is always appreciated.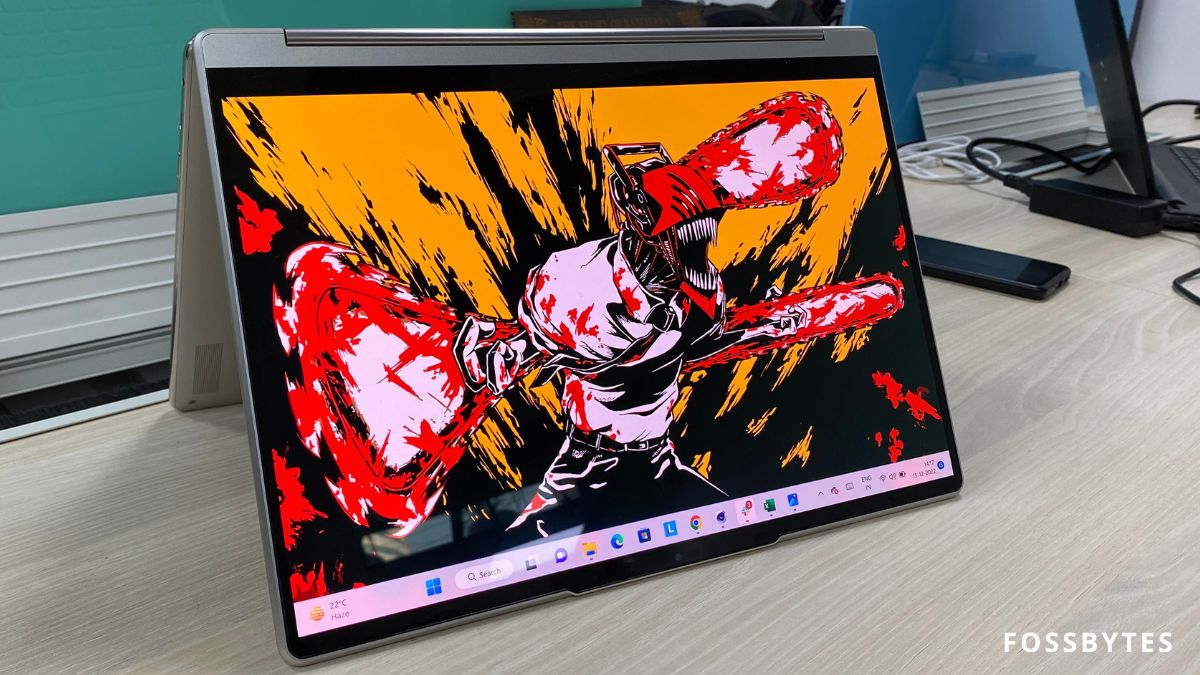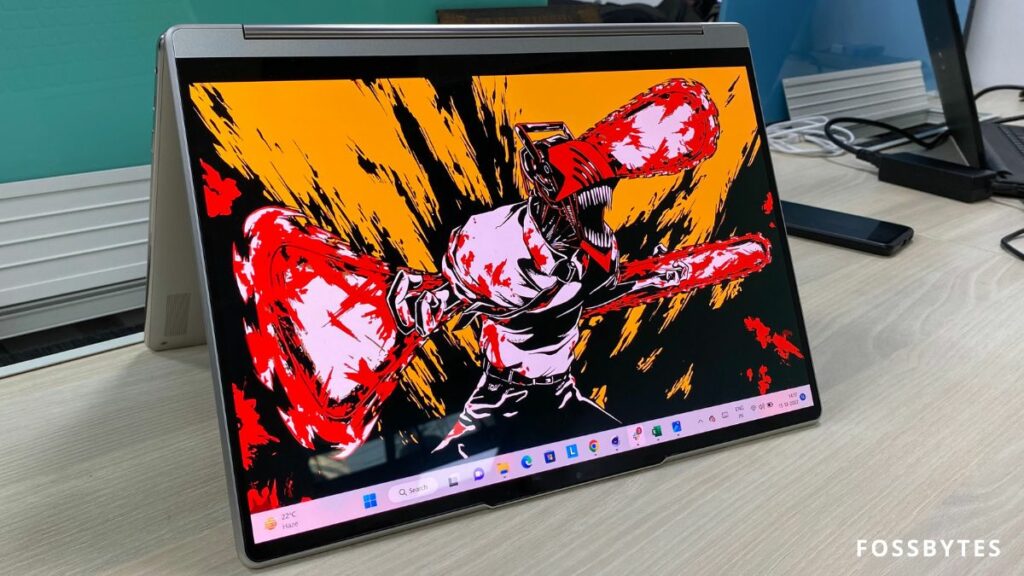 The OLED display is very bright and even has good viewing angles. In many laptops, the colors begin to dissolve if you try to look from the screen's edge; thankfully, here, that's not the case. The panel is a bit glossy, meaning you will see some reflections on it. The bright screen prevents a ton of reflection but not all. However, if you're running the light theme with 100% brightness, this won't be an issue. Although, I prefer having a glossy display because it looks more alive. Making it one of the best 2-in-1 laptops for watching movies or consuming content.
Next up, speakers! And these are probably the best-sounding speakers on a Windows laptop. They're not yet as good as the MacBook Pro speakers in terms of clarity but are equally loud though. The speakers also have three different modes – Music, Video, and Game. The Music preset focuses more on the clarity, bass, and treble. The video preset increases the volume quite a bit and adds some surround sound to give a proper movie-watching experience, and the game preset is kind of like the music preset but with less base.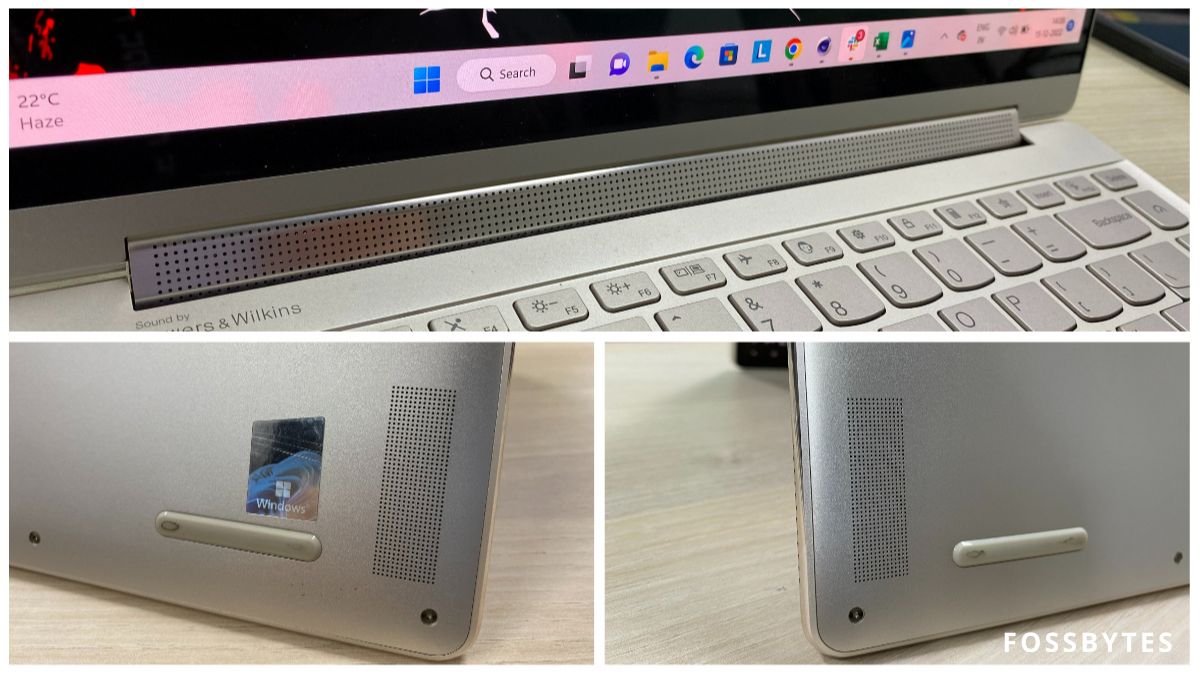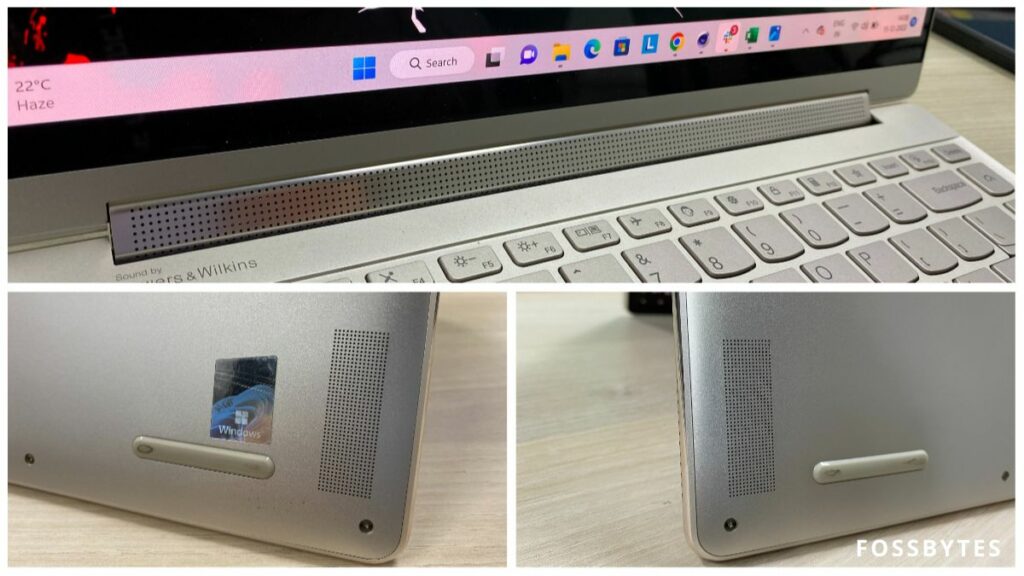 Lenovo Yoga 9i: Performance Review
Performance is an important factor in making the best 2-in-1 laptop. The Yoga 9i uses the Intel 1260P based on the EVO platform. The processor uses Intel's X86 Hybrid architecture and has 4 Performance cores and 8 efficiency cores. Primarily, the chip is geared towards high efficiency, and we notice the same when it's in action. Its max temperature does not reach higher than 75 degrees Celcius, which shows that Lenovo has done a ton of optimization on this chip. In performance mode, the CPU draws a maximum of 28W and consistently draws between 27W to 28W during the stress tests.
For a thin and light laptop, these numbers are very impressive. I also find that under normal mode, I can shut down the laptop's flap, put it in my bag and its battery would last for days. Under the performance mode, the results varied though. Lenovo has done a fantastic job at optimizing this chip and some kinks that remain seem to be Windows OS-related issues.
Moving on to the benchmarks, the Yoga 9i scored close to 12697 and 1770 in the multi-core and single-core tests in Cinebench R23. The multi-core score here is pretty impressive, as it's only a couple of thousands of points behind some of the powerful H series chips. Since last year though, the Intel Core i7 EVO platform has matured a lot. The Intel Core i7-1165G7 had an average multicore score of around 4500-5000 in most scenarios, but the Core i7-1260P more than doubles the last year's performance. In short, the 1260P offers good performance and efficiency as well.
Battery life
Running a video locally on the Lenovo Legion 9i Yoga gives you around 13 hours of battery life with 70-80% screen brightness, which is fairly good for a 77Wh battery. During a normal workday, in performance mode, expect the laptop to last you a full day with 100% screen brightness. And I think that's what matters to most folks.
Because once a laptop can last a whole workday, it is enough. You can take the machine home, charge it and be ready for the next day. Or you can charge it the next day at the office. In under an hour, you'll have more than a day's worth of juice, which is pretty amazing.
Lenovo Yoga 9i Review: Best 2-in-1 laptop?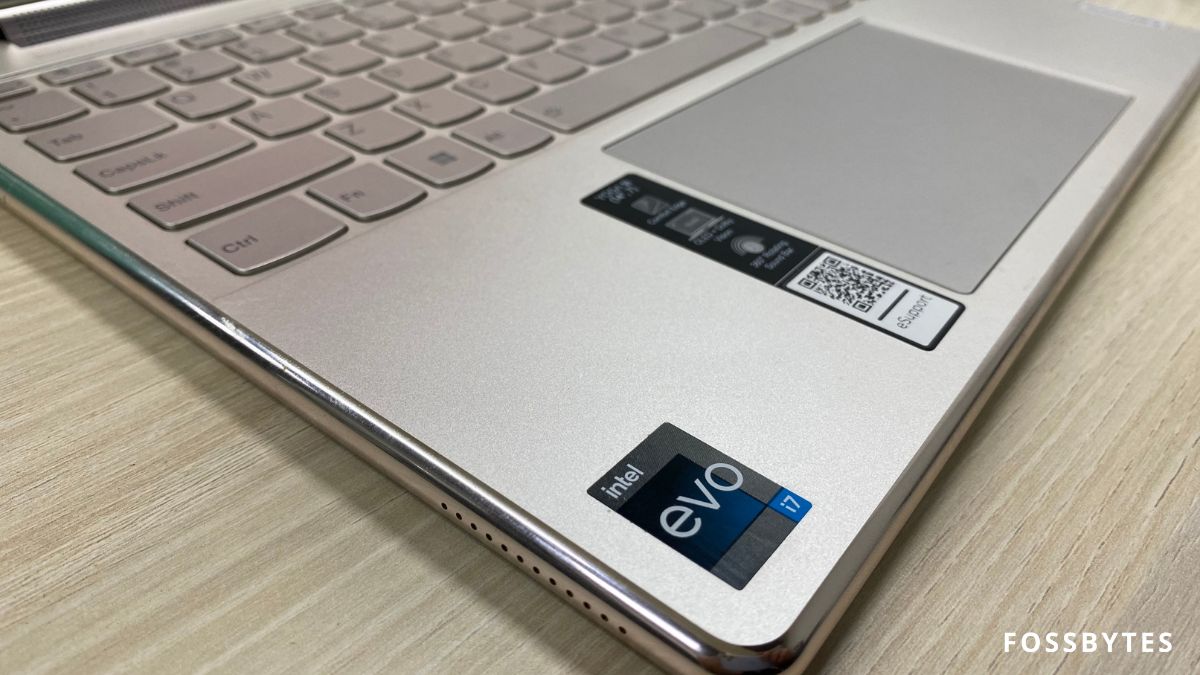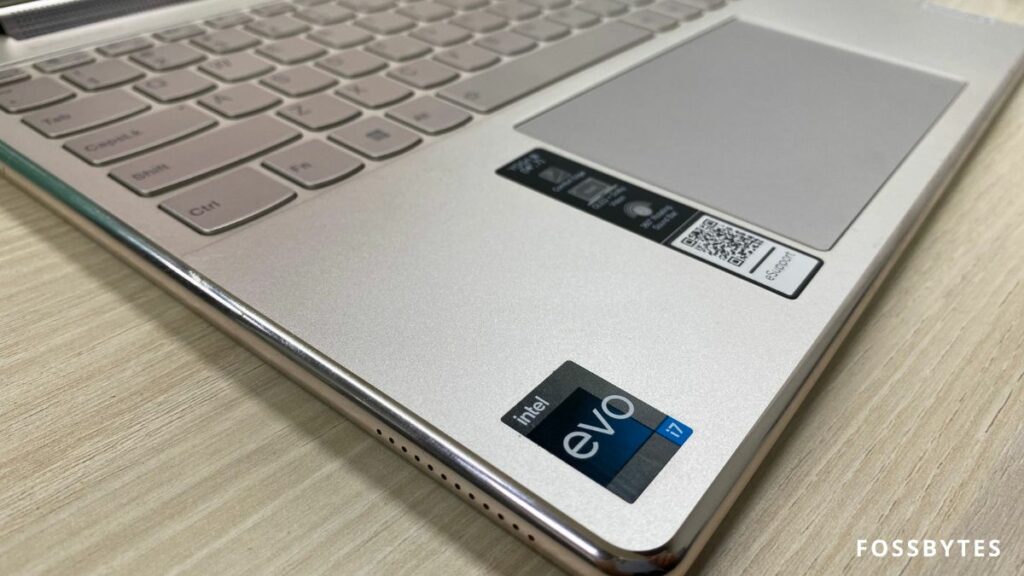 Lenovo Yoga 9i Review
Verdict
The Lenovo Yoga 9i is probably the best 2-in-1 laptop with Windows OS that you can buy in 2022. Its gorgeous OLED display, superb build quality, powerful processor, and great battery life makes it an amazingly built product. The simple fact that you can simply close the lid of this laptop, put it in your bag, and take it out two days later with only a 3% battery drain is a testament to how well Lenovo has optimized this machine.
In terms of variant, you can go for the cheaper model that comes with an Intel Core i5-1240P, provided you do not intend to use the laptop for heavy multi-core tasks like photo editing. There's a Rs 40,000 difference between the Core i5 and the Core i7 version. So if you can manage with relatively low performance, I'd suggest you go for it. Furthermore, in a 14-inch form factor, you can also easily opt for a 1440p display instead of a 4k panel without noticing a major difference.