Law is one of those professions where humans can boast of their knowledge and skill set. You might understand it very well if your friend circle includes a lawyer. But, there are chances that, in future, some artificially intelligent system would make your friend bite the dust–just like it did recently.
Legal automation firm LawGeex conducted an experiment to know the potential of their home-baked AI that automates contract reviews. The firm called 20 of the top lawyers based in the US. Some of them come from renowned firms like Goldman Sachs, Cisco, Alston & Bird, and K&L Gates. The task was to review five Non-Disclosure Agreements or NDAs which are the most commonly used type of business agreements.
LawGeex says these NDAs never went through the eyes of their AI. The lawyers were given a total time limit of four hours to read all of the contracts. While lawyers were pretty quick reviewing the documents, they took an average time of only 92 minutes. But that was quite long when compared to that of the AI–just 26 secs to review five NDAs. The closest the human lawyers made was 51 minutes.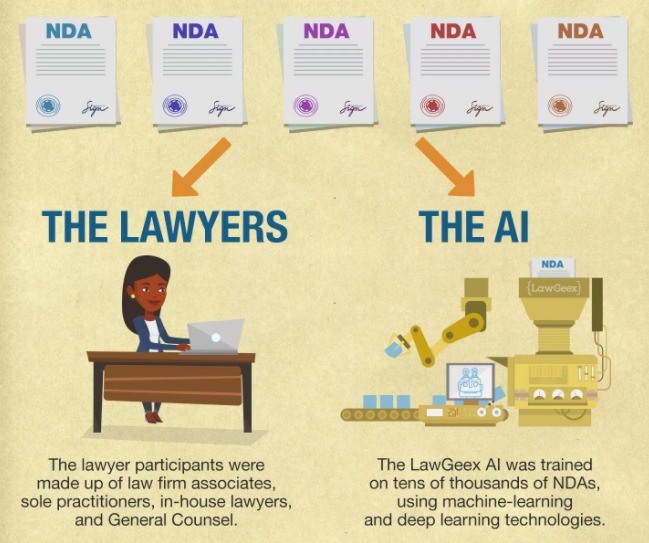 The next thing is the accuracy. The lawyers can be given relaxation when talking about speed, but the AI also performed better in this case. With 94% accuracy, it managed to beat the lawyers for whom the average accuracy was 85%. However, some legal minds did give a tough fight to the AI. The most efficient lawyer was at 94% accuracy, and the one who performed worst was at 67%.
LawGeex's deep learning AI was trained using tens of thousands of NDAs to reach that speed and precision. It goes without saying that an AI system can easily defeat humans in speed. Becuase, that's what they are designed for, aren't they?
Now, a thought might occur that this is another example of AI replacing humans, but in one aspect, it won't. According University of South Carolina's Law Professor Gillion K. Hadfield, the artificial intelligence technology can help in 'making contract management faster and more reliable." At the same time, it could free up resources so "legal departments can focus on building the quality of their human legal teams."
Also, the AI beating human lawyers thing shouldn't be generalized because the study explicitly focused on reviewing NDAs.