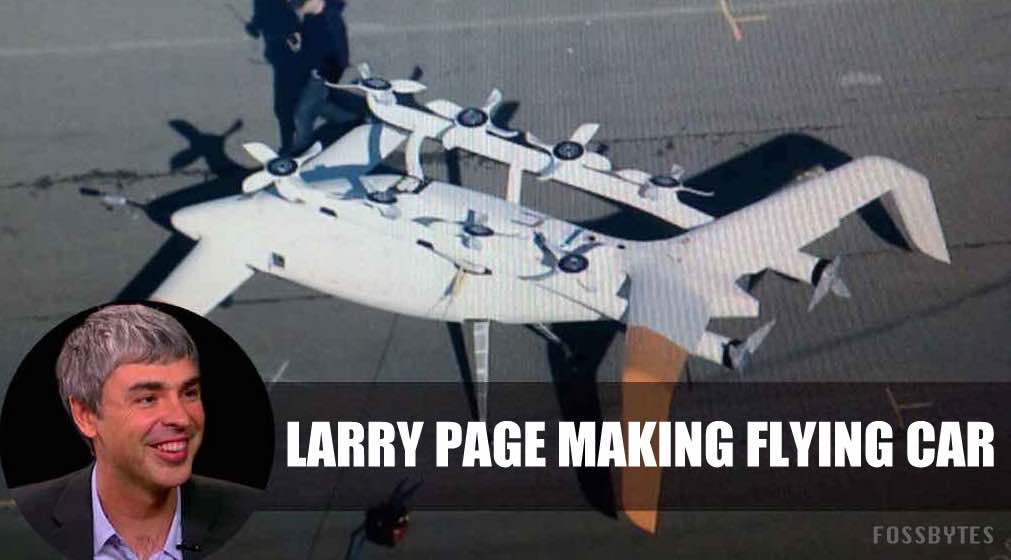 Short Bytes: Google co-founder Larry Page is known for his forward thinking and restless nature. These days, he is secretly involved in his endeavour to build flying cars by pitting two personally funded startups, Zee.Aero and Kitty Hawk, against each other. 
A
mysterious startup called Zero.Aero started becoming a subject of gossip in the Silicon Valley about three years ago. The fact that its office was located right next to Google's Mountain View headquarters made things more suspicious as Google is known to control most of the land in that area.
In a new report, Bloomberg has outlined Google co-founder Larry Page's connection to Zee.Aero and another startup named Kitty Hawk. Interestingly, he has funded more than $100 million in these firms in the past 2-3 years.
If you are wondering what does Page aim to do with this investment, get ready to be surprised. According to the report, these startups are devoted to creating flying cars.
Notably, these startups are personal investments of Larry Page and they are in no way related to Google. Interestingly, Larry Page even had an office in these firms where he was referred to as GUS — the guy upstairs.
Both startups, Kitty Hawk and Zee.Aero, are working on very different designs, with an aim to create a flying car. More precisely, Page is pitting them against each other.
At the moment, Zee.Aero is home to about 150 employees. Over the course its six years, the company has employed some of the brightest aerospace engineers and designers, along with other experts like software and motor experts.
The people who have seen Zee.Aero prototypes call it a vehicle with a small cockpit and propellers in the back. The company is said to be working on 2 prototypes — one with six propellers on the main body and other that looks just a normal plane.
On the other hand, Kitty Hawk, comprises of various veterans from Zee.Aero. It's being said that their project design looks like a giant quadcopter drone.
So, what do you think about Larry Page's personal moonshot initiative to build a flying car? Share your views in the comments section below.
Did you find this article helpful? Don't forget to drop your feedback in the comments section below.
Also Read: Best Flying Cars of The Future, Pick Your Ride