Short Bytes: Gaming hardware maker Razer has unveiled its amazing Project Valerie. It's a concept laptop that has three 4K displays. The two secondary displays slide out from both the sides of the primary display. Aimed at providing an immersive gaming, Project Valerie also seems like a perfect fit for artists, graphic designer, developers, etc. While there's no release date deadline and price tag, Razer says that it's committed to make it a reality.
C
ES is home to
many crazy gadgets
. In the past couple of days, we've already seen LG's super thin
Wallpaper TV
, world's
thinnest Windows 10 laptop
, world's
largest capacity USB drive
, and whatnot. Now, Razer, the billion dollar gaming hardware startup, has decided to make things more interesting.
Razer has announced Project Valerie — a concept laptop that has three 17-inch 4K screens for gaming. The whole body of the machine is just 1.5-inches thick and weighs 12 pounds. Taking a look at its internals, you're bound to think of Razer Blade Pro. Without a doubt, it's one of the most insane laptop concepts I've ever seen.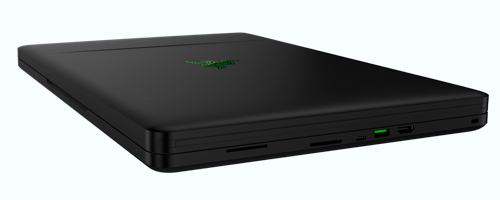 After you open the laptop, you can slide the two screens out from both sides of the main display. These 4K displays are managed by Nvidia's G-Sync monitor technology to make sure that the images are perfectly synced.

Project Valerie's monitors also support full Adobe RGB color space and Nvidia Surround gaming with an 180-degree field of view.
According to Razer — It's "the greatest amount of screen real estate ever assembled in a single computer."
Apart from gamers, this device is also intended for engineers, artists, developers, or any other person who uses a powerful multi-monitor setup.
At the moment, Razer doesn't have any deadline or price tag for the final release. It doesn't even have a name for the final product. But, the company says that it's committed to make it a real product and blow us away.
Did you find Razer's Project Valerie interesting? Don't forget to share your views and feedback.
Also Read: Transform Your Ordinary Laptop Into A Touchscreen Device