Short Bytes: The operators of popular torrent index KickassTorrents have announced the launch of website's .onion URL. Now, apart from the main service, KAT can also be accessed on the dark web via this address: lsuzvpko6w6hzpnn.onion
T
orrent sharing websites often struggle to survive against the ISP barricades and court orders. To counterattack such moves, KickassTorrents, the
most popular torrent index
of the world, has decided to go dark.
The operators of the website have now added a dark web address and finally set up a .onion TOR URL. This means, as a backup for the main service, now the website is also mirrored on the dark web.
This news has come in the wake of the return of the Pirate Bay to its original .ORG domain name after facing the fury of ISPs and court orders. The website can also be accessed via its .onion URL i.e. uj3wazyk5u4hnvtk.onion
It looks like KickassTorrents has taken inspiration from the same and is now accessible via the backup .onion URL i.e. lsuzvpko6w6hzpnn.onion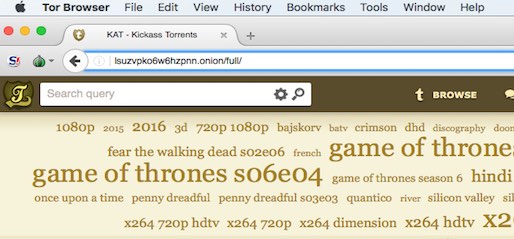 If you've accessed any website with .onion domain name, you might be knowing that Onion links can only be accessed via the TOR web browser. ISP can't implement blockages easily on this encrypted anonymity network.
To this news, the response of users has been mostly positive. People have welcomed KAT to the dark web and called it a fantastic news.
Besides the dark web news, KickassTorrents has also recently announced the launch of two-factor authentication, becoming the first torrent website to integrate this service.
Did you find this article helpful? Don't forget to drop your feedback in the comments section below.