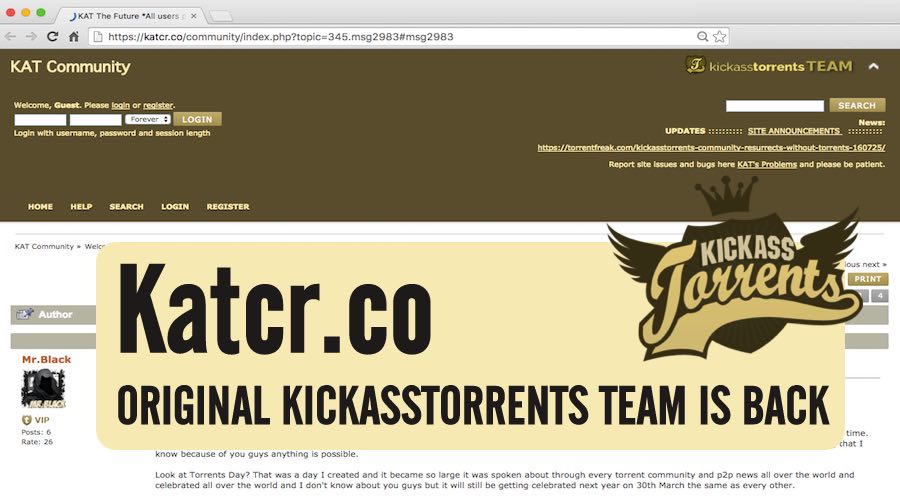 Short Bytes: Some KickassTorrents employees have grouped to form a KickassTorrents community website that has become a home to the loyal users. Named Katcr.co, this website doesn't offer any torrent links. Many original staffers and team members are present on the website that are acting as moderators and admins of the forum.
L
ast week brought a major havoc in the piracy world. KickassTorrents founder 
Artem Vaulin was arrested
by the American authorities. The primary domains of the world's largest
file sharing website
were also seized, thanks to
Facebook and Google
.
This was followed by the surfacing of multiple KickassTorrents alternatives, including KAT.am, KickassTorrents.website, and Dxtorrent. This proved that the kings of the piracy world are ready to fight an endless battle with the law enforcement authorities.
In the latest development, TF has reported that the KAT 'family' isn't dead. Yes, some original KAT moderators and site admins have formed a new community, providing a common roof to many fans of the website. However, the new website doesn't offer any torrent downloads.
Katcr.co is formed by original KAT moderators and admins!
Thanks to the millions of active users of the website, KAT was a home to many loyal fans. While a number of clones have appeared on the horizon, the original website is nowhere to be seen. In such times, the community members have launched a new website Katcr.co, which hosts a forum with multiple KickassTorrents staff members.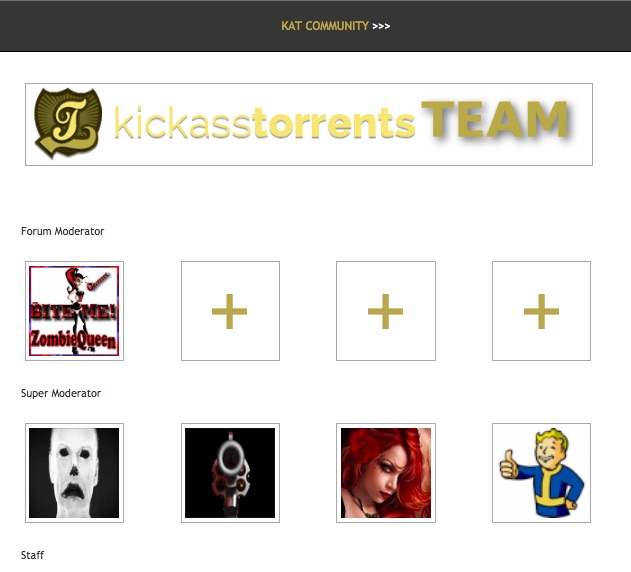 Talking to TF, on the behalf of the KAT-team that is sticking around, Mr.Black says:
"We need to remember that Kickass Torrents is not simply about uploading, the heart and soul of KAT is our members, which are family and family is important as we all know. Nothing can ever take that away and no matter what happens we will not let our community down. We guarantee that KAT will continue in one form or another and we will come back stronger than ever."
Over the past few days, this forum has already collected thousands of visitors. It should be noted that these staffers are the people who maintain the website, without any access to the site code.
The website staffers reiterate their support for the alleged website owners. "Should the business owners choose to revive KAT then they will have our full support," Mr.Black says.
He also warns the torrent users to be cautious of the KickassTorrents clones and avoid login to fake websites online.
Mr.Black writes on the newly created community:
Our future is unclear, but to be honest…. With your support and what I have seen over the years one thing I do know. No mirror site or fake site holds the key to what I'm going to say, Kickasstorrents isnt and never will be dead….. Why? "Because it lives inside every single one of you"
Did you find this story interesting? Don't forget to drop your feedback in the comments section below.
Also Read: Best KickassTorrents Alternatives — Top 10 Torrent Websites Of 2016