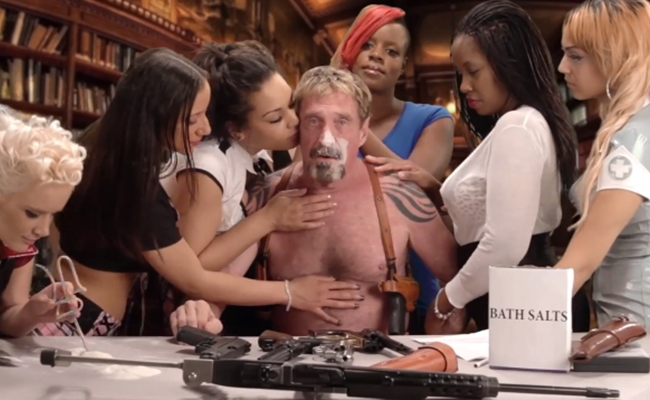 Short Bytes: In his latest interview, cybersecurity pioneer and the U.S. presidential hopeful John McAfee has said that he lied to media about how he would crack open the San Bernardino shooting iPhone. He justifies his action by calling it necessary to gain some attention and reaching out to the public.
I
n an op-ed published in Business Insider a few weeks ago, eccentric millionaire and antivirus pioneer John McAfee claimed that he is an extraordinary hacker, offering his services to the FBI. He claimed that he and his team of week-loving programmers would
hack the iPhone of San Bernardino shooter
in three weeks.
He called it a pure and simple fact. "I would eat my shoe on the Neil Cavuto show if we could not break the encryption on the San Bernardino phone," he said.
However, this cybersecurity pioneer has now backed away from his claim and said that he did this to draw public and media attention to this case. In a recent telephonic interview with the Daily Dot, he said that he wanted to "get a shitload of public attention."
FBI has asked for Apple's help to write a custom software (BACKDOOR!) that would let the FBI to crack the iPhone without triggering the self-destruct security feature. FBI has reiterated that it has asked for help from the entire U.S. government but it failed to find a solution without Apple's help.
"That video, on my YouTube account, it has 700,000 views. My point is to bring to the American public the problem that the FBI is trying to [fool] the American public. How am I going to do that, by just going off and saying it? No one is going to listen to that crap," he said.

However, he still claims that he's having some secret method that can crack iPhones, but the previously told technique of social engineering is a lie.
"Now, what I did not lie about was my ability to crack the iPhone. I can do it. It's a piece of friggin' cake. You could probably do it," he said.
The real method that he told the Daily Dot involves decapping the iPhone processor to identify its UID and use it to brute force guess the phone's passcode. In the previous interviews, he has shared a technique similar to this, but experts find it risky as one wrong step could result in the data being erased forever.
Become a part of this discussion by sharing your views in the comments section.