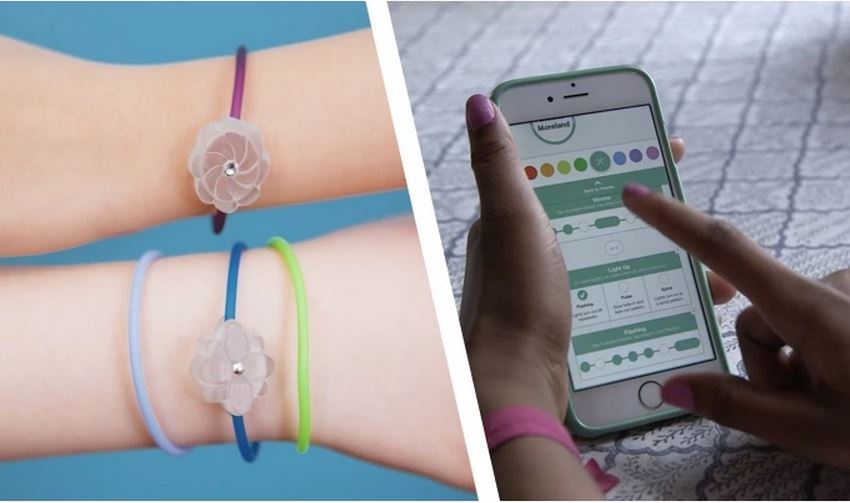 Today, I am going to tell you about an amazing wearable which is surely going to be loved by every girl in the world. This is not just a device, but rather a fashionable and trendy bracelet for teens and pre-teens. This is pretty different from myriad other wearables, because it can work as a powerful communication tool and get you friends. Named as Jewelbots, these devices are especially aimed at girls keeping in mind their love for jewelry. The basic aim of these devices is to teach the girls how to code, while bestowing them better opportunities to communicate and express themselves more effectively.
T
hese are basically programmable friendship bracelets which can easily be programmed using very basic if-then, else statements. Girls can easily program them to light up when their friends are nearby, or send messages to their classmates across the classroom.
Interestingly, Jewelbots can work with or even without mobile phones. So, having a phone with you all the time is not must. These devices make use of Bluetooth to keep in touch with each other. Girls can sync their Jewelbots with their friends or program them making use of Jewelbot app. These is an impressive way to make the girls learn the basics of coding while letting them interact with their friends, which will surely be fun.
Also Read: Watch People Code and Learn for Free on Livecoding.tv
The capabilities of Jewelbots are not limited to finding friends, it has much more to show. The girls who are interested in programming and want to further enhance their coding skills, can code and do whatever their minds allow to imagine by using Arduino IDE. Moreover, Jewelbots are open-source which makes them ideal for beginners. They offer a perfect platform to the budding thoughts and creativity in the youth. They can provide wings to the aspirations of the teens. They can light up when they get another Instagram or Facebook or twitter follower, remind you about your favorite show which is about to start, keep track of your emails, and much more.
Going deep into the Jewelbots, we find them simple yet effective. These consist of four LED lights and a button. They can pair with iOS or Android app and are created to hold a charge for up-to three days.
According to Sarah Chipps, co-founder of Jewelbots, they talked to about 200 girls between the age group of 9 to 14 years regarding what interests them. And the results were very obvious as- friendship. Thus, Jewelbots were such designed that they bestow a chance to build friendship along with its educational significance.
These bracelets will retail at $65 each in the Spring of 2016. Meanwhile, Jewelbot founders will be brainstorming to boost their signal strength without relying on cellphones as well as escalating its features and functions.
With inputs from Kickstarter
So, Girls do you like the tech and coding? Tell us through your comments.
For more updates and interesting stories from fossBytes, subscribe to our newsletter. [newsletter_signup_form id=1]