A survey conducted by HackerRank, a popular competitive programming platform, found JavaScript to be the most popular programming language for 2018.
The survey was taken by 71,000 developers across the world in which 73% claimed to be proficient in JavaScript. The scripting language has thus replaced Java which took the top spot last year.
In 2017, only 66% of developers said they knew JavaScript — making it one of the fastest growing programming languages as well. However, student developers were the only exception where only 42% said they knew JavaScript.
According to HackerRank, the reason behind it could be the fact that JavaScript isn't taught in most university computer science programs. So most of the developers learn JavaScript after they are out of the school — mostly while creating applications when they are employed.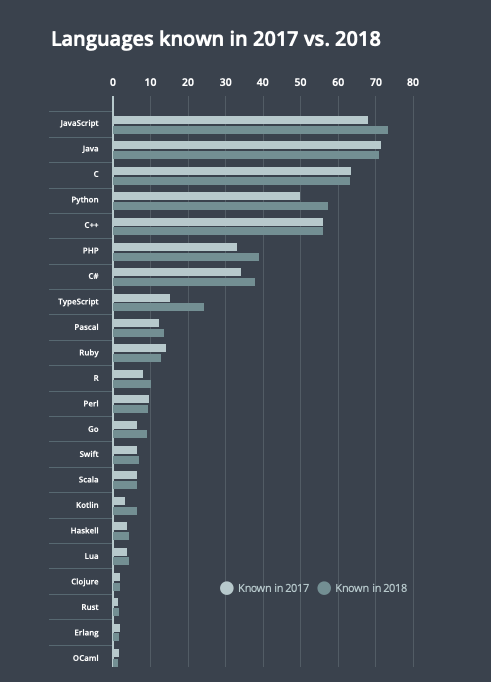 The 2019 edition of the annual Developer Skills Report released by HackerRank includes data of developers participating from more than 100 countries to ensure diversity in the results.
The report also shed some light on the language developers want to learn in 2019. The ones which stood out are Go, Kotlin, and Python which saw around 25% to 40% of increased interest among programmers.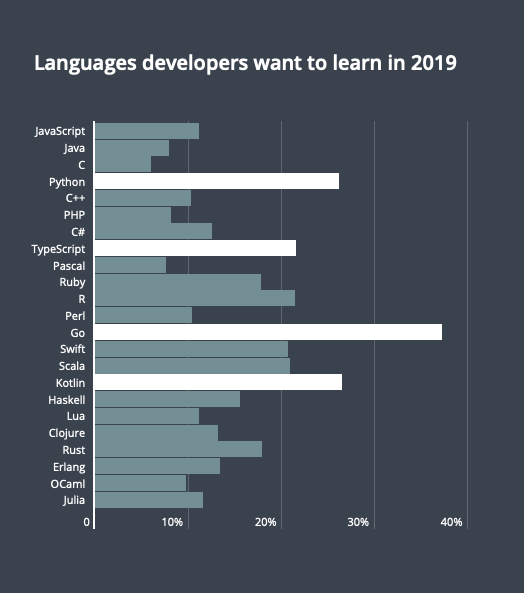 It is noteworthy that the developers' interest in Scala has dropped. Instead, many of them are taking interest in TypeScript. Scala ranked as the 3rd most popular language that developers wanted to learn in 2018 but now it has fallen to the 6th place in 2019.
TypeScript, on the other hand, went from being the 5th most popular language to learn to the 4th position. The rising popularity of the language could also be attributed to the ubiquity of JavaScript and the fact that several major JavaScript frameworks make use of TypeScript.