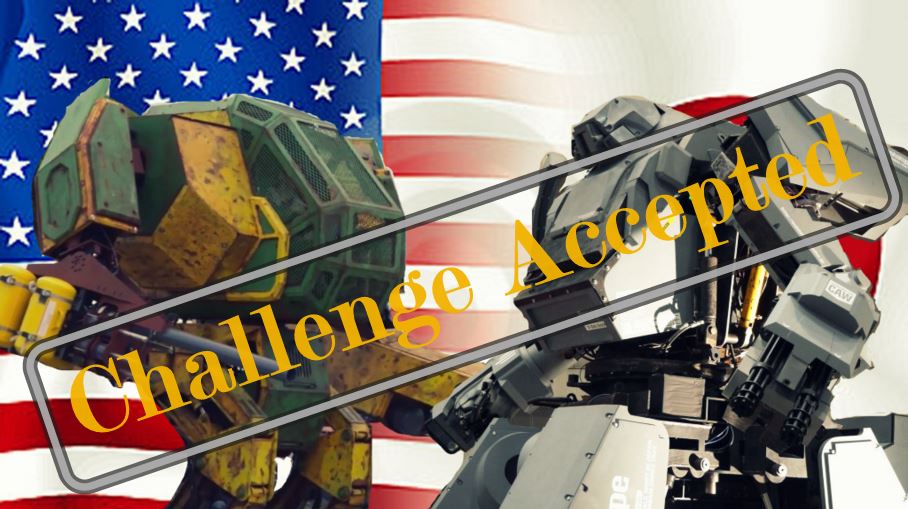 We were just hoping that this would happen, and yes it did. A real fight of surreal mean machines, one we only saw in either Transformer series or in animations. Get ready for some actions folks, this is going to be interesting and do not forget to bring in your ear plugs as it is going be a whole lot of metal bashing.
J
ust weeks before, American giant robot maker company
Megabot challenged Japan's beast of a robot KURATAS
in a canny video for a duel. The Megabot makers cheekily said, "We have a Giant Robot, You have a Giant Robot. We know what needs to happen. We challenge you to a duel". The American company has just finished building its giant robot and didn't even wait to give final touches to their machine before releasing the cheeky video.
Related: USA Challenges Japan To A Duel Between Giant Robots
In response to America's challenge, Japan's Suidobashi Heavy Industry, the maker of KURATAS released their own video. The CEO of the company Kogoro Kurata said, "My reaction? Come on guys, make it cooler. Just building something huge and sticking guns on it is… super American." It seems Japanese has become bored with their reigning supremacy and they too want action. It may be noted that Japan had built KURATAS 3 years before and thus had made many changes and improvised their robot over many times, whereas Megabot Mk II was just completed.
Americans insist using big guns in the fight. Don't worry it is just a paintball gun. Japan wants it to be more traditional and gory: a fist fight. Kogoro insisted that giant robots are Japanese culture. Here's what Kurata had to say
Yeah, I'll fight. Absolutely. We need… a MELEE combat. I want to punch them to scrap and knock them out to do it.
Check out the response video from Suidobashi:
American Megabot Mk II is a 15 foot and more than a 5-ton crude monster bot and it costs $175,000 to build. Its opponent, Japan's KURATAS stands a 13 feet beast, much sleeker and stylish than its challenger. KURATA is about 9,000 pounds and has a market price of $1 million. Megabot looks huge and strong in size while KURATA is three times faster than Megabot.
Are you up for this epic showdown? Tell us in comments below.
Related: Watch the Real-Life "Real Steel" Fight, Robots Clash for ROBO-ONE Tournament