The Jaguar IPace electric car has received a battery range boost thanks to the company's EV racing team. The increased range boost comes courtesy of the Jaguar IPace eTrophy electric racing series, which uses modified IPace electric cars.
Jaguar Land Rover (JLR) has used this data to provide a software update for their road-going Jaguar IPace electric car. The new software update provides 12 additional miles of battery range, bringing the total EPA certified range of Jaguar IPace to 246 miles.
The new update on the IPace electric car adds "software over-the-air" function ability, similar to Tesla uses. This will allow Jaguar to send software updates without having to visit the car dealer.
While Jaguar IPace received a range boost, the Porsche Taycan battery range got stuck to a mere 200 miles, according to the EPA.
Jaguar IPace Electric Car Gets Range Boost
Jaguar joined the series to learn from the extreme driving conditions that a racing event presents. After a successful season of the IPace eTrophy racing league, the JLR is ready to add what they learned on the track in its production cars.
The new updates will improve the electric car's All-Wheel Drive system, while active radiator veins will close more frequently to boost aerodynamic efficiency. Participating in a racing league has also taught Jaguar to maximize the use of the car's current hardware of the car by optimizing its software.
This is why the new update will operate the IPace's electric battery in a lower state of charge than before, thus churning out more miles per charge without harming durability or performance.
Stephen Boulter, IPace's Vehicle Engineering Manager, said that the eTrophy racing league generated a huge amount of data for them to analyze. According to him: "The new software update optimizes the powertrain control systems to improve efficiency and allow IPace drivers to travel even further on a single charge without any hardware change."
The Jaguar IPace electric car will also feature regenerative braking at low speeds and energy recuperation is now more efficient when the battery is fully charged. JLR has also updated the digital dashboard to display a more accurate battery range based on the user's driving style.
The JLR is currently powered by a 90kWh battery and offers a maximum range of 246 miles based on the EPA cycle. The base model S-Spec of IPace electric goes on for sale at $69,850 while its top HSE-variant model comes in at $80,000.
Tesla Model S Killer Porsche Taycan Electric Stuck At 200 Miles Range
Porsche Taycan, which was supposed to be the Tesla Model S killer, has received an official EPA rating of just 201 miles. For reference, the Model S, the electric car which was supposed to be Porsche Taycan's main competitor, has up to 370 miles of battery range.
The 200-mile electric range for city driving is more than enough. However, Porsche, up to this point, has been claiming that their Taycan electric car had close to 300 miles of range. We're talking about the top-spec Taycan Turbo S here, which costs close to $200k.
Sean Mitchell, an EV expert, puts it quite eloquently when he says "The starting price of the Taycan Turbo is nearly $151,000, for this price the Porsche should have had zero issues addressing both a competitive range and performance."
"If this car starts off at 201 miles, there is a very good chance if you're driving that car in a high-performance manner that it is not going to get even close to that 200 miles of range," Sean further added.
The Porsche Taycan electric does come with an 800-volt battery and a couple of Permanent Magnet Asynchronous Motors, which consistently offer high performance. However, if there isn't enough range to go by, then all of that performance is simply of no use.
A 201 mile EPA range also means that you'll be charging your electric car more often, thus reducing its battery life relatively quickly.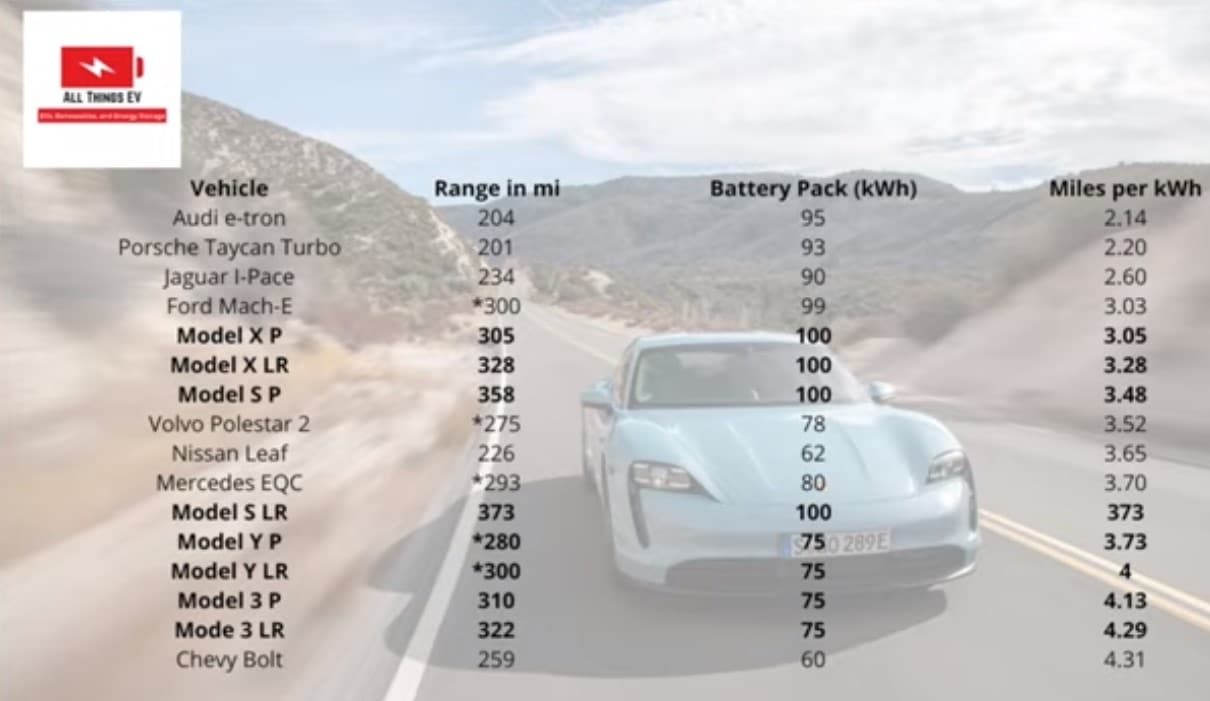 "It's not just a high-performance EV problem, I am seeing this across the board with legacy automakers," says Sean, as he lists out all the non-Tesla EV's just to prove that none of them offer more miles/kWh than a Tesla.
"The vehicles that have the highest miles/kWh are vehicles that come from Tesla." he further adds.
Sean also suggests a couple of solutions in his video that legacy automakers can follow to even the current playing field.
Legacy automakers have just begun to realize that making an electric car isn't as simple as swapping out the Internal combustion engine and putting in an electric motor along with a battery.
Electric vehicles are meticulously designed to be efficient in every aspect, be it the aerodynamics, powertrain, or software. Tesla is best at this and so far only the Ford Mach E looks kind of promising, but what happened with Porsche Taycan, I'd not suggest any EV buyer hold their breath.
If you want an electric car, go buy a Tesla.