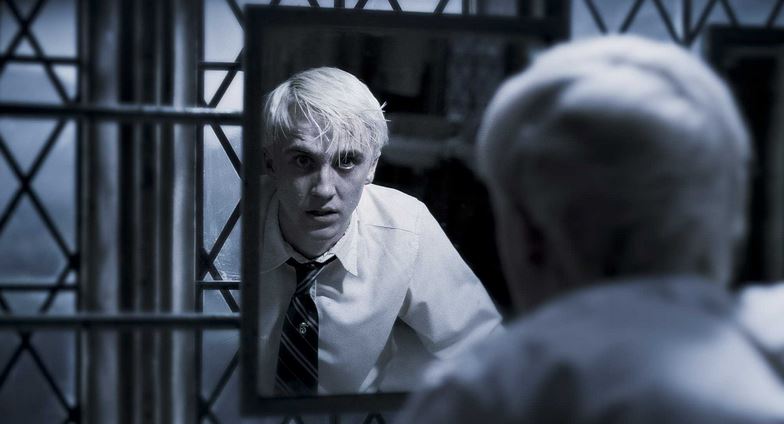 Via: Pottermore
J.K. Rowling has been dropping underwhelming pieces of new content (accept it Potterheads, they were pretty short) on Harry Potter's fansite Pottermore as a part of her 12 Days of Christmas surprise. In the latest addition to the series, J.K. Rowling has revealed a lengthy backstory about our favorite Death Eater Draco Malfoy.
The history of Draco Malfoy is at least 10 times longer than previous content in the series and it tells the about Draco's upbringing and why he became the bully Potter fans loved to hate.
Rowling writes, "Draco was raised in an atmosphere of regret that the Dark Lord has not succeeded in taking command of the wizarding community." Before meeting Harry Potter on the Hogwarts Express, Draco and his family which comprises of other ex-Death Eaters thought that Harry could become "another, and better, Voldemort." Then Draco later finds out that the one who lived was nothing like Voldemort, this fuels up his hatred along with Harry's growing friendship with Ron Weasley.
He was shocked that Harry would reject his friendship and Harry was better than him at certain things like flying and saving the world (actually being a better human being).
Rowling continues to write about the changes in Draco after the war: "After the events of the second wizarding war, Lucius found his son as affectionate as ever, but refusing to follow the same old pure-blood line."
The story continues describing the future events in Draco's life and how he ends up marrying Astoria Greengass, another member of Slytherin family whose philosophies were reshaped by the war- "They had high hopes of a girl whose family featured on the 'Sacred Twenty-Eight,' but as Astoria refused to raise their grandson Scorpius in the belief that Muggles were scum, family gatherings were often fraught with tension."
Draco at Platform 9 3/4 in the epilogue of "Harry Potter and the Deathly Hallows
J.K. Rowling says that even though Draco was wicked, he did have something in common with Harry – the power of love.  "I pity Draco, just as I feel sorry for Dudley," Rowling continues on Pottermore, "Being raised by either the Malfoys or the Dursleys would be a very damaging experience, and Draco undergoes dreadful trials as a direct result of his family's misguided principles. However, the Malfoys do have a saving grace: they love each other. Draco is motivated quite as much by fear of something happening to his parents as to himself, while Narcissa risks everything when she lies to Voldemort at the end of Deathly Hallows and tells him that Harry is dead, merely so that she can get to her son."
She reveals that Malfoy wasn't the first choice as Draco's surname. "Draco had many surnames before I settled on 'Malfoy'. At various times in the earliest drafts he is Smart, Spinks or Spungen."
Talking about the fangirls and their attraction towards Draco Malfoy, Rowling calls it "unhealthy fantasy."
There are still two more days of Rowling's promised Christmas surprise Pottermore content after this history of Draco Malfoy. Let's hope that we are able to get a taste of Harry's future in the upcoming pieces.
---
If you don't have the time or patience with Pottermore, download and read the complete history of Draco Malfoy story and J.K. Rowlings thoughts below:
Secret History Of Draco Malfoy – FossbytesClick here to download
---