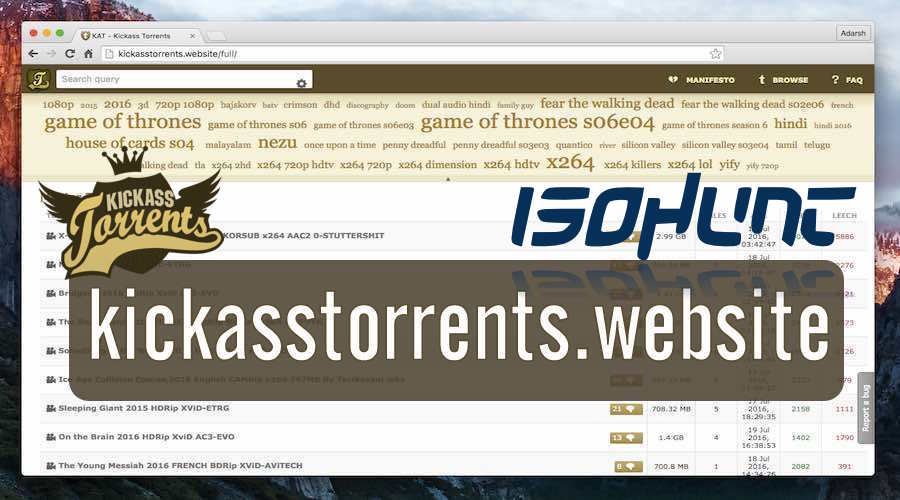 Short Bytes: Shortly after the U.S. Government seized the domains of KickassTorrents, IsoHunt is here with a working mirror of the world's largest torrent website. The mirror can be accessed by visiting a URL similar to KAT's domains i.e. kickasstorrents.website. The new website also displays a manifesto, demanding KAT founder's freedom.
Update: According to TorrentFreak, some reports suggest that kickasstorrents.website is NOT a project of isoHunt.
T
he original
KickassTorrents website went down yesterday
after the U.S. Government arrested its founder Artem Vaulin and seized its domains. He was accused of multiple criminal and copyright infringement charges.
Soon after its launch, a new KickassTorrent alternative appeared in the wild in the form of dxtorrent.com. It looked and worked just like KAT, the world's most popular torrent website.
Now, in less than 24 hours of the 30-year-old founder's arrest, the website is back as a simple mirror of the original website. The resurrected website features a similar domain name–kickasstorrents.website–and an identical design.
This has been made possible by an IsoHunt member. If you remember, IsoHunt was also responsible for the revival for The Pirate Bay. However, the KAT mirror's functionalities are limited.
Telling more about the KickassTorrents mirror, a member of IsoHunt says:
"It's not perfect but if users need to save and archive something it's time," the IsoHunt team said. "We don't know how long it can last, but at least it's something."
The IsoHunt team is a part of the group that supports KAT founder and shows a manifesto on the website. IsoHunt calls the arrest of Vaulin another attack on freedom and rights of the internet users all across the world.  IsoHunt also urges people to sign petitions on change.org and whitehouse.gov.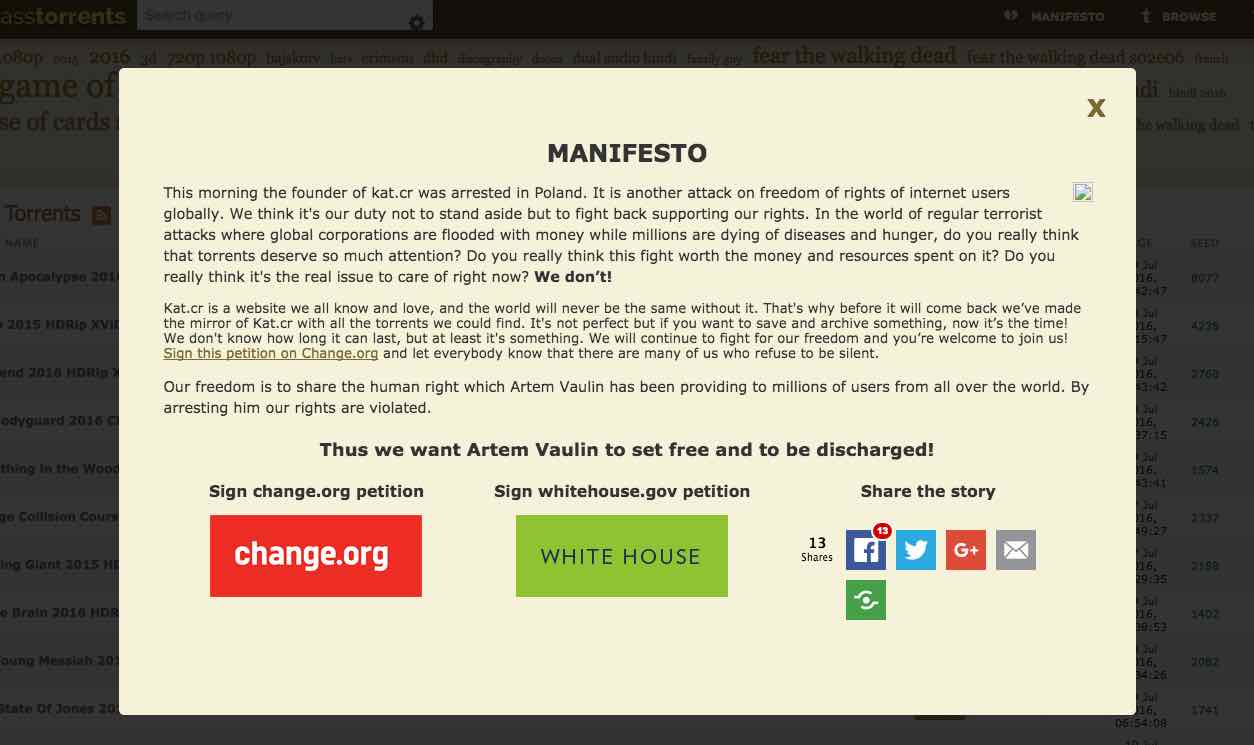 This new development proves that torrent websites aren't going to stop and the nature of torrent files gives them freedom to be hosted anywhere. Banning and seizing torrent websites' domain has become a repetitive exercise that doesn't prove anything.
What are your views on this matter? Share your views in the comments below.
Also Read: How Apple And Facebook Got KickassTorrents Founder Arrested