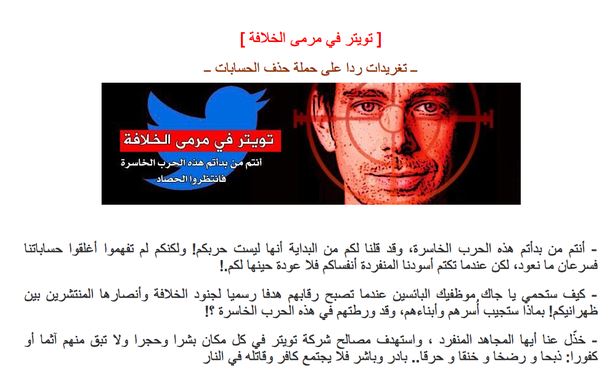 A threatening message from the ISIS supporters has surfaced on the internet on Sunday, containing death threats to the Twitter employees. This has happened because the website has deleted certain Twitter accounts which were found related to the terrorist organization. This threat message was posted on JustPaste.it and it aims at Twitter founder Jack Dorsey. His picture is posted alongside the message.
The online post says, "Your virtual war on us will cause a real war on you."
Just like YouTube, Twitter's terms of service tells users not to post specific and direct violence threats against users. Twitter bans the accounts and deletes the posts with such contents and it has done the same in past with ISIS Twitter handlers. Recently the hacktivist group Anonymous took down various ISIS social media accounts.
The post continues with the same aggressive language:
"You started this failed war. We told you from the beginning it's not your war, but you didn't get it and kept closing our accounts on Twitter, but we always come back. But when our lions [brave men] come and take your breath, you will never come back to life."
In recent past, the micro-blogging site has cooperated with the British government to delete the UK terror law violating content. TechCrunch points out that recently other social media sites too have done same and deleted ISIS accounts; so it's unclear why the only target is Twitter.
ISIS uses the social media accounts to spread its propaganda to the public and runs the recruitment drives. Last month it used Twitter to post a video and encouraged its followers to attack the military and police officials in UK, US, and France.
The post has a lot more to say: "For the 'individual jihadi' all over the world, target the Twitter company and its interests in any place, people, and buildings, and don't allow any one of the atheists to survive."
This was first reported by BuzzFeed News. A Twitter spokesman told the website: "Our security team is investigating the veracity of these threats with relevant law enforcement officials."
Also read: Hacktivist Group Anonymous Takes Down ISIS Social Media Accounts (#OpISIS)
---
 Are you having something to add to this news? Comment your views below!
Stay tuned for the latest technology and social media news from fossBytes.
---