The gaming community is worried about GTA 6 since the announcement of Rockstar co-founder Dan Houser's exit from the company. For those of you who don't know what Dan Houser means for Rockstar; he is the co-founder of Rockstar games while also being the lead writer of most GTA titles, including GTA 5.
So, the question is, with Dan Houser out of the company, is GTA 6 at risk?
Well, to be honest, I personally think that GTA 6 will still be released around the expected time, even after Dan Houser leaving Rockstar. However, there's a lot more to this.
Rockstar Is Falling Apart
When it comes to Rockstar, three people were the heart and soul of the company, two of them were the Houser brothers, and the third was Leslie Benzies.
Benzies was the president of Rockstar North, a subsidiary of Rockstar Games. He was also the lead developer and producer of major GTA titles.
Benzies shocked the gaming community when he left Rockstar back in January 2016. What's more, is that he took several developers from Rockstar who were working in the company for a long time, to start his own venture.
Now, with Dan Houser quitting the company, two-third of Rockstar is already gone.
His exit from the company instantly caused the shares of Take-Two, the parent company of Rockstar Games, to drop by 5%.
Reddit also exploded with people guessing as to why Dan Houser would leave the company. Some people think that Dan was forced out of the company by Take-Two. That's because the parent company is all about quantity, rather than quality.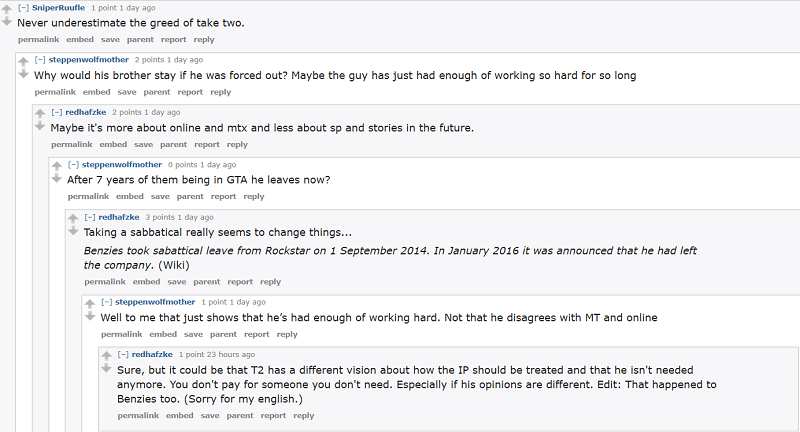 Despite all of this, GTA 6 is not necessarily out of the equation.
GTA 6 Is Definitely Coming Out!
It's been about seven years since GTA 5, the most popular title by Rockstar was released. So, there's no way that Houser brothers didn't work on the next GTA title during this long period.
It's possible that Grand Theft Auto 6 was already in development when Dan Houser was in good terms with Rockstar. It was after the official launch of Red Dead Redemption 2 in 2019 when Dan Houser took a sabbatical.
GTA Online has been making a lot of money for Rockstar for a long time. But there's no way that Rockstar will stick only to it. The company has to move forward with GTA 6 pretty soon.
Also, with Take-Two stakes going down rapidly, the company has to focus all its attention on GTA 6 to assure that Rockstar is still going strong.
However, with Dan Houser out of the project, will Grand Theft Auto 6 stand up to all the hype? Well, I think it will.
If everyone's assumption is right that GTA 6 is in the final stages of development, then the story of GTA 6 is most probably already written, with Dan Houser being a part of it. I mean, all those GTA 6 leaks from former and current Rockstar employees weren't for nothing.
So, when GTA 6 comes out, it'll have the same impact as previous GTA games, that's for sure. 
However, what we should be worried about is the next GTA installments after GTA 6. Because if Rockstar keeps falling apart like this, then GTA will never be the same.