The world of VPNs is not limited to one or two services, there are many. And these VPN services have their own set of pros and cons that one needs to consider before buying one.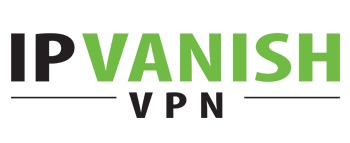 Earlier, I posted a review of NordVPN — the one with a good interface and over 1300 VPN servers located across different countries across the globe. You can also read our review of other popular VPN services including ExpressVPN, and Private Internet Access.
Now, I would like to tell you about another known VPN service which goes by the name IPVanish. But proceeding further, let's recall virtual private network once.
What is VPN (Virtual Private Network)?
A VPN is a network on the internet that doesn't exist in a physical form. You can think of it as a virtual tunnel that safely carries your data across the web and gets rid of stickybeaks roaming around. One of the most popular reasons people use a VPN service is to hide their identity on the internet. You can read nine other reasons why you should use a VPN service.
VPNs serve two primary purposes: they provide users access to the internet with an alternate identity, and they can be used to increase the reach of a physical network to remote locations. For instance, an employee living in Spain can access the corporate network of his US-based employer over a VPN connection and also use resources available.
There is a common misconception among new VPN users that it gives them a free pass to do anything. Keep in mind that a VPN connection doesn't prevent you from things like malware or social engineering attacks. However, various VPN services have their safety mechanism to avoid spams, adware, etc., but precaution is still needed. You can read our detailed post on common VPN myths.
IPVanish Review
Based out of Florida, IPVanish is a top VPN service in a market with 1000+ VPN servers spread in around 60 countries. It stands fourth on our list of best VPN services for 2018. Their services mostly concern everyday internet users who want to use VPN to bypass geographic hurdles.
IPVanishes Features
IPVanish comes with its army of VPN apps for all the popular device platforms, including Windows, macOS, Android, iOS, Windows Phone, Chrome OS, and Amazon Fire TV.
You can also manually setup IPVanish on your routers. So, it won't require you to install apps on every device, including devices like Xbox, connected to the network. However, this might pose problems for the users who don't want to use VPN on every device.
Just like many other VPN services out there, IPVanish also claims to be a secure VPN service by mentioning that it doesn't log any of the traffic you access through their VPN service. The availability of high-speed VPN servers and 256-bit encrypted connections are among other promised goodies.
IPVanish supports various protocols, including the widely used OpenVPN, PPTP, L2TP/IPsec, etc. The apps offer an easy way to switch between the protocols. This is an advantage over NordVPN's Windows app, but PIA and ExpressVPN provide the similar facility.
If you don't want to connect to the VPN, you can also take the benefit of the SOCKS5 proxy offered by IPVanish. The same can be configured using the inbuilt settings provided by different operating systems.
Using IPVanish
IP Vanish Windows app
For this in-depth IPVanish review, I installed the IPVanish app on my machine running Windows 10. The user interface inclined towards green and black might not be the best, but it neatly mentions all the options offered by the VPN service.
During the installation, you need to take care of one thing. You can't tick the checkbox that says "I have read the terms" until you scroll down through the EULA text. It's entirely up to you, whether you want to improve your reading habit or just rotate the scroll wheel on your mouse.
On the IP Vanish Windows app, the first thing you would notice is the dashboard filled with information in boxes. The app offers you a few simple ways to connect to a VPN. You can click the OFF button to connect to a VPN server automatically. Alternatively, you can quickly choose between various options such as country, city, and the server from the respective drop-down menus and click Connect.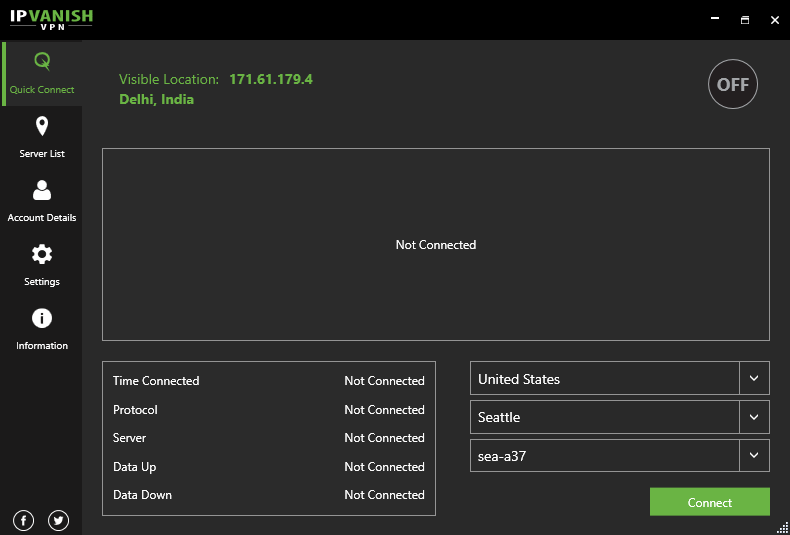 IPVanish's dashboard shows various details like the connection time, VPN protocol, amount of data uploaded and downloaded, etc. It might not be essential to all users, but it can be helpful to some.
On the left-hand side of the IPVanish dashboard, you can see various options offered by the VPN software. It also includes a map-style interface I found on NordVPN. You can click Server List to explore more ways to connect to a VPN.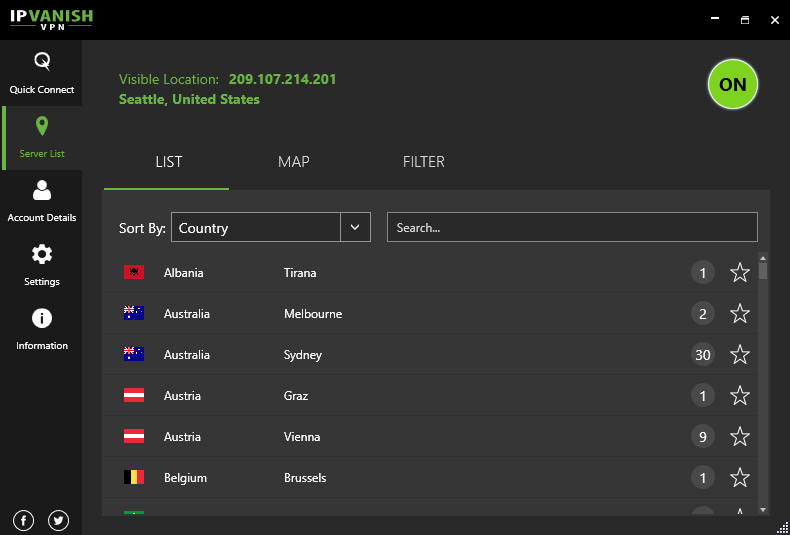 Under the LIST tab, you can sort VPN servers by countries, response time, server load, etc. The search box is also present to make the process easier.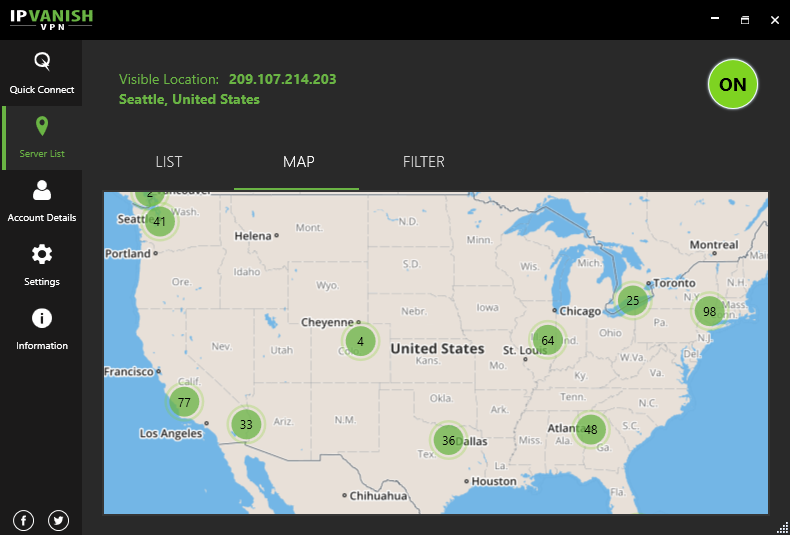 Click MAP tab to see a world map with IPVanish servers displayed. The good thing is that the software shows the number of servers for a particular country and it mentions the city where the servers are located. The FILTER tab allows you to separate the servers on the basis of their country and connection latency.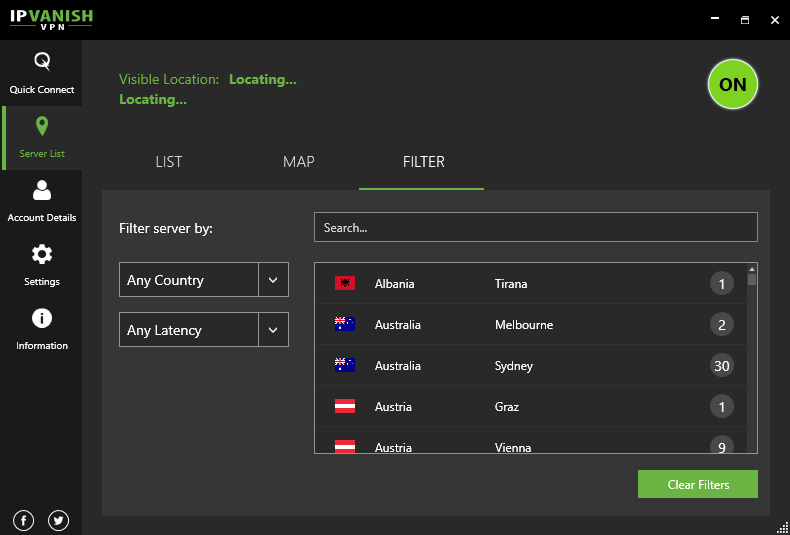 The Settings page brings more options and customization in front of you. You find various tabs including General, Connection, IP Settings, and Logs.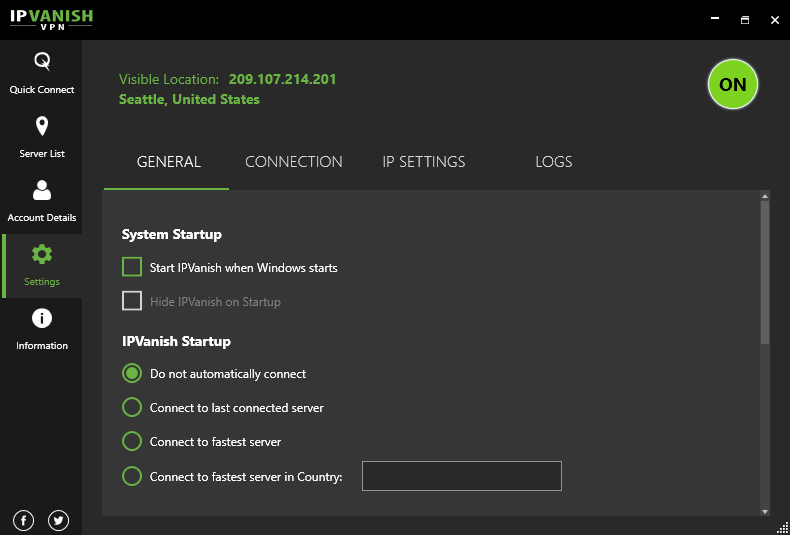 The General tab houses options to start IPVanish automatically, as well as program it to connect to the last server or the fastest one, etc. Scroll down to find the heading called Updates; it allows you to opt-in to their beta program. You can also contact support from there.
The Connection tab allows choosing the VPN connection protocol. The default is set to OpenVPN TCP, but you can change it to OpenVPN UDP, L2TP, and PPTP.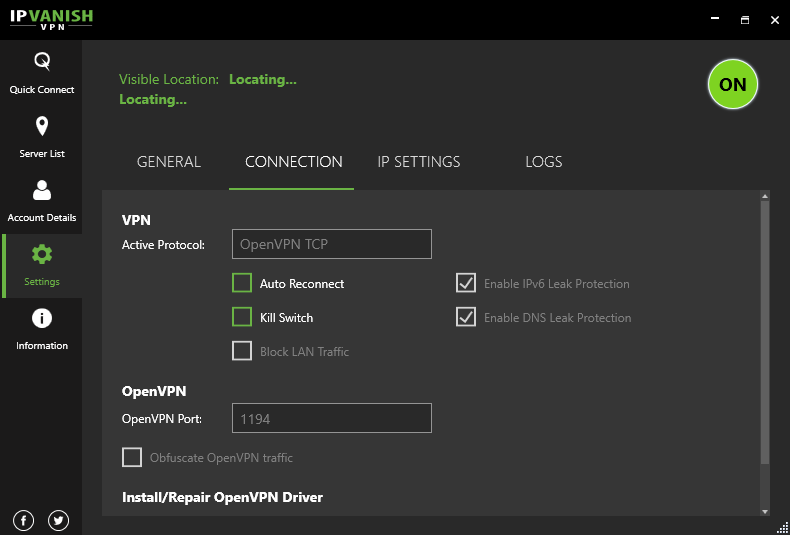 You can choose the OpenVPN port number and enable other features like IPv6 and DNS leak protection, turn on the Kill Switch — a feature that cuts traffic for VPN-dependant apps when the VPN connection goes down. The Connection tab also has an option to repair OpenVPN drivers if you're having trouble connecting to VPN.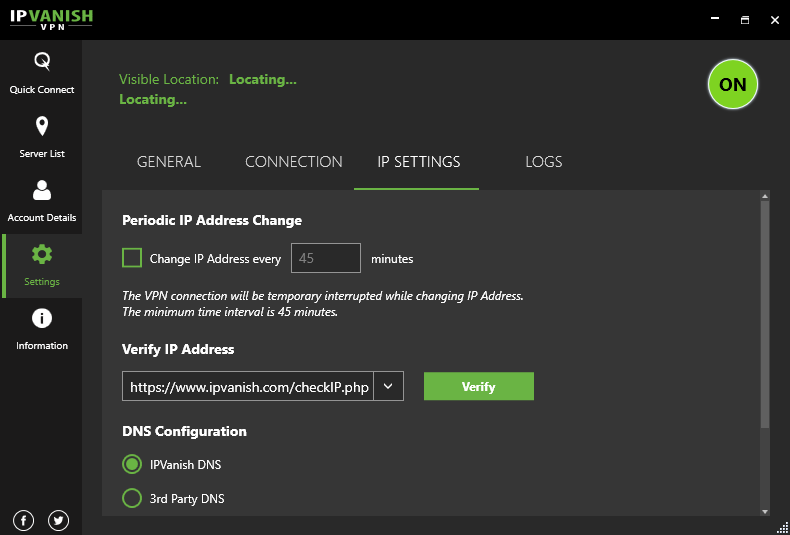 Heading over to the IP Settings tab, you can configure the IPVanish app to change your IP address after a specified amount of time. Do this if you have concerns about being tracked. But do keep in mind that some apps and service you use over VPN may run into problems if the IP address changes in the middle of something. You might have to restart those apps. If you want, you can configure IPVanish to use a 3rd-party DNS server over the VPN.
Last is the Logs tab, which lists the description of the things you have performed on the app. Like, starting the VPN, terminating the connection, etc.
Using IP Vanish on Android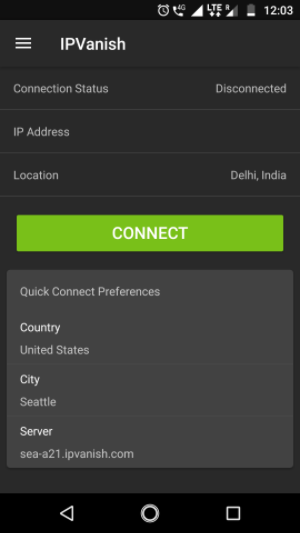 For using VPN on your Android phone, you can download the IPVanish Android app which also provides a simple-to-use interface. It features the same Connect button as well as various quick connect preference options including country, city, and server that I saw on the desktop app.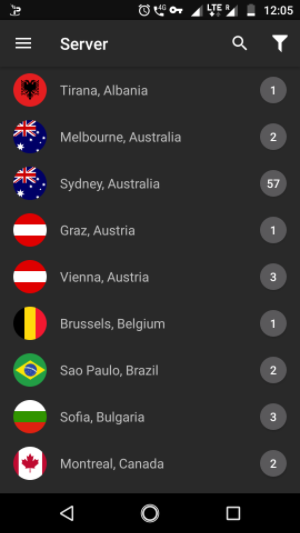 To explore more options, swipe from the left of the screen. Tapping on Server displays the list of cities where IPVanish has their VPN servers installed. Tap any city name to connect to the VPN servers present there. A persistent notification appears in the notification shade when you're connected to the VPN service.
On the Account screen, you can see various details like your subscription status and renewal date. There, you can also change the password of your IPVanish account.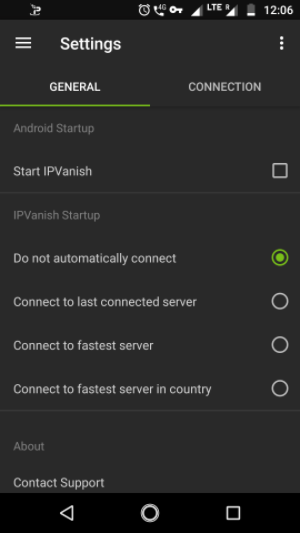 The Settings screen features different options such as stating IPVanish at Android startup, connect to the fastest server or country, etc. You can change the VPN protocol, port, etc. in the Connection tab and also use the Scramble feature to obfuscate VPN traffic.
There is one thing that I found quite odd and inconvenient about the IP Vanish Android app. On any screen, if you tap the back button on your phone, the app gets minimized. I don't know if it's a bug or they made it like this.
Using IPVanish on iOS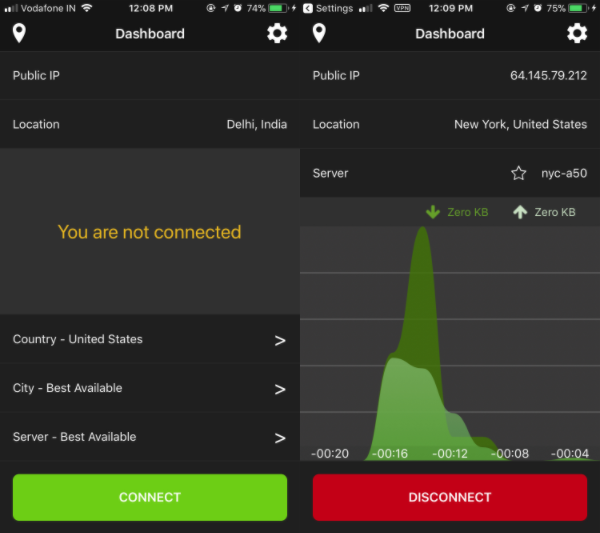 The user interface of IPVanish iOS app is not very similar to its Android sibling. Thankfully, iOS devices don't have the back button, so the issue I pointed out in the case of Android isn't applicable here.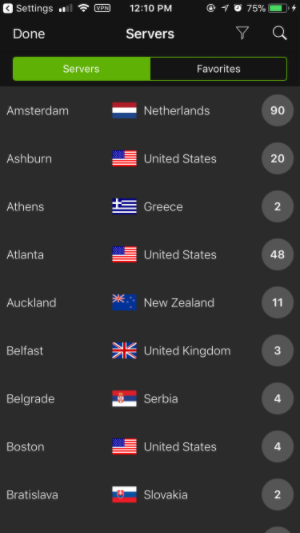 The app features the same quick connect options on the main screen where you land first. The difference is visible when you have to choose a specific VPN server or make changes to the settings.
Tap the location pointer icon in the top left corner to explore the list of IPVanish VPN servers arranged according to cities. You can filter the servers by their country, city, and ping. Also, there is a search bar present which helps you find VPN servers belonging to a specific city. Swipe a server from right to left and see the star button which adds to your favorites section.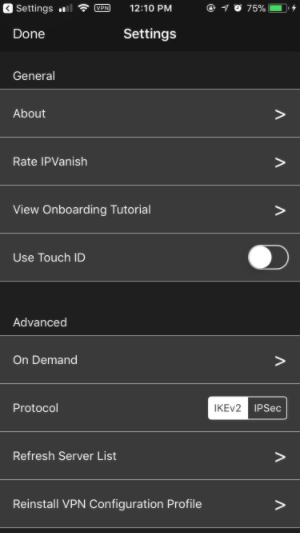 To open the Settings, tap the gear button on the top right corner. Unlike Android, it features a single menu where you'll find all the options offered by the IPVanish iOS app.
Performance
I used Okla's Speedtest tool to check the performance on servers as a part of the IPVanish review.
When connected to a nearby IPVanish server, the speed test results were almost equal to what I usually get without VPN when testing with the same servers. There wasn't much degradation when I started choosing servers that were far from the VPN server's location. Overall, the VPN service was able to give back around 70% to 90% of my original connection speed. Except, there were several times I faced automatic disconnections and slow speeds. But I might blame my internet connection for that.
What works?
For the users having dreams of running Netflix US, IPVanish doesn't seem to be a choice if you're searching a VPN for Netflix. There was a disappointment in the case of Prime Video as well, but Spotify and Pandora were up for use.
However, it's not all bad. IPVanish supports P2P, making itself a VPN service for good torrent downloading. The performance of YouTube over VPN was also impressive.
Customer Support
The only available as a part of IPVanish's customer support is email. So, don't expect resolution of your issues as takes more than few hours for their team to make a response. Otherwise, you can take the help of the guides present on their support page.
On a side note, just like our other VPN reviews, we presented a few questions (via email) in front of the IPVanish team to give you a better idea of their service. However, we weren't able to get any proper response after multiple attempts, which was very disappointing.
IP Vanish Pricing
You can subscribe to one of the three plans for IPVanish VPN service:
Monthly Plan: $10 per mo.
Quarterly Plan: $8.99 per mo. (billed every three months)
Annual Plan: $6.49 per mo. (billed every year)
Sadly, IPVanish doesn't offer any free VPN plan or some trial period. But you shouldn't be looking for one if your expectations are too high.
IPVanish offers different popular payment options, including Bitcoin. It means privacy-conscious users can subscribe to the VPN service without revealing this payment.
Conclusion
With over 1000 VPN servers spread across the worlds, IPVanish is a name you can consider while choosing a fast VPN service. However, the price might motivate some potential subscribers to take a step back. They don't offer free plans, but unsatisfied users can have their money back within seven days.
One of the best things about IPVanish is their catalog of high-speed servers that only disappointed me a few times. The list of promised features also includes 24/7 customer could seem like an advantage but the response time is where some users might feel frustrated as there is no live chat.