The much-anticipated iPhone with a USB-C port isn't a reality yet, except for a certain Robotics student from Sweden. Thanks to his DIY modifications to an iPhone X, we have got a glimpse of what could be the future of Apple's smartphone lineup.
Interestingly, amid reports that iPhones might have to ditch the Lightning port for the more common USB-C in European Union countries, this modified iPhone X could be seen as a sign of things to come.
Ken Pillonel, the aforementioned student-cum-engineer, disassembled an iPhone X and successfully swapped Lightning with a USB-C port. The result was a fully functional USB Type-C port, which supports charging and file transfer just like other USB devices. He has proved that adding USB-C to an iPhone isn't rocket science at all.
Through the video above, the Swede finally shared his feat earlier this month after having started work on it back in May this year.
How The "iPhone X + USB-C" Project Came To Be
In his initial blog post, Pillonel gave a very relatable reason for going ahead with this project. He revealed, "… everything I own has USB Type-C so it would be pretty neat to convert an iPhone too."
Moreover, in the same post, he mentioned tinkering with a USB-C to Lightning cable for this task. He converted its USB-C male part to a USB-C female part and fitted the same inside his iPhone.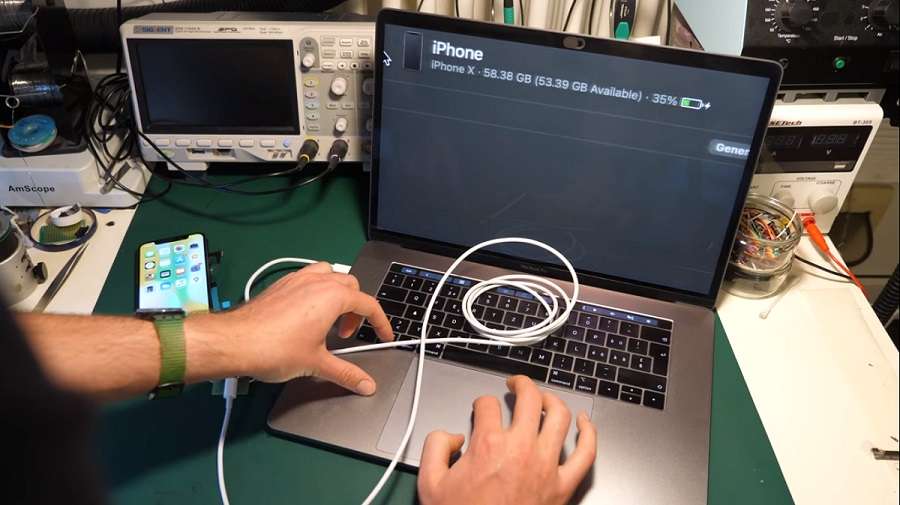 As per Pillonel, the process could be broken down into three stages. The first part involved making sure the electronic side of things worked smoothly. Secondly, he had to replace the Apple C94 connector with his own PCB that supported USB-C. Lastly, his focus switched to placing the custom PCB inside the iPhone X to finish the project.
Over the years, numerous rumors have surfaced about Apple opting for a USB port in its next iPhone. But, none of them ever materialized. However, given the EU situation and the ever-growing popular demand for this feature, there are hopes that Apple might finally budge and make the switch to USB-C.
Until that happens, we can stick to tech enthusiasts, such as Pillonel, to give us a preview of what seems like an impending change.