Apple announced Siri Shortcuts at their WWDC 2018 event and demonstrated how the new app can be used for sequentially performing a bunch of tasks using a custom Siri phrase.
That day, I knew that the Shortcuts app had paved the way for automation in iPhone, but I didn't realize that it could also be used to keep a track on the proliferating police abuse.
As reported by Cult of Mac, a Reddit user Robert Petersen from Florence, Arizona, has created a Shortcut that activates your iPhone's camera with just a Siri phrase to record your interaction whenever you are pulled over while driving.
Triggered by the phrase "Hey Siri, I'm getting pulled over," the Siri Shortcut pauses music playing on your iPhone, minimizes brightness level, enables "Do Not Disturb" and sends a message to a pre-selected contact. Then, it also turns on the video recording on the front camera.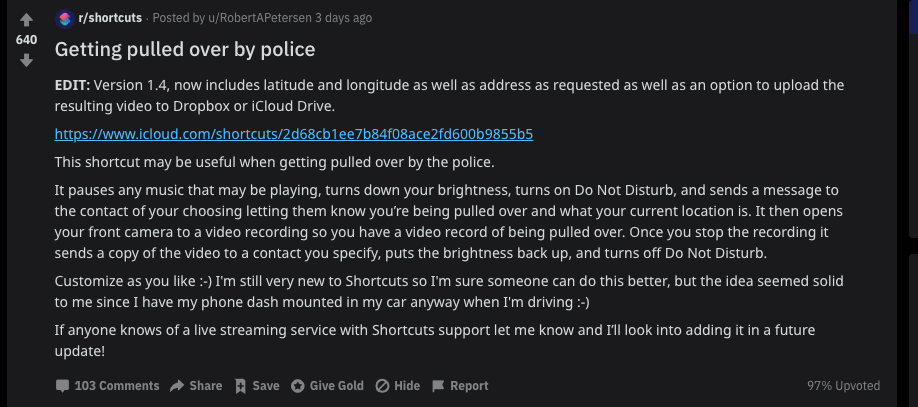 After the user stops the recording, a copy of the recorded video is sent to the contact, "Do Not Disturb" mode is turned off, and brightness levels are also adjusted automatically.
The shortcut creator has recommended users to place their iPhone in a dash mount so that triggering the shortcut becomes easier.
Soon after Petersen posted the shortcut on an iOS 12 Shortcuts related subreddit, many people commented on the post and were keen on adding the shortcut in their iPhone. If you too want this shortcut, click on this link.