Admittedly, iPhones are among the most reliable phones in the current market. This does not mean that they are flawless, though. In fact, iPhone users are sometimes called to deal with their devices not booting into, restoring, or updating iOS. In this case, the fastest and easiest way out of any unwanted situation related to not being able to use your iPhone or iPad as intended is to use a dedicated iOS repair tool.
Of all third-party software in the current market designed to help restore iOS and iPadOS, we tracked iMyFone Fixppo. This post assesses all major aspects of the tool to determine whether it is reliable enough (or worth your time overall) to resolve problems with operating your iPhone or iPad. 
Ease of Use & Interface
Fixppo automatically runs a series of troubleshooting processes without making you feel that you need a tech dictionary and expertise to go through the required steps. This means that you can use the software to fix any issues your iOS device is facing without requiring tech knowledge. With just a few clicks, the Fixppo technology enables users to resolve Apple devices, facing problems, such as being stuck in a boot loop, without risking data loss.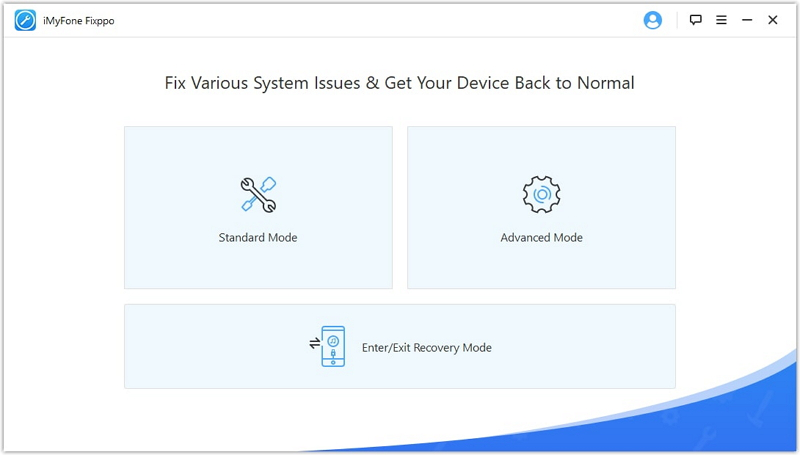 When it comes to its interface, we were impressed by the amazing user-friendly graphics and the overall crisp layout that guarantees a fab user experience. You can simply head to the dashboard and access all the features on offer. The provided instructions are incredibly straightforward and clear-cut, so you cannot go wrong there.
Common Errors You Can Fix With Fixppo
Fixppo can be used to handle tons of iOS problems, even issues that can prevent your device from booting up. It primarily targets iTunes and Finder errors, such as error 4013, which is the most common problem iOS users face while trying to restore or update their iPhone.
Indicatively, you may use the tool to:
Fix Frozen Screen issue.
Exit or enter Recovery Mode in a flash.
Shift back to the previous iOS version (no jailbreak).
Use the iTunes repair tool error-free.
Help your device get unstuck from Spinning or Recovery or Boot Loop mode.
Unstuck your iPhone or iPad if it is stuck on the Apple logo.
Exit the Black Screen of Death or the White Screen of Death.
Enable your device to update or restore if it fails to do either or.
Help your iOS device turn on (if it does not turn on).
Resolve Apple TV & other iPad iOS or OS problems.
As you will read below, Fixppo offers three different modes to choose from. We have tested both the Standard and Advanced modes, and everything ran smoothly without losing any data or files. This means that we were also able to reinstall the system software successfully. Nevertheless, it should be noted that users' experiences may vary, depending on the type of error they are called to fix.
Compatibility & Security
Fixppo is compatible with a plethora of Apple devices, including iPhones, from the oldest to the relatively recently released models running iOS 14. The tool also works great with iPod touch, Apple TV, iPad, and other Apple devices of any iOS version.
As for the privacy and security of Fixppo, it has been tested by our tech experts and found to be an utterly secure system repair tool that is not prone to adware and malware attacks. It should also be noted that iMyFone, the company behind Fixppo, does not share users' data with any third party, which guarantees 100% privacy and data protection.
Fixppo Troubleshooting options
The software offers three solutions to help fix your iPhone issues:
Enter/Exit Recovery Mode – It enables you to put your iPad or iPhone into Recovery mode instantly with a single click. This is a great option if you cannot enter recovery mode manually. So, if forcing restart fails, you may opt for this particular mode. As its name suggests, you can also use it to exit the Recovery mode with bullet speed.
Standard Mode – This specific mode is designed to help resolve issues that you cannot fix with iTunes or Finder (depending on whether you use a PC or Mac). This includes downloading the latest firmware for your iPhone or iPad to restore your iOS or iPadOS device without risking data loss. When you download Fixppo and use the Standard Mode, you will be prompted to enter the Device Firmware Update mode*. Then, the tool will start recovering your phone or iPad automatically.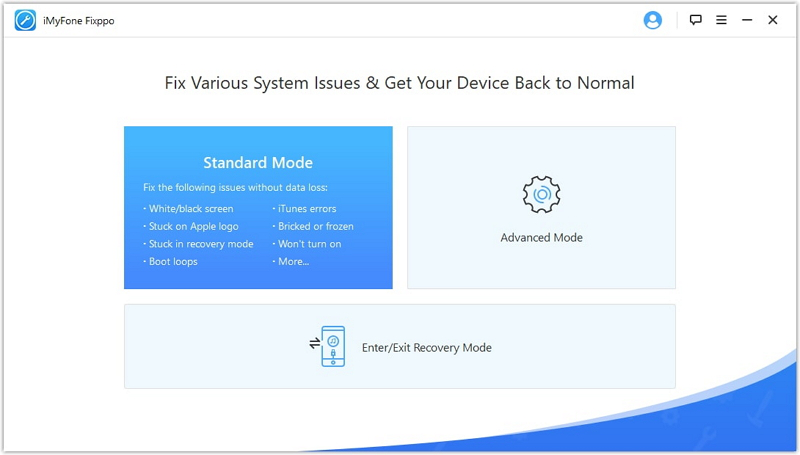 Advanced Mode – This option is created to help users solve any problems that cannot be fixed with the other two solutions. Advanced mode enables you to reinstall either iPadOS or iOS. Of course, it is recommended to keep backups of your files at hand via iCloud, iTunes or Finder because the reinstallation of the operating system will delete all of your data. With a backup at hand, you can easily restore your lost files, though.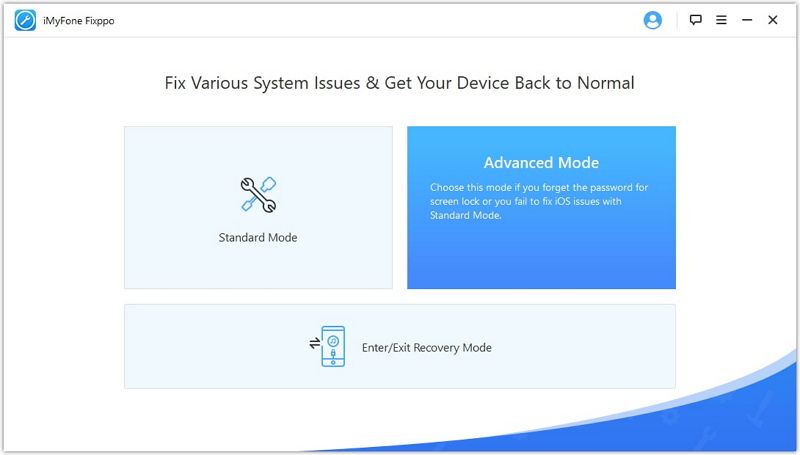 *Fixppo provides a well-designed live animation to help guide you through the steps needed to enter Device Firmware Update mode, which can be challenging for non-tech-savvy users. The software makes it easy for you.
Customer Support
Fixppo users can get in touch with the Customer Service agents via a Support page that provides an online contact form. Alternatively, you could opt for one of the many helplines available or even send an email requiring technical support. According to online users' reviews, the staff operating the Customer Support department are friendly and particularly knowledgeable. They not only offer to-the-point, one-on-one assistance, but also exceptionally fast responses on technical issues users might be dealing with. Besides, you can visit the dedicated and comprehensive FAQs page that provides fixes to some of the most common problems Fixppo users face.
Pricing & Payment Plans
The software is offered at a reasonable starting price that suits users who want a one-off solution to fix iPhone and iPad issues. This refers to a monthly plan offered for less than $30 per month that you can keep for under 30 days if you wish. In this case, you simply purchase the monthly package, recover your device, and then cancel your subscription.
Or you could opt for the yearly package for just ten more dollars and have access to Fixppo for 12 months. Finally, for more peace of mind, iMyFone offers a $49.99 deal that gives you lifetime access. That way, you will know that you have a reliable tool to recover your device should anything happens in the future – at any given time.
Worth noting is the fact that the Enter/Exit Recovery Mode is FREE of charge.
Final Thoughts
iMyFone Fixppo is a trustworthy and user-friendly tool to help recover your iPhone or iPad and help resolve software-related issues. It has been designed with security and privacy in mind, which is why it is backed up by powerful technology. Although it does not provide any assistance with hardware-related problems, it is capable of resolving complex iOS issues – issues that iTunes is not able to fix.
With three different troubleshooting options, an excellent Customer Support service, no compatibility requirements, and a crisp interface, the user experience is guaranteed to be stellar. As for the effectiveness and ease of use of Fixppo, they both seem to please users, based on online reviews from Fixppo customers. Overall, Fixppo iOS repair tool is worth trying out when your iOS device develops a system error.