The Apple iPhone 12 Pro packs the latest A14 Bionic chip along with other capabilities like 5G and a LiDAR scanner. While it was obvious that the iPhone 12 series would be faster than the previous generation, recent benchmarks reveal the actual numbers.
MacRumors reports that the iPhone 12 Pro and iPhone 12 Pro Max are around 20-25% faster than the iPhone 11 Pro variants. The report is based on recently surfaced Geekbench benchmarks of the iPhone 12 Pro. The iPhone 12 Pro managed a single-core score of 1,597 and a multi-core score of 4,152.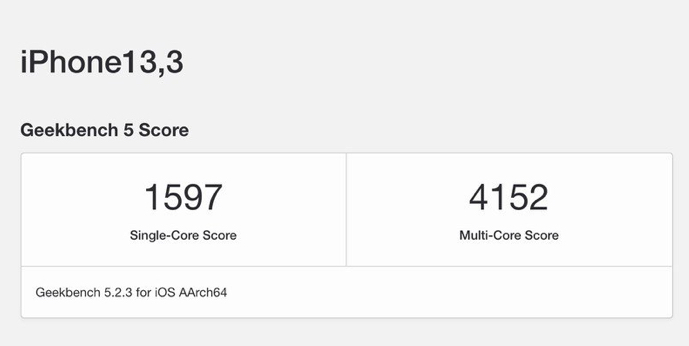 When you compare these numbers to the iPhone 11 Pro's Geekbench score (1,327 for single-core, 2,389 for multi-core), the iPhone 12 Pro comes out about 26% faster. We can say that the same result would apply to the iPhone 12 Pro Max when compared with the iPhone 11 Pro Max.
Some iPhone 12 phones scored lower on the same benchmark, to which Geekbench founder John Poole says it's common with new iPhones. He says that the devices may be in the process of "out of box setup," which is why the processor may not be at the optimum position for the benchmarking.
Anyway, we should wait for more iPhone 12 benchmarks to get a better picture.
The latest iPhone benchmarks are close to the scores of the new iPad Air. It is so because the Apple A14 Bionic powers both iPhone Air and iPhone 12 series. With this, Apple now has a lineup starting with the A12 Bionic chip on the iPhone XR, the A13 Bionic on iPhone SE and iPhone 11, and the latest A14 Bionic on the iPhone 12 series and the iPad Air.
iPhone 12 And Apple A14 Bionic
Apple boasts the A14 Bionic as the first smartphone chip built on a 5nm process. It means the chip is faster, more efficient, and compact. The chip is told to be capable of delivering up to 50% faster than competing SoCs. It also has a 16-core neural engine, giving about an 80% increase in performance for better gaming and photography.