Apple announced iPad Pro 2018 just a few days ago, and the Geekbench scores for the latest iPad Pro models have surfaced on the internet already.
The scores reveal an astonishing fact that iPad Pro 2018 delivers performance similar to 2018 MacBook Pro!
In single-core performance, iPad scored impressive 5030 and in multi-core, the score was ~18000. The single core scores are almost comparable to 2.6 GHz i7 2018 MacBook Pro. In terms of double cores, MacBook Pro, obviously, beats iPad. However, there is not much difference in the scores.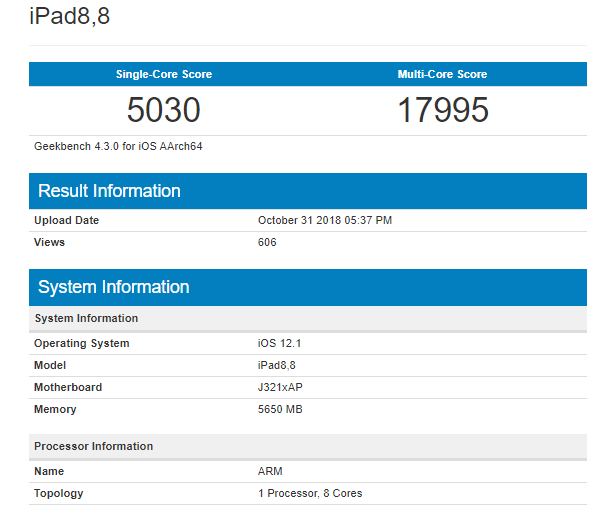 When single core performance is considered, the iPad Pro equals or surpasses all the 2017 iMac configurations and gets the equal score as iMac Pro.
The credit behind this beastly performance goes to Apple A12X chipset fitted under the hood of iPad Pro. Built on 7nm architecture, A12X is bigger than A12 which powers iPhone Xs, Xs Max, and Xr. While A12 has six-core CPU and quad-core GPU, A12X features octa-core CPU and seven-core GPU.
The Geekbench scores also reveal that the iPad Pro variant with 1TB storage is fitted with 6 GB RAM whereas the other variants feature 4 GB RAM. The scores show that the device named 'iPad8,8' has 5650 MB RAM and 'iPad 8,3' features 3769 MB.
This is the first time when RAM has varied according to the storage in any iOS device. Apple dubbed iPad Pro as "the ultimate gaming device" and faster than "92% of portable PCs." The Geekbench scores have shown that Apple was not boasting. iPad Pro is a powerful device almost blurring the line between PCs and tablets.