Apple is set to introduce the next iteration of its coveted iOS 14 operating system. Cupertino-giant is expected to host an online-only annual developer event WWDC sometime in June where it will highlight iOS 14 features which will be seen in the upcoming iPhone 12 and iPhone 9/iPhone SE2.
Meanwhile, there are several rumors floating around indicating the new features that will arrive in iOS 14. A leaked iOS 14 code hinted that this year's iOS update will bring along some unprecedented features.
Here is a roundup of news, rumors, and features that we could see in iOS 14.
iOS 14 Features, Rumors & News
Augmented Reality Features
A leaked code of iOS 14 obtained by 9to5Mac suggested that Apple is planning to bring a host of augmented reality features this year. An AR app codenamed "Gobi" is on the cards and as per the code, it will help users to "get more information about the world around them."
There are rumors that the AR app by Apple will be integrated into Apple Stores and Starbucks. The app will allow users to get more information about a product in an Apple Store by simply pointing their camera towards it.
This iOS 14 feature could mark the beginning of a trend in the smartphone industry and we could see AR tech surfacing again in 2020-21.
Moreover, Apple is also expected to release Apple AR Glasses sometime next year and the AR could be the first step towards it.
New App View Screen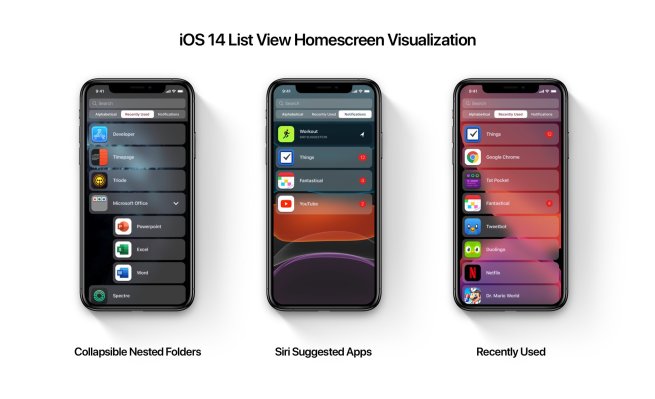 A report by 9to5Mac based on a leaked iOS 14 code indicates that Apple is planning to introduce a new screen where apps will be displayed alphabetically. The new List-View iOS 14 feature will also provide an option for users to sort apps with different options. For example, you could sort apps by frequently used or apps for which you have unread notifications and more.
Until now, iPhone users viewed apps by scrolling on the home screen or by searching the apps directly. This upcoming iOS 14 feature will make finding apps easier.
As per 9to5Mac, Apple will also integrate Siri Suggestions in this list view screen to make it further easy for users to access apps. For example, Siri might suggest opening the Starbucks app when you enter a Starbucks Store, or Music app when you arrive at your gym.
In-Built Call Recording Feature
Recently, a sketchy report said that iOS 14 could be launched with an in-built call recording feature found in many Android skins like OxygenOS. However, later, it was revealed that the call recording feature is meant for internal debugging and might not be available for general users.
Feature to use apps without downloading them
An early build of iOS 14 revealed a 'Clips' feature that wouldn't require you to download an app to use it. For example, you can watch a YouTube video in its native floating interface without downloading the YouTube app with the 'Clips' feature.
Apple Pencil features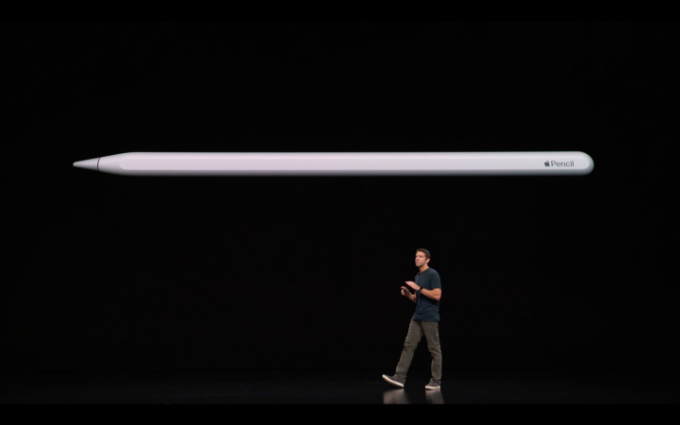 Reportedly, Apple is planning to introduce a new PencilKit with iOS 14 that will allow users to fill in text fields using Apple Pencil which will be turned into standard text. Imagine writing a message using Apple Pencil and sending it like a normal text message.
Option to make third-party apps the default app
iOS 14 has been touted as bringing an option to make third-party apps the default app. With this iOS 14 feature, you can make Google Chrome your default browser and Gmail as the default email app on your iPhone.
This decision could be seen as an effect of complaints lodged against the company for providing an unfair advantage to its native apps.
Support For Third-Party Wallpapers
If you are a fan of customized wallpaper, it could be one of the biggest features of iOS 14 for you. Apple plans to allow third-party wallpaper packs in the Settings app. The company could also bring in new wallpaper categories to help users sort and apply wallpaper.
New Accessibility Features
New accessibility features can make their way onto iOS 14 according to MacRumors. Apple could include accessibility features like sound recognition for a doorbell, fire alarm and more for users with hearing disabilities. Moreover, Apple could add a feature where the camera would detect and gesture for people with vision-related disabilities.
New iMessage Features
Apple is planning to introduce a host of features in iMessage with iOS 14 to make it more user friendly. You can see the following new iMessage features in iOS 14:
Mention your contacts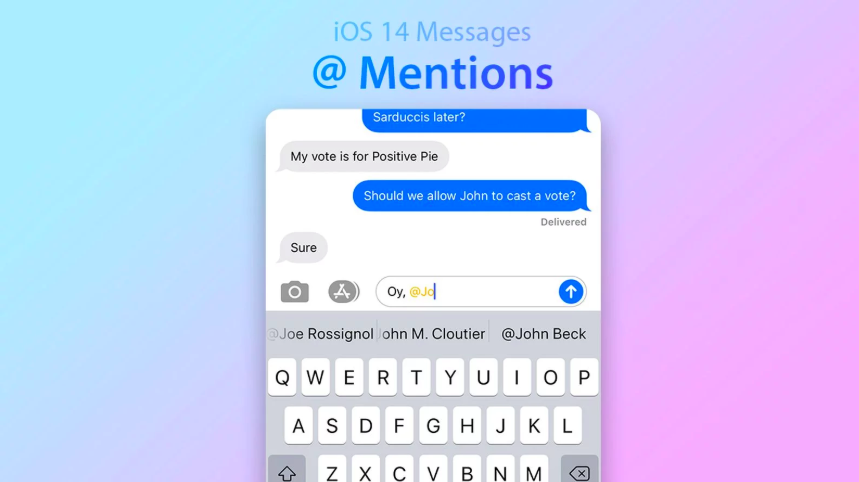 iOS 14 could bring a Slack-like mentioning system for tagging your contacts in messages. Using this feature you can address a message to an individual in a group chat. Also, if someone mentions you then you'll receive a notification for the message even if you've muted the chat.
Mark as unread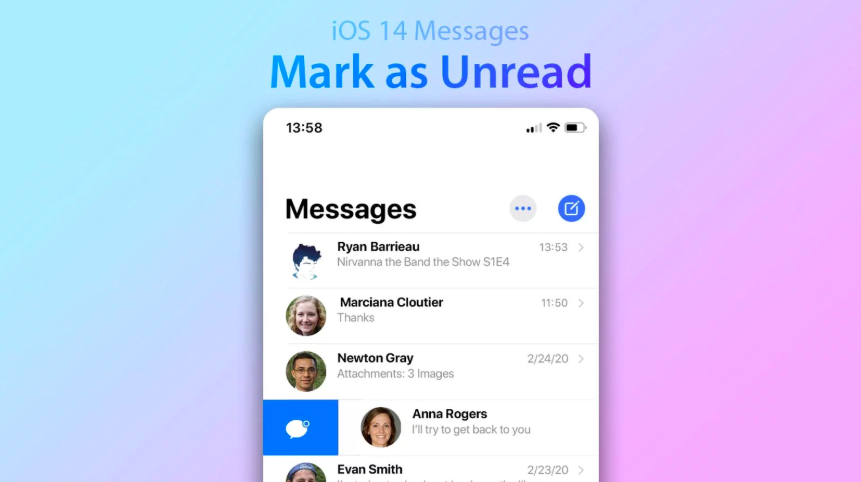 With iOS 14, you'll be able to mark your iMessage as unread, remember important messages and highlight them. It will be similar to the features available in Gmail and WhatsApp.
Delete sent iMessage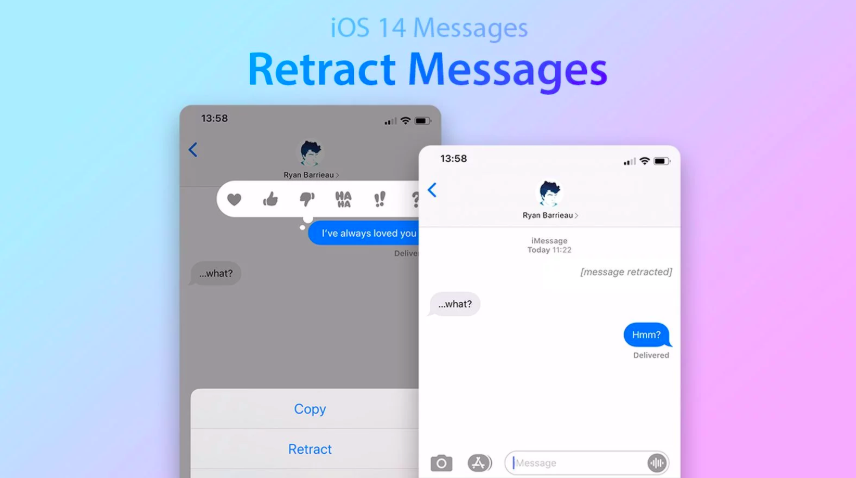 This could be one of the most prominent features of iOS 14 for iMessage. Apple could offer a feature to retract sent iMessage. However, the fact that you've deleted a message will be visible to both the sender and recipient of the chat.
Native app improvements
Like every other year, Apple will bring a ton of improvements to its native apps. Rumors have hinted that the company plans to bring upgrades to its Health app with a new sleep tracking feature which will be available in the next-gen Apple Watch.
Additionally, we could see some new features in Apple Maps, HomeKit and Find My apps with iOS 14.
System-wide support for a mouse cursor
Apple introduced a redesigned cursor in its newly released iPad Pro to bridge the gap between an iPad and a computer. On similar lines, we could see iOS 14 bringing system-wide support for the mouse cursor. In iOS 13, Apple added support for a cursor as well, but it was hidden in Accessibility settings. This time, Apple could make it more accessible.
iOS 14 Compatible iPhones
Last year, Apple surprised everyone by making iOS 13 compatible with devices as old as an iPhone SE, which was released back in 2016. This year we expect Apple to make iOS 14 compatible with the following iPhones:
iPhone 7
iPhone 7 Plus
iPhone 8
iPhone 8 Plus
iPhone X
iPhone XR
iPhone XS
iPhone XS Max
iPhone 11
iPhone 11 Pro
iPhone 11 Pro Max
It wouldn't be a surprise if the upcoming iOS 14 version turns out to be compatible with iPhone 6s and iPhone 6s Plus (via MacRumors) but we aren't sure about it yet.
iOS 14 Release Date
Apple has already announced the date for its annual developers' conference WWDC. WWDC 2020 will be held on June 22 and it will be a virtual event this year due to Covid-19. We expect the company to release iOS 14 developer beta in the coming days following WWDC 2020.
If previous years are any reference, we could see iOS 14 public Beta getting released sometime in August. iOS 14 will officially arrive with Apple's fall event, wherein it is expected to release iPhone 12-series.