After receiving complaints regarding abnormal battery discharge across different models of iPhone, Apple has released iOS 11.4.1 which brings minor bug fixes including improved reliability of syncing mail, contacts and notes with exchange accounts, and a fix for the issue that prevented some users from viewing the last known location of their AirPods in Find My iPhone option.
However, the headlining feature of the new and most probably last update of iOS 11 is the new USB Restricted Mode, which could be a headache for cops and security agencies. This debut feature restricts law agencies to break into your iPhone by connecting a cracking box like GrayKey via the lightning port.
After updating to the latest software, you will find 'USB Accessories' option in the Touch ID & Passcode section in Settings. When this toggle switch is turned on, your iPhone would require your Touch ID or Passcode to allow USB accessories to connect when it has been more than one hour since your iPhone was locked.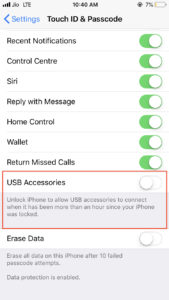 The option is turned off by default. You can turn it on if you want to safeguard your iPhone against any possible breach to sneak up on your iPhone's content.
Released in the developer beta of iOS 12, this feature has been officially launched in iOS 11.4.1 amidst the speculations that it would be first available from iOS 12 onwards.
Along with iOS 11.4.1, Apple has also released watchOS 4.3.2, tvOS 11.4.1 and HomePod 10.4.1 bringing improvements and bug fixes majorly.