Intel announced its entry into the graphic card market with its new Intel Arc GPU. These graphic cards will be competing directly with AMD and Nvidia, finally putting an end to this duopoly. The ARC brand will basically be the equivalent of AMD's Radeon and Nvidia's Geforce with multiple hardware generations. The first Intel gaming GPU will be released in Q1 of 2022, codenamed "Alchemist" (formerly known as Intel Xe DG2 GPU).
Intel also revealed the code names of future generations under the Arc brand: Battlemage, Celestial, and Druid. Compared to Nvidia and AMD, Intel seems to have a better naming policy for their new GPUs. However, many tech enthusiasts wish they did the same for their CPUs. For those still wondering, Intel Alchemist will be a whole generation of GPUs with close to five different graphic cards.
So far, Intel has released Iris Xe GPU (codenamed DG1), only available in pre-built workstations. Intel's Iris Xe GPUs used the company's Xe LP architecture. The upcoming Intel Arc GPUs are based on the Xe HPG microarchitecture, which combines Intel's Xe LP, Xe HP, and Xe HPC microarchitectures.
Intel Arc GPU features
Intel is making sure that ARC GPUs support all the features from the current generation of graphic cards. These GPUs will come with DirectX 12 Ultimate support. This will include mesh shading, real-time ray tracing, variable-rate shading, and AI accelerated supersampling (similar to Nvidia's DLSS). AMD will have its work cut out for it as their FidelityFX Super Resolution (FSR) is nothing compared to AI accelerated supersampling.
These GPUs are also capable of using AI accelerated video enhancement features. Intel showed off this feature in their demo video by upscaling a 480p video to 4K with 2x magnification. This is a great addition for all those working in the creative field as they can use their Intel GPU for games and work.
Intel Arc Graphics Card: Release Date, Specs & Price Rumors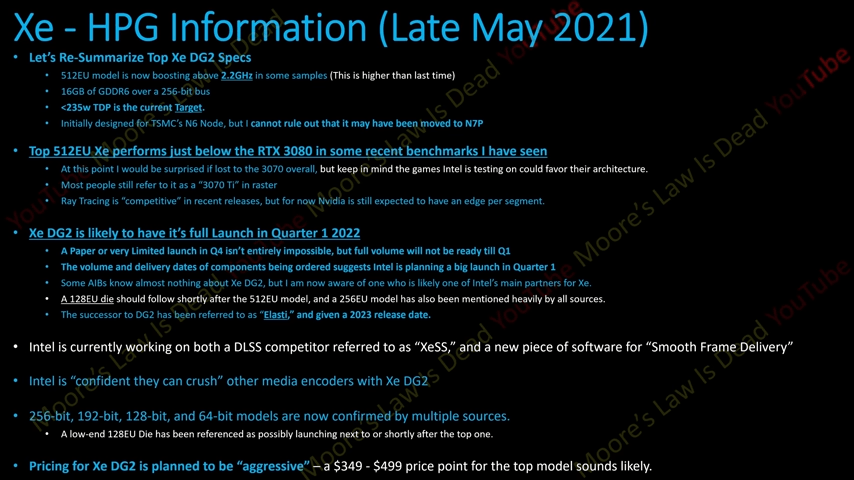 Release Date
Intel's new ARC GPU codenamed "Alchemist" will be released in Q1 of 2021. It will most likely be released alongside CES 2022, held in the second week of January. Intel also teased that they will be that they will release more information in the coming weeks, especially regarding their AI-based supersampling tech.
Performance
Many sources have confirmed the performance of the high-end version of the Alchemist series (512EU Xe) is somewhere between RTX 3080 and RTX 3070. Many have even compared it to Nvidia's RTX 3070 Ti.
Price
It seems the pricing on the new Intel gaming GPU will be "aggressive," coming in between $349-$499. This is the same price range as Nvidia RTX 3060 at the lower range and Nvidia RTX 3070 Ti at the higher range.
Availability
The prices of graphic cards are inflated in the market right now. This is mainly due to scalpers and cryptocurrency miners taking all of the high-end GPUs for themselves. There's also a semiconductor shortage going on around the world right now. So don't expect to get your hands on a new Intel GPU just yet.
Intel has announced its new Arc GPUs based on the company's Xe HPG architecture. The first GPU is codenamed Alchemist (formerly known as Intel Xe DG2 GPU).