U
ntil now, Intel's Thunderbolt interface has mostly been a goodie for Macbook users as Apple is also the creator of the interface. But the recent
announcement
by the silicon giant to would likely bring the Thunderbolt interface to regular PCs in the coming future.
The computers which currently support Intel's Thunderbolt interface house a separate chip. Intel has plans to remove a major roadblock preventing the adoption of their Thunderbolt tech by making it royalty-free by next year and opening up Thunderbolt specifications to the industry.
Also, the latest version Thunderbolt 3 will be integrated into Intel CPUs, enabling third-party manufacturers to take advantage of the high-speed data transfer interface.
Intel first introduced Thunderbolt in 2011 as an effort to allow data transfer and external display support via a single interface. Most of us still use HDMI and USB 3.0 ports on our computers.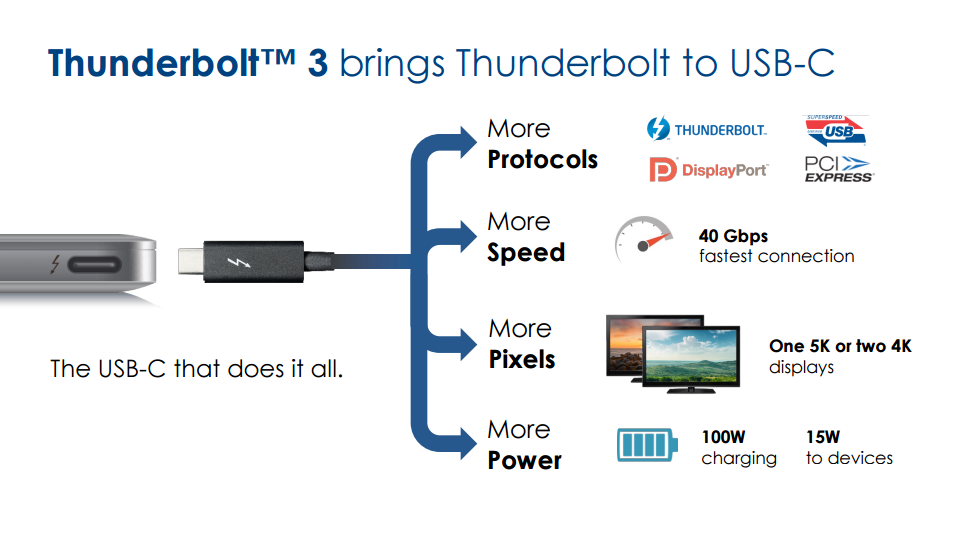 Thunderbolt 3 is capable of delivering theoretical transfer speeds up to 40Gbps. It uses the standard USB Type-C port, thus, reducing the need for an extra port on the device. While charging devices, Type-C port can deliver around 100W. As far as external display support is concerned, you can connect up to two 4K monitors to a single Thunderbolt 3 port.
The Thunderbolt 3 spec further includes support for HDMI 2.0, USB 3.0, Displayport 1.2, and PCI Express 3.0. So, all you need is a compatible adapter to connect your peripheral devices which don't have a Thunderbolt 3 port. Also, PCI Express support will allow the users to hook an external GPU to their laptops which don't have a discrete graphics chip.
Thunderbolt going royalty-free will also result in an increase in the production to related accessories such as storage devices, docks, and other peripherals. Also, the industry would be able to leverage future improvements made to Thunderbolt interface which include a possible speed bump up to 80Gbps.
If you have something to add, drop your thoughts and feedback.