At Computex 2019, a couple of days back, we saw the Asus Zenbook Pro Duo laptop. It packs an Nvidia RTX 2060 and is surely aimed at gamers who might need some extra space during their sessions. Then we saw the Omen X 2S with a futuristic design from HP.
Silicon giant Intel has also come up with its dual-screen prototype called Honeycomb Glacier. It looks a lot like the Zenbook Pro Duo with the two screens, the keyboard, and the touchpad arranged in roughly the same fashion.
The weird part comes when you see how Honeycomb Glacier can hang itself mid-air while trying to make your experience as immersive as possible. Intel says that they designed it for gamers and creators and that the extra screen adds room for more controls.
For example, you can chat with your friends while playing games, or scrub the timeline in Premiere Pro while editing videos on the main screen. Basically, this could possibly reduce the need for having an external display all the time.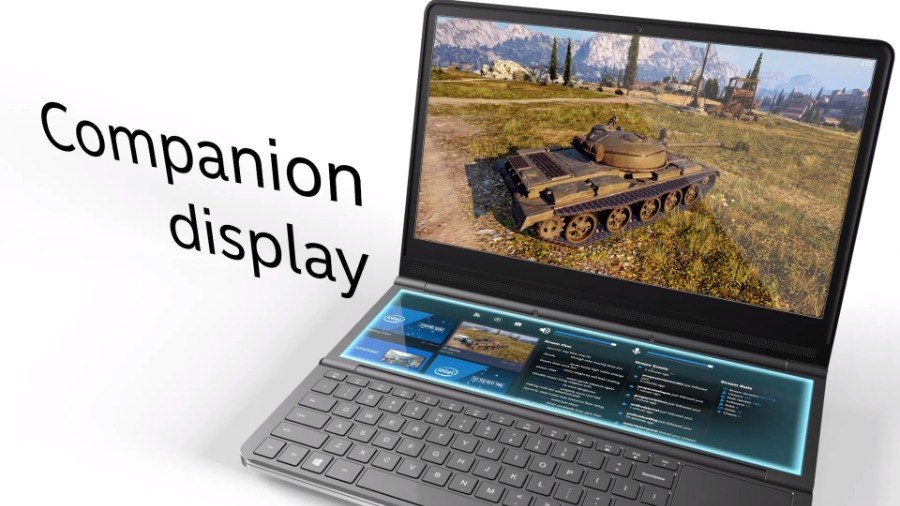 With Apple's Touch Bar, we have already seen how some extra real estate can be of great help. And in this case, it is much more than a stip of the screen above your keyboard.
Why it makes sense?
To make that prototype possible, Intel has added two hinges to the device to give an inclination to both screens. Now, at first, it feels a little different the way the laptop hangs up in the air. I mean, I know you want to ask — why?
But after giving some more thought, one realizes that it makes sense. Here I want to give an example of the Zenbook and Omen X. Their secondary touch display is fitted directly into the main chassis.
Intel's dual-hinge design makes it possible for you to arrange the two displays in different ways. You can set it at different angles of your choice and it'll lock itself in that position.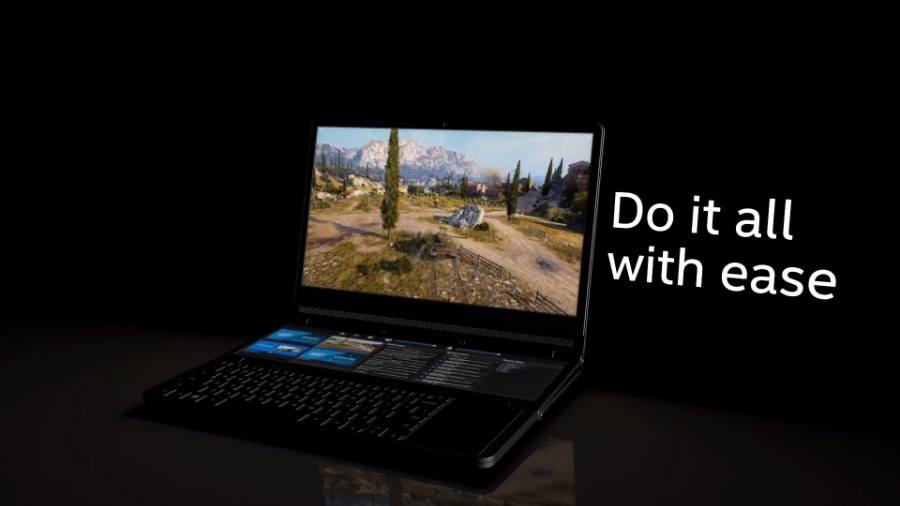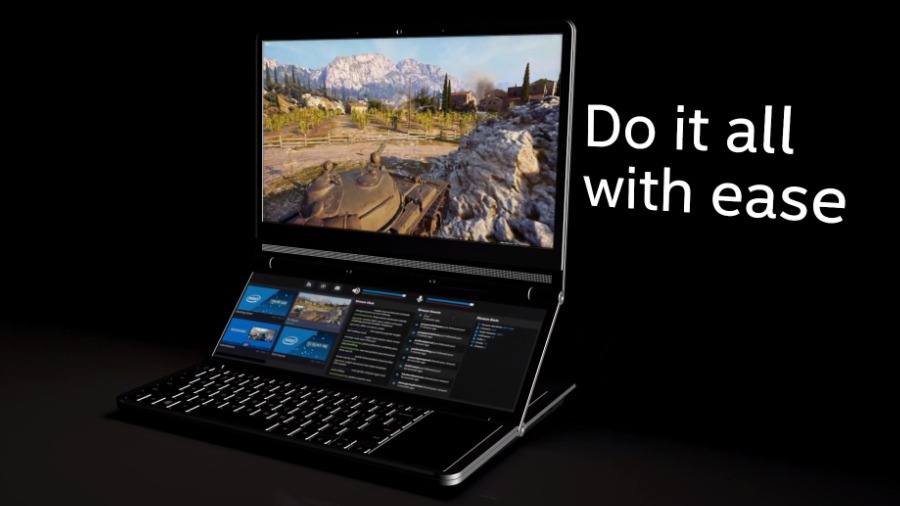 You can keep the second display at the bottom or make it inclined. Also, the main display can go up to the point where you can comfortably use your laptop even on a standing table.
All of this ultimately comes down to personal preference. I'm not saying what Asus and HP have done is bad, but in Intel's case, you can do both, which is a plus point.
The Specs
Honeycomb's primary display is a 15.6-inch FHD panel and the secondary 12.3-inch display has a resolution of 1920×720. The upper hinge also packs a Tobie Eye tracker which could help easily control the secondary display, of course, using your eyes. But remember, all of this is just a prototype right now.
As noted by The Verge, the actual laptop could be much more compact than what Intel has showcased if a manufacturer tries to build it. Under the hood, it has an octa-core Intel CPU and an Nvidia GTX 1060 graphics chip.
It's not the first time the company has had its hands on dual-screen devices. Back at CES 2011, Intel partnered with Razer to show off Switchblade. Then last year, they came up with Tiger Rapids, which inspired the Lenovo Yoga book C930.