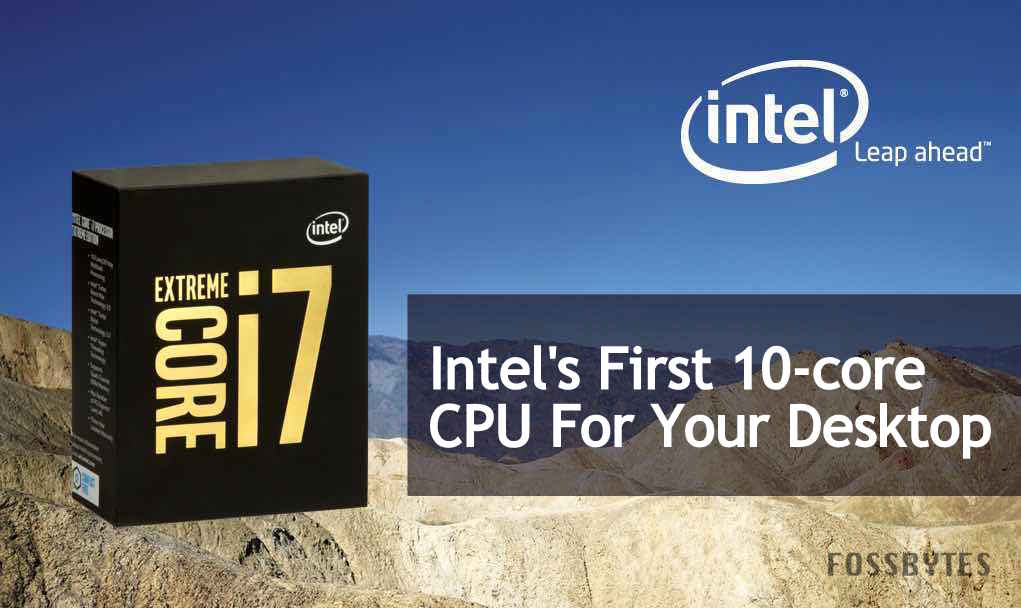 Short Bytes: If you're willing to spend a lofty sum of $1,723 on a desktop processor, here's a great news for you. Targeting the "mega-taskers", Intel has launched a new lineup of Extreme Edition Broadwell processors. The top performer of this lineup is Intel's first 10-core processor i.e. Intel Core i7-9650X Extreme Edition.
W
hile you might feel content using your current computer powered by
standard Intel Core i5 and i7 processors
, Intel has just announced its first 10-core desktop CPU for extreme performance.
Dubbed Intel Core i7-9650X Extreme Edition, these processors will add more fuel to the gigahertz race in the tech world. With this release, Intel is also ditching its Latin branding (deca-core) and going for simple "10-core".
These new Broadwell-E processors will operate at 3GHz with an upper overclocking limit of 3.5GHz. The new chip will come with Intel's Turbo Boost 3.0 technology and feature 25MB cache.
Before telling you more about this monster, let me state its price. To own this hardcore piece of engineering, be prepared to spend an incredible $1,723.
So, why does Intel Core i7-9650X Extreme Edition cost this much?
According to Intel, this chip is made for the "mega-taskers", which is apparently the next level of multi-tasking. The company says that while performing 3D rendering tasks, it's 35% faster than the last-gen Core i7-5960X. Compared to the same chip, Broadwell-E is 25% faster when it comes to editing 4K videos.
If you are looking for a slightly cheaper version of Intel Core i7-9650X Extreme Edition, there's a good news for you.
Intel has announced that the new Extreme Edition i7 CPUs will also come in 8-core and 6-core variants. Including the previous 10-core processors, all the new chips will support DDR4-2400 RAM.
These chips also mark another step in Intel's new product cycle favoring the new "Process, Architecture, Optimisation" model. Notably, last year, the company announced that it'll be ditching its "Tick-Tock" model.
Did you find this article helpful? Don't forget to drop your feedback in the comments section below.