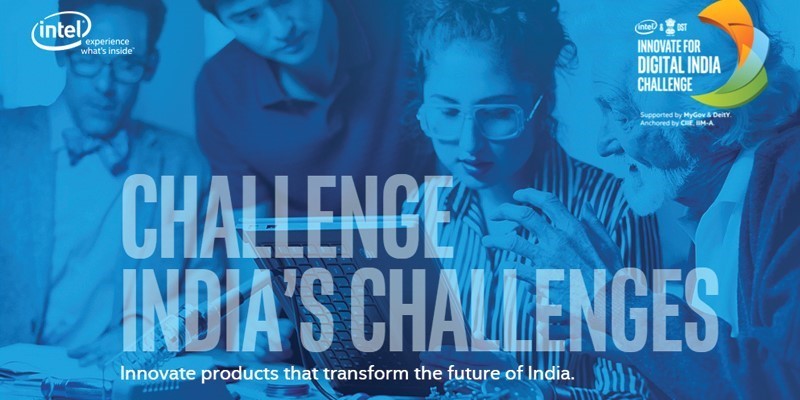 Technology has always been a hope for something good. Today more than ever before, developing nations which account for over 70 % of the world's population are in a dire need of technological advancement to overcome myriad problems including poverty, illiteracy, unemployment and general awareness. India is one among these nations and it has recently begun its journey of technological advancement and enhancement keeping pace with the changing world with the Digital India initiative.
I
ndia is very rich on account of brain power but lacks on the proper utilization of its human resources. In order to make the situation better, Intel has joined hands with the Indian government's Department of Science and Technology (DST) to launch the Innovate programme for the Digital India challenge, which is a venture to provide mentoring as well as financial incentives to the talented minds of India. In other words, Intel and DST are out to look for new ideas from the India and for the India. The main aim of this venture is to make people find solutions to their local problems using technology.
Myriad surveys indicate the rise of the smartphones in the lives of Indian masse, but the sad thing is that they don't use it smartly. Most of the phones in the Indian houses end up being used for ordinary calling purpose or listening to music, using social networks, clicking pictures and that's it. However, if we give a deep thought to this prospect, we'll be able to realize these can do lot more to make things better. Moreover, another challenge that is at the root of India's backwardness in the arena is that most of the India's common masses are not comfortable enough with English which is a language mostly at use in almost all apps. So there arises a need to move beyond apps and services that use English-based interaction.
This is possible by connecting people with their local government programmes and/or initiatives that are meant for them. Intel and DST are focusing on ideas that are in away 'drive mass adoption of technology' and include- biometric sensing capabilities, peripherals using sensors, intuitive user interface, gesture recognition and multi-lingual voice support. Also, they and Digital India aims to create apps that are capable to accelerate e-governance services through eKranti or MyGov apps on mobile platforms. These will serve as a medium to connect people to government initiatives for the social welfare.
Noticeably, Intel has partnered with the Government before on projects like the Digital skill for India programme that aimed to impact the 5 million lives by the end of the year 2015.
About 20 Individuals and companies are being offered prototyping grants of up to Rs 2 lakhs each of which will be shortlisted Kickstarter. The shortlisted candidates will be then mentored in Bengaluru and Pune for a period of 12 weeks and thereafter top 10 participants will be identified for another 8 weeks of mentoring and will be given an access to development grant of up to Rs 5 lakh per team.
As per Intel, the participants will be working in collaboration with partners like TCS and Micromax during the programme tapping expertise and technique. Finally, there will be a Demo Day in Jan 2016, where the ten teams will be bestowed a chance to present their finally finished products, amongst which 3 teams will have a chance to gain equity investment of up to Rs. 20 lakh each from DST.
This will surely be a great platform for the emerging ideas in the minds of the Indian youth while serving as a solution to numerous problems of the Indian societies. We'll like to see this programme to do well and India to shine on the technical firmament of the world.
Tell us if you like the article through your comments.
For more tech updates and science news, keep reading fossBytes.
Via: Innovatefordigitalindia.intel.in
Also read: Government of India to adopt Open Source Software in e-governance systems