Intel has announced upgraded Xeon processors with up to 48 cores and 12 DDR4 memory channels per socket, with the support for up to two sockets.
Named as "Cascade lake Advanced Performance," the processors bring considerable upgrades over the currently used Xeon Scalable Processors that uses a monolithic die and features 28 cores and 56 threads.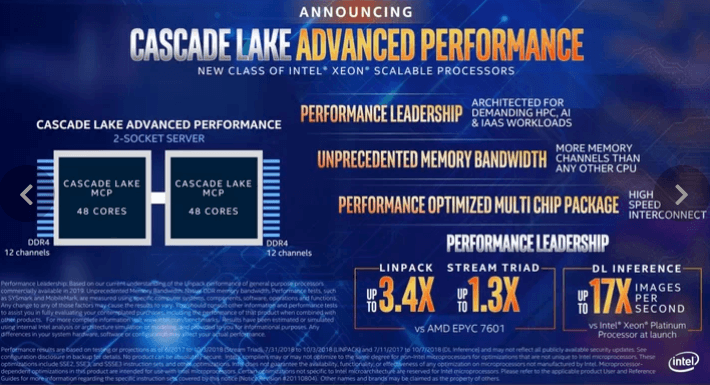 The next family of Xeon processors is a multiple chip processor with multiple dies in a single package. The shift towards multiple chip design is the need of the hour as the chances of a defect increases with the size of dies.
Intel has not listed a core count/thread specification for Cascade Lake AP like it does with other processors. Instead, only a core count has been listed.
This could mean that the new processors won't have hyperthreading at all or it is also possible that the chipmaker company is trying to avoid the security concerns involved with hyperthreading by not mentioning it altogether.
Intel has said that the new processors will bring 20 percent performance improvements over the current Xeon SPs and a significant 240 percent improvement over AMD's Epyc.
The company also said that the processors would be fitted with a number of new AVX512 instructions that are expected to bring performance upgrades in running neural networks and image matching algorithms.
Xeon Cascade Lake AP will be shipped in the first half of the next year.
Additionally, the company also announced that it would begin the shipping od Xeon E-2100 processors from today. These single socket chips have up to 6 cores and 12 threads and are designed for small servers.