Specification of the upcoming Intel 10th Gen Comet Lake CPU has been leaked on a Chinese Website. The latest CPUs will only offer a minor refresh of the current Whiskey Lake and Coffee Lake architectures.
The CPU will mark the first time when Intel would be forced to use 5-digit numbering for its CPU models.
Intel 10th Gen Comet Lake CPU Launch Date and Specs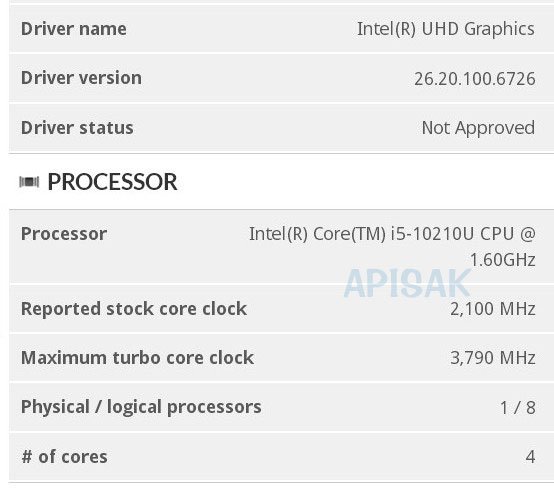 According to the leaked screenshot, the 10th Gen Core i5 CPU will feature 1.60MHz of the base clock and 3.7 GHz of boost clock. The latest CPU features a 4 core 8 threads count with a TDP (Power Consumption) of 15W.
Specs of the 10th Gen Core i7 feature a 6 core 12 thread CPU and a 4 core 8 thread chip respectively. The 4-core 10th Gen i7 has a 1.8 GHz base clock speed and a 4.9 GHz boost clock speed for single-core performance.
The remaining specs of the 10th Gen Intel CPUs are as follows:
| | | | | |
| --- | --- | --- | --- | --- |
| Processor Model | Core Count | Thread Count | Boost Clock (GHz) | Base Clock (GHz) |
| Core i3-10110U | 2 | 4 | 4.1 | 2.1 |
| Core i5-10210U | 4 | 8 | 4.2 | 1.6 |
| Core i7-10510U | 4 | 8 | 4.9 | 1.8 |
| Core i7-10710U | 6 | 12 | 4.6 | 1.1 |
Update from Intel
Before the leak, Intel had recently announced the launch of its fastest processor yet. The Core-i7-8086K with 6-cores running at 5GHz is the latest upcoming processor from Intel.
However, the CPU maker has been suffering from production issues and losing market share for quite some time. Tech giants like Apple are likely to cut ties with Intel and start using ARM-based CPUs for its products with — especially for MacBooks.
This is due to stagnant innovation from the side of Team Blue. Even the Intel 10th Gen Comet Lake CPU is based on the same 14nm Skylake architecture with a minor refresh. Graphical performance on these processors will not see an upgrade either due to an update in the Linux DRM, which suggests the presence of older 9th gen integrated GPUs.
According to a report, only the 11th Gen Intel CPUs will see a significant GPU upgrade. However, people are tired of waiting for Intel to catch up with ARM. In our comparison of the ARM vs X86 CPUs, we found how enterprises like Amazon Web Services have begun adding an ARM-based server to offer more efficient and affordable virtual machines.
Needless to say, even the leaked specs of the upcoming Intel doesn't seem to impress several people. Those in the market looking for a new CPU are better off waiting for the upcoming Ryzen 3000 series.