Apple's smartwatch lineup will get a fresh new software update today as the company rolls out WatchOS 8. The operating system was announced earlier at the WWDC 2021 event and tested by many beta users.
Now that the official release will be out soon, here's how you can update your Apple Watch with the new WatchOS 8.
How do I get WatchOS 8 on my Apple Watch?
Installing software updates nowadays is like a cakewalk. You have to do nothing as almost everything happens in the background. The same is the case with WatchOS 8, and all you need to do is enable automatic updates on your Apple Watch.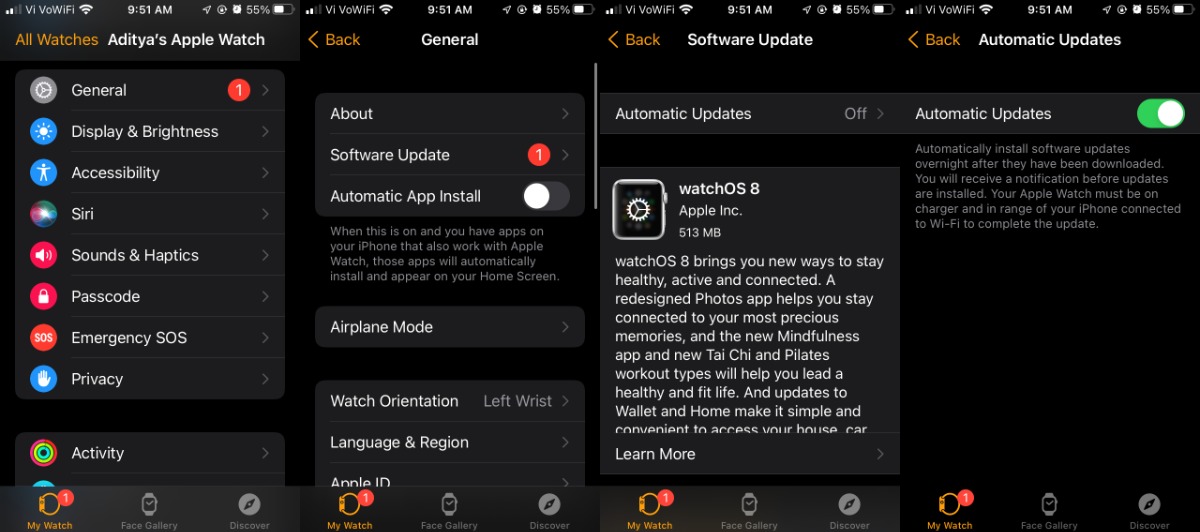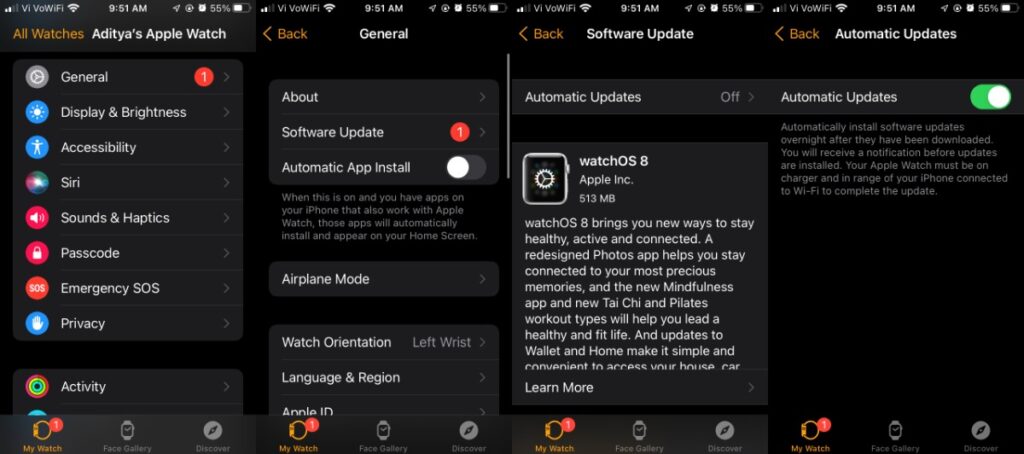 To do so, open the Watch app on your iPhone > General > Software Update > Automatic Updates. Here, enable the toggle button that says Automatic Updates. When you try to install the update via Apple Watch, you'll get a prompt on your iPhone to accept the T&C.
Either way, the software update is first downloaded to the paired iPhone then transferred to the Watch to install. Once the WatchOS 8 update is available for your Apple Watch model, it will be installed on its own. However, if you disable automatic updates, you can still visit the Software Update page to check for the new version.
You can do the same on your Watch by going to Settings > General > Software Update.
If the software update fails to install, you can try restarting your iPhone and your Apple Watch, then start the process again.
Things to do before installing WatchOS 8 update
There are a few things you need to take care of to install the latest Apple Watch update:
Your iPhone should be running iOS 15
Battery percentage should be atleast 50% or the Watch should be connected to the charger
Your iPhone should be connected to WiFi and in Bluetooth range of your Apple Watch
Apple Watch data automatically gets backed up via the paired iPhone, so you don't need to do anything in this case.
WatchOS supported devices
You can install the WatchOS 8 software update on the following Apple Watch models:
Apple Watch Series 7 (preloaded)
Apple Watch Series 6
Apple Watch SE
Apple Watch Series 5
Apple Watch Series 4
Apple Watch Series 3
One thing to note is that WatchOS 8 will require you to have iPhone 6S or a later model.
The latest Apple Watch update is almost 500MB in size, so it might take around 20 minutes to install, depending on your internet connection speed.
What are your thoughts on the WatchOS 8? Drop them in the comments download below.