As the world is under a situation of global emergency due to Coronavirus pandemic, self-quarantine is the only option left with people.
There are only a few options available to stay connected with your gang, either via some interactive apps or the traditional video calling software.  Now, the social media platform Instagram has added a new feature via which users can scroll Instagram with their friends.
Instagram Co-watching
Isn't it amazing that now you can browse through feed posts along with your friends? Instagram Co-watching allows users to browse saved or liked posts or any Instagram recommended posts in the feed with their friends, while on a video call.
Instagram Co-watching lets you enjoy the content on Instagram with your friends instead of consuming it alone. One can also post the content in a chat thread so your friends can see it too.
The new Instagram feature comes after Netflix rolled out a similar feature for streaming platform users on Chrome. Netflix Party allows users to watch movies, documentaries, or TV shows together with their friends. Users can also have conversations with their friends while watching something.
Other Major Changes
The new update to the Instagram app primarily revolves around features to cope with the pandemic. If you search coronavirus on Instagram, a notice will be encountered, which will include a link to the official website of the World Health Organization (WHO). In addition to that, the top two results will also showcase the official Instagram handles of WHO and UNICEF.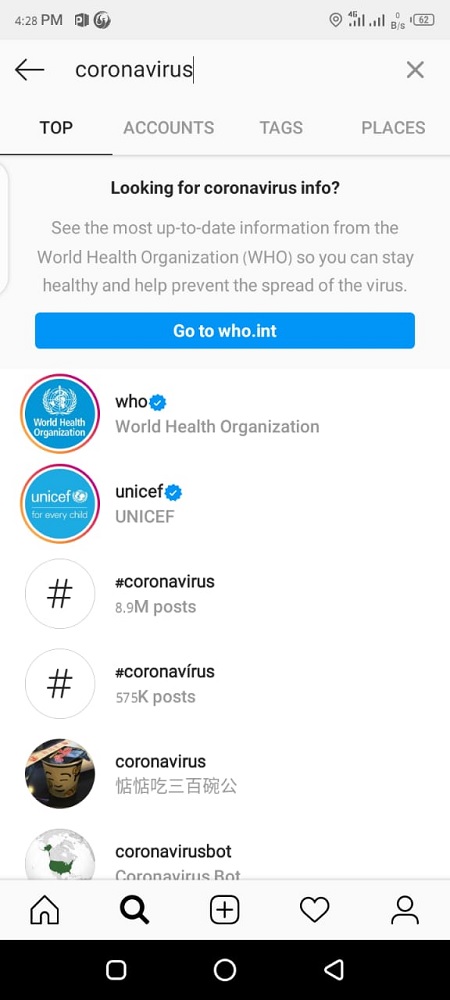 Other changes to the app include the removal of fake Coronavirus-related accounts spreading half-cooked information on the platform. A very mandatory step as blocking the spread of misinformation associated with COVID-19 is necessary.
The donation sticker on Instagram will be made available in more countries so people can use it for relevant purposes like raising funds for the needy and other non-profit works.