Our lives are getting more digital every day as the pandemic fast-tracked everything. Be it ordering groceries or doing your job, everything happens in the comfort of your couch. Now, App Annie's State of Mobile report says that Indians spend a whopping 655 billion hours on their Android phones in 2021.
When you convert 655 billion hours to years, you get 75 million years. The number is a 37% increase over the 2019 figure of 381 billion hours. However, the next figure we saw is even crazier.
26.6 Billion Downloads!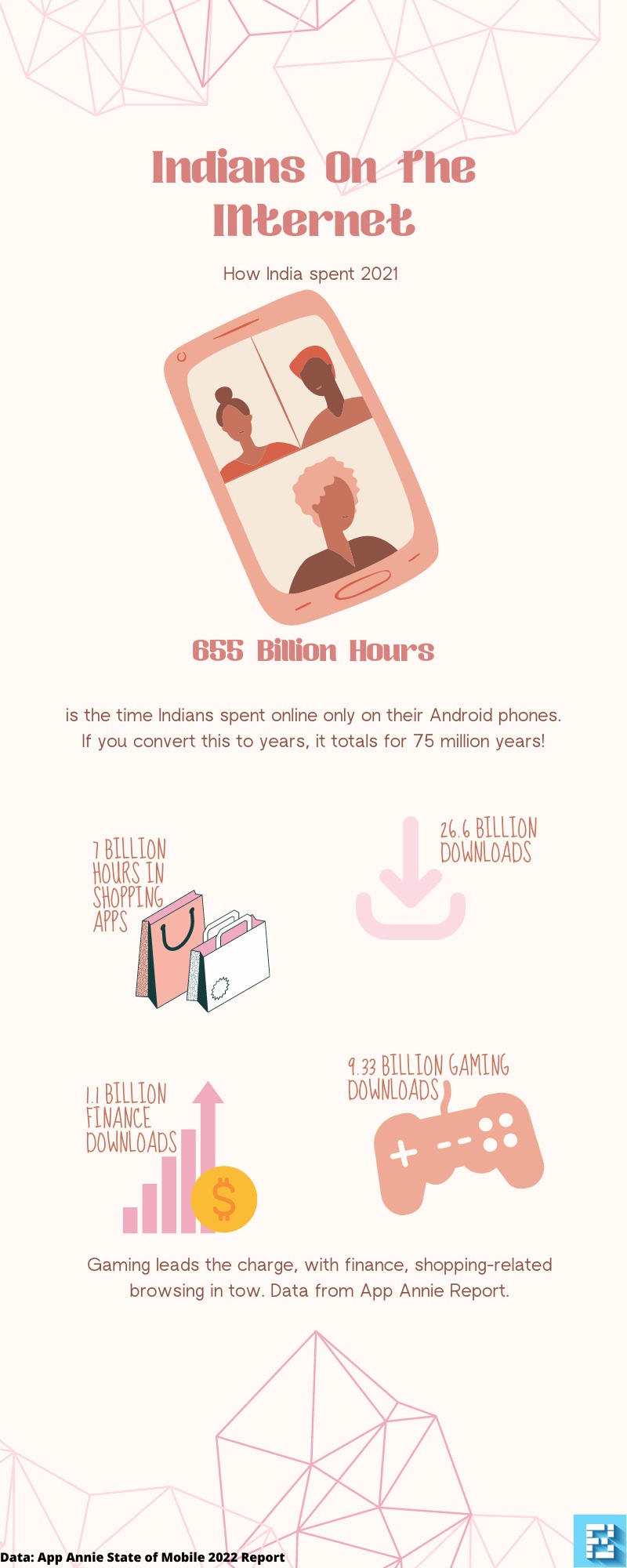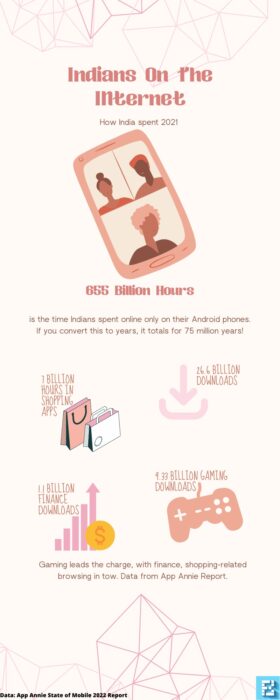 That's the next figure we're referring to in the App Annie latest State of Mobile report. India touched a total of 26.6 billion downloads in 2021. This was a 40% growth since 2019 and a 10% YoY growth.
This makes India #2 in terms of app downloads globally, with China securing the first, and the U.S. securing the third position respectively.
When we break down the overall figure, we can see the emerging trends in the country. Gaming comes at the top with 9.33 billion downloads in 2021, which is an 85% growth since 2018.
Next up, we see a steep increase in finance-related downloads. These went up from 0.5 billion in 2018 to 1.1 billion in 2021.
Finance is followed with health and fitness category downloads, touching the 50 million mark in Q4 2021. Lastly, shopping apps engaged Indians on the internet.
According to the report, India spent over 7 billion hours using shopping apps. This has translated to an 80% growth since 2018.
No Surprise, But Surprise!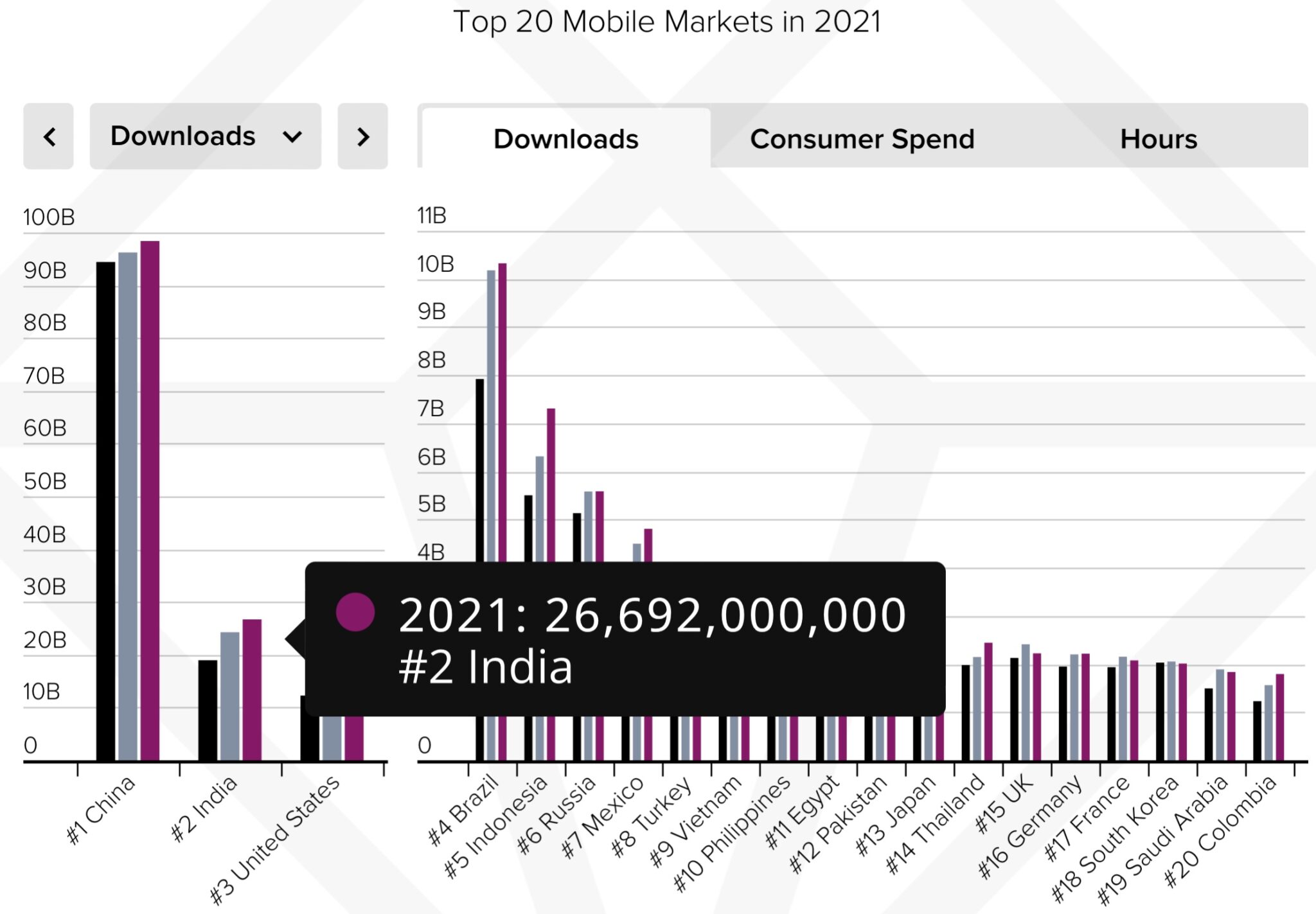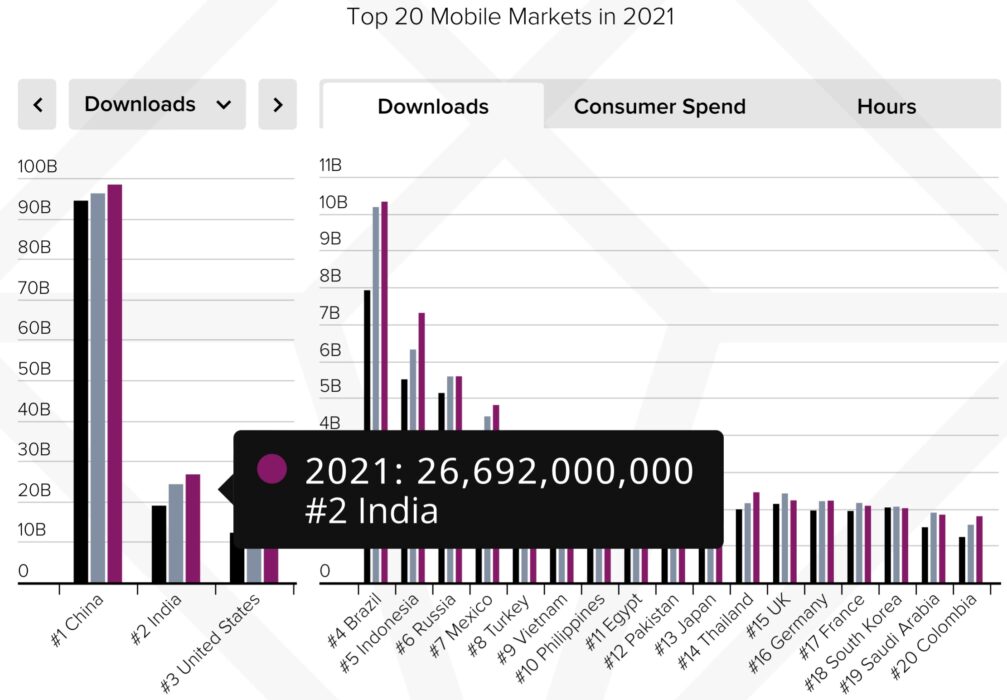 2021 has seen a ton of changes for Indians on the internet, which includes banning many popular apps and games between 2020 and 2021. The country also put new IT rules in play.
Internet shutdowns also frequented India in 2021 at different levels. So much so that we even considered them as a modern-day emergency. Despite all of the roadblocks on an otherwise smooth road, India is among the fastest rising markets in terms of tech.
The App Annie report comes as no surprise. India has one of the most affordable mobile data prices in the world. Also, the world's most affordable Android phones are available in India.
These include the JioPhone Next, and several other options like Redmi, Realme, entry-level Motorola phones, and Indian brands like Micromax and Lava.
We can conclude that the pandemic has indeed driven the digital revolution in India as much as anywhere else in the world. If you want to know more about the state of the global mobile market, you can check out the full report here.