M
ost of the fields in the tech industry demand a regular learning from you as they are dynamic in nature. You need to be up-to-date with the latest trends and make sure that your skillset matches the needs of your target industry.
For developers, this change becomes even more necessary. For example, today's mobile app developers need to eventually make a shift from Java and Objective-C to Kotlin and Swift, respectively. This growing adoption and demand is reflected clearly in different lists of the popular programming languages.
Recently, coding bootcamp and career guidance website Coding Dojo released its list of 2018's in-demand programming languages and I thought it would be a good idea to share it with you. Along with the list, we've also shared the links to hand-picked programming courses to supplement your learning.
How was this top languages list created?
Coding Dojo analyzed the data from job listing website Indeed.com. This job posting data revolved around twenty-five programming languages, frameworks, and stacks. It's worthing noting that some most loved programming languages like Ruby and Swift didn't make the cut as their demand was lower as compared to other biggies. The other growing languages that didn't make the cut were R and Rust.
7 most in-demand programming languages
1. Java
Compared to 2017, the Java job postings for 2018 have been decreased, but it has managed to top the list. The decrease was by about 6,000 postings.
— Learn Java
2. Python
In case of Python, an increase of about 5,000 postings was recorded. Due to its increased use in a variety of purposes like machine learning, research, data mining, and web development, it's adoption is on the rise.
— Learn Python
3. JavaScript
JavaScript, the language of the web, has maintained the number of job postings and the decline of this in-demand programming language in near future doesn't seem like a possibility.
— Learn JavaScript
4. C++
Just like JavaScript, the popularity of C++ has changed very little this year. This old-school language is still used in many legacy systems and extensively used for the development of games, drivers, software, client-server apps, etc.
— Learn C++
5. C#
Over the course of the year, Microsoft's home-grown programming language C# witnessed a decline in demand. However, due to its heavy usage in fields like game development, it has been able to find a place in this list of most in-demand languages.
— Learn C#
6. PHP
Compared to the last year's #9 position, PHP has been able to move up the charts. This scripting language used on the server side finds extensive usage in WordPress and web development.
— Learn PHP
7. Perl
Perl was another language that witnessed a decline in demand by almost 3,000 job postings. However, it has managed to maintain its position at #7 on this list.
— Learn Perl
Here's the 2017 vs 2018 comparison chart of these in-demand programming languages: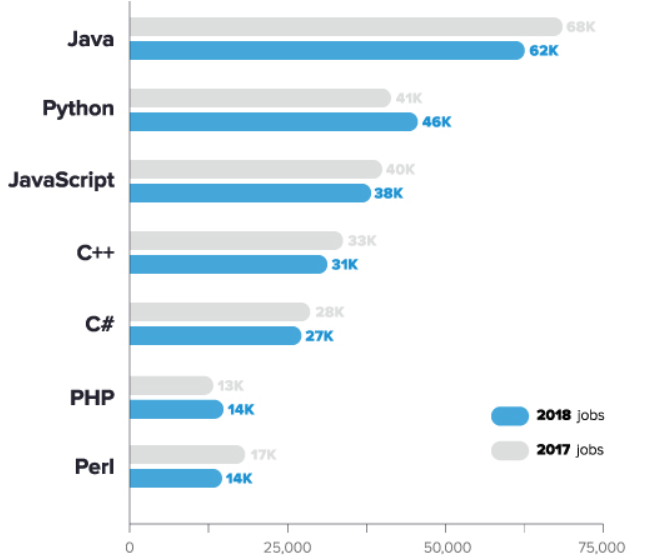 Which programming languages are you planning to learn in 2018? Do share your views and supporting reason behind the same.