Since the internet is saturated with pirated content, therefore, Hollywood studios have to deploy automated bots through reporting agencies for identifying the URLs that are violating the copyrights. These infringing URLs are then reported to various service providers such as Google for taking the appropriate action against them.
However, these bots are far from perfect, and there are several bugs that are causing problems lately. In an earlier incident, Topple Track, an anti-piracy and content monitoring service had to take down its bots after a series of faulty takedown notices were submitted.
In a more recent incident, these bots are going through another strange bug which is causing Google to receive a host of DMCA notices accusing Internet Movie Database (IMDb) of hosting pirated content. Interestingly, most of these false notices are generated by Entura International which is another anti-piracy monitoring organization.
The bug has led famous Hollywood studios including Sony Pictures Television and Columbia Pictures to issue notices to Google for taking down the IMDB links of their own content.
After a closer look at the notices sent on behalf of reputed companies such as National Geographic, Columbia Pictures and Sony Pictures Television, it is found by TorrentFreak that there is a bug in the monitoring system.
These notices contain the original links to the content which are the corresponding IMDb links most of the times and the links that are hosting pirated content. The bug that has affected the system is automatically filling in the IMDB link in the 'Infringing Content' link when no pirated links are not found.
Below is a good notice with the original link and infringing URLs.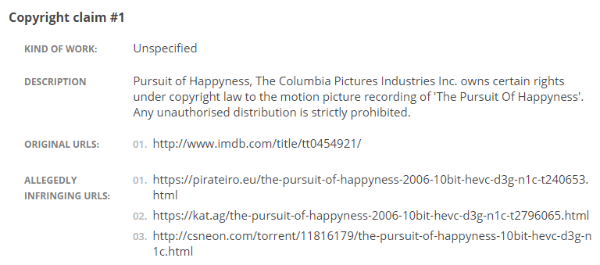 And here is a notification generated by the bug accusing IMDB of infringing content.

This bug has made situations rather embarrassing for big names of the industry as accusing a website that is running for more than 27 years is not a joke. No workaround has been found for the bug as of now after several weeks of Google receiving notices for removing IMDb links.
In the meantime, Google has whitelisted IMDb, and no action will be taken on the reported links. The bug still poses a challenge for other sites which are hosting the original content but are being reported due to the bug in the system.