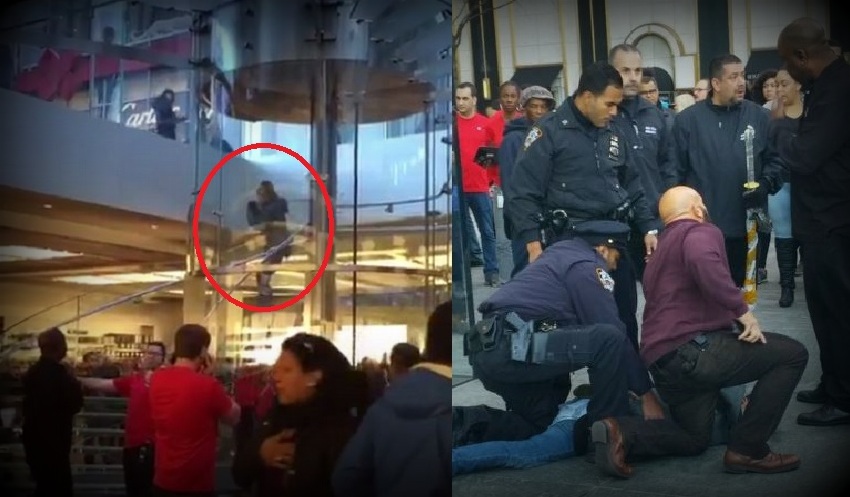 Short Bytes: A man has been arrested from an Apple Store after he entered the Store with a samurai sword and flashed it multiple times. According to the witnesses, he didn't harm anyone and yelled some words repeatedly.
O
n Friday afternoon, a man with a sword walked into the Fifth Avenue Apple Store in New York City. According to the witnesses, he yelled "I just want an iPhone" and flashed his samurai sword.
The unidentified man was wearing a grey jacket, a bucket cap, and brandished a unsheathed sword. The man didn't threaten anyone but he flashed his sword repeatedly on the Store's spiral staircase.
Later, an Apple Store employee, who wishes to remain anonymous, said that the man yelled "I just want an iPhone!". The employee called it pretty scary.
Man armed with a sword arrested at #applestore #nyc #breakingnews pic.twitter.com/qljjB1d5L5

— Boris (@borisrio) November 20, 2015
It should be noted that the man did not threaten any customer or staff. Later he was restrained by police outside the Apple Store. According to another witness, "the blade must have been two feet, curved, shining."
@FoxNews man pulls sword at Apple Store pic.twitter.com/sA7lXDUUuN — Keith Davis (@rkeithdavis) November 20, 2015
The man was then taken to Bellevue Hospital in stable condition, where his mental condition is being assessed, according to police.