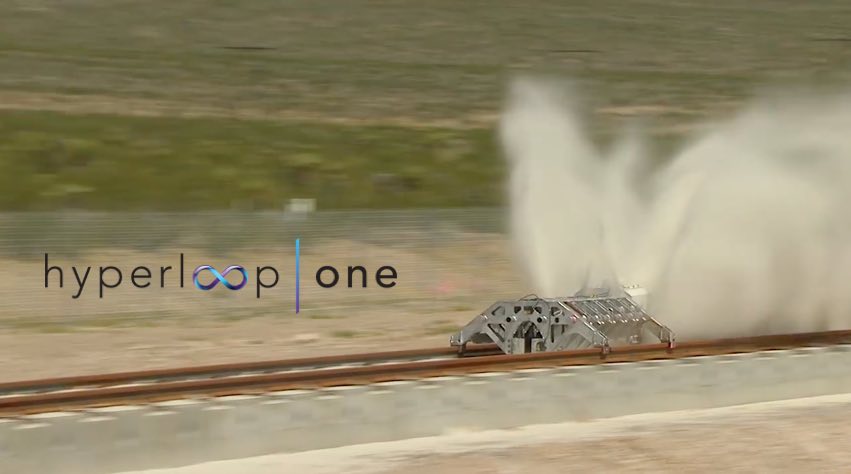 Short Bytes: In the Nevada desert, Hyperloop One, a futuristic transportation system successfully completed its first public testing. It attained the speed of 300mph in just 2 seconds and also got a lot of partnerships and a series B funding of $80 million. 
I
n the Nevada desert, north of Las Vegas, Hyperloop completed its first successful public testing of its prototype design.
Hyperloop is an Elon Musk's concept who is famous for his futuristic products like Tesla and SpaceX. The Hyperloop is a conceptual high-speed transportation system designed by Elon Musk. Using reduced-pressure tubes, he wants to provide pressurized capsules ride on an air cushion driven by linear induction motors and air compressors.
However, this prototype test was conducted on the older technology which included railroad tracks, heavy steel sled, and no levitation, instead, actual wheels were used in testing. But later in the full-scale testing, levitation might also be used.
Even with so much of environmental factors, the prototype was able to push to nearly 300mph in a span of around two seconds. According to Hyperloop CTO Brogan BamBrogan, Hyperloop can easily attain the speed of 800mph and can also easily cruise at 750mph.
According to him, even though attaining so much of acceleration would not give passengers a discomfort rather it would more be like an airplane takeoff.
After the prototype testing, Hyperloop One also announced that it has got a funding of $80 million in the second round of financing. Besides funding, it has also got a number of partnerships with global leaders in industries like transportation, engineering, architecture, passenger and freight economics, and tunneling.
The future seems bright but we will have to wait and see in the final testing where speed and safety testing is not just performed on a conventional platform.
Here is a short video of the testing:
Also Read: What Is Hyperloop? Ultra High-speed Transport Faster than Speed of Sound