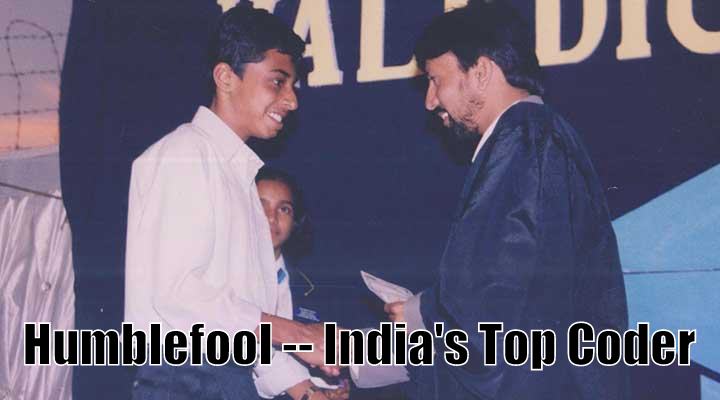 Short Bytes: Harsha Suryanarayana (humblefool) was a computer science graduate known for his programming skills, intelligence, and nature. He was an acclaimed name in the coding community and a top-ranking performer in the Google Code Jam, ACM ICPC, and a red on TC. In 2014, he was hit by a speeding car which resulted in his sad demise.
I
t was June 15, 2014, when it was reported that a techie and his wife were victims of a hit-and-run case in Bangalore. The techie was Harsha Suryanarayana, then aged 32, who took his last breath on that day. The couple was walking towards their apartment when the incident happened. His wife was declared out of danger.
Harsha, an IIIT Allahabad Alumnus, was more popular by his username Humblefool. At college, he was well-liked and respected. His close connections and acquaintances used to call him Lord Harsha. One time, tens of people literally bowed in front of him. Pavani Lanka, who studied at IIIT Allahabad, recalled the incident.
"I believe I was in my 3rd semester, there was some tech fest at my college IIIT Allahabad and Harsha was on the stage talking something, I was busy organizing something, so I couldn't hear what he was saying (my bad luck, I should have paid attention)," Pavani wrote in a quora post.
By that time, Harsha had become an admired figure and well acknowledged for this programming skills among the students including Pavani. "Around 50 of them from all the batches stood up from their seats came in front of the stage and bowed down to him on their knees and people who were doing this increased in number slowly until he got down from the stage. This summarizes what he is! That day I realized what he is."
Harsha graduated in 2006, but unlike the regular Indian engineering breed, he didn't go for a fat paycheck in an MNC like Microsoft or Amazon. Instead, he returned to his college and helped his juniors prepare for the ACM ICPC, an international level coding competition. Once, he himself represented India in the ACM ICPC world finals. He was an avid competitive coder – a red on Top Coder – and worked on to improve his dynamic programming skills.
"He has chosen to go to heaven because God needed a genius programmer there."
He founded three startups. MyCodeSchool, inspired by Khan Academy, was one of the three which he co-founded with his friend Animesh Nayan. In 2014, Lokesh Khandelwal joined MyCodeSchool for a 15-day internship in May-June 2014. Lokesh wrote about Harsha's conversation with Animesh, probably the last one.
Animesh: "If we can make some money, we can help more people."
Harsha: "Maybe, we can enable 1000 people to help others."
Lokesh describes Harsha as a man who worked for his passion and who was crystal clear with his thoughts. His wife worked at Google and he could have easily got there too but he didn't. "You do not need too much to live. It's all the social conditioning that makes you desire a big job and a fat salary. You can live with less and be free," Lokesh wrote what Harsha used to say.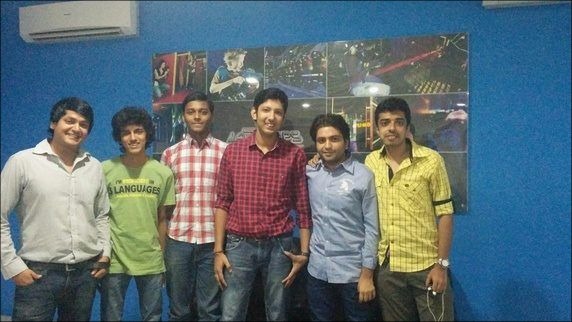 He was known for his social ethics which could be observed in his day to day activities like driving. "He never honked, always let the pedestrians pass first, even in heavy traffic or running late. It is indeed tragic that he met his end in a hit-and-run accident on Jun 15, 2014." wrote Lokendra Kaushik on Facebook, a close friend of Lord Harsha.
"It left me with the memories of how we used to run and cross the road even in absence of any traffic because it theoretically "minimized the probability" of our meeting an accident by a fast moving vehicle. You will be sorely missed by your friends Harsha!"
It's hard to incorporate all the eulogies and experiences people have written about Harsha Suryanarayana. He was one of the best coders India has produced. Top Coder remembered their gem by dedicating SRM (Single Round Match) 625 in the name of humblefool.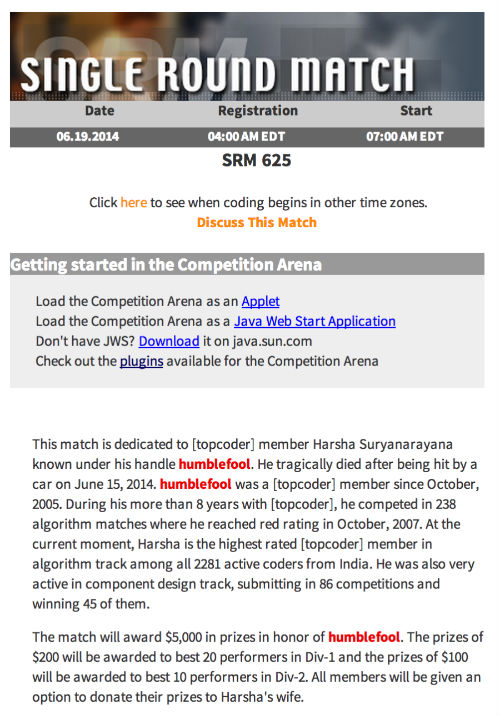 Source: YourStory
If you have something to add, tell us in the comments below.
Also Read: 10 Signs That Show There's A Hidden Coder Inside You