Around 4pm on Friday, Humans of New York Blogger Brandon Stanton posted a couple of lines on his Facebook page, "For those of you in Delhi who want to say hello, I'll be in Central Park, Connaught Place at 6pm." This post by Stanton on his page resulted in a crowd of more than a thousand people within an hour.
Photographer and blogger Brandon Stanton was in Delhi on Friday and there he met 'Humans of Delhi.' His Facebook page alone has 9.6 million followers and he has also released a book by the same name in 2013.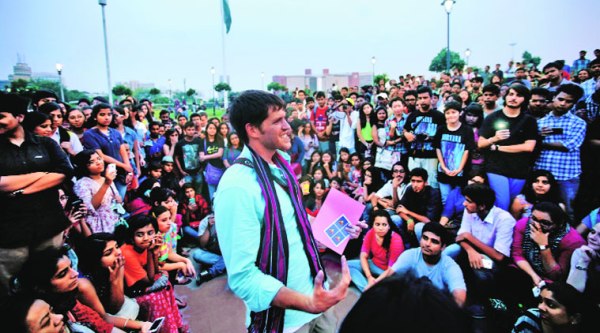 He is visiting India as part of a 50-day world tour of 11 countries in partnership with the United Nations. He has already travelled to Iraq, Jordan, South Sudan, Democratic Republic of Congo, Kenya and Ukraine. Stanton has been in India for some days and has been posting photos from Jammu, Delhi and other parks of North India on his blog, Instagram account and Facebook page.
Demonstrating how to approach people for photos, he picked up a girl from the audience and says, "Never approach anyone from behind. You have to be as non-threatening to strangers on the road as possible."
In response to the question, "What is your advice to a big group of people?" he says, "Do not wait for perfect. If you have a dream or an idea, do not wait until it looks perfect in your heart."
Here are some of the pictures and stories shared by him on his website and Facebook page:
"The second date is going much better than the first one." (New Delhi, India) "We're praying for the souls of our ancestors." (Jammu, India) He told me that he could look at anyone's face, and tell them exactly what they need in life. I asked him to give me a try. He studied my face, looked up at the sky for a few seconds, then said: "You don't need anything." (Jammu, India)
"What's your biggest dream for your child?" "We'll let him dream for himself." (New Delhi, India)
"Some people still prefer the arranged marriage, especially in the countryside where tradition is still strong. The thought is that your parents know you very well, and will make the decision based on experience and not emotion. The divorce rate with arranged marriages is lower, because both families are heavily involved and there are many people committed to making the match work. But the tradition is on the way out. It used to be that you didn't even see your wife until your wedding day, and you fell in love after your wedding, as you learned to support and care for each other. But today there's Whatsapp and Facebook, so keeping two people apart is almost impossible. 'Love marriages' are becoming much more popular than arranged marriages, and even arranged marriages involve much more interaction than they used to. Many families still choose to uphold the appearance of an arrangement. Their children will come to them and say: 'I fell in love.' And they'll say: 'OK, let us arrange it.'" (Jammu, India) At an Indian wedding, the bride has a tough act to follow… (Jammu, India) "He's very naughty. He won't play with his toys. He only plays with his kitchen utensils." (Amritsar, India) "If you could give one piece of advice to a large group of people, what would it be?" "If you feed your children with food earned from corruption, they will be corrupt. If you feed your children with food earned from honesty, they will be honest." (Dharamsala, India) "I've been overweight all my life. But I broke up with my boyfriend last year, and things weren't going well, so it got worse and worse. I'd try to diet, but I'd eat something that I wasn't supposed to. I'd try to go to the gym, but I'd leave early. I was trying to lose weight because I felt like I needed to be a different person. But time has passed now, and I think I'm approaching weight loss with a much more positive attitude. I know that I can be happy without losing weight. Sure, I wish I could wear prettier clothes. I wish I could take a photograph without my face looking like a football. But I know that I'm not my weight. And it's hard to come to that conclusion. You really have to battle to separate your self-image from your weight. Because weight is always the first thing that somebody sees. Somebody will see you after a few years, and their first comment is about the weight you've put on. Maybe I've become a better person these last few years. Maybe I've been a great friend to someone. Maybe I've read a lot of books and become smarter. Maybe the reason I've put on weight is that I've got a great job that can be stressful and doesn't leave me time to go to the gym." (New Delhi, India) "My father was very simple, but everyone respected him. The former president of India came to his funeral, even though we weren't a wealthy or powerful family. Everyone saw my father as a peacemaker. Whenever there was a fight, he'd put himself in the middle and beg for it to stop. Once there were two groups of men fighting, and my father ran over to break up the fight. Someone threw a stone and it accidentally hit my father in the head. He was so respected, that as soon as the stone hit him, everyone went calm." (New Delhi, India) "I don't have any dreams. What's the point? I'm poor. I don't have any skills. I wash the utensils in the kitchen– that's what I do. But I like the girls I work with. We make fun together. I tell jokes. They tell jokes. I'm happy– it's in my nature." (New Delhi, India)
Note: All pictures and stories are © Humans of New York
To see more pictures from the event, visit thedelhiwalla.com