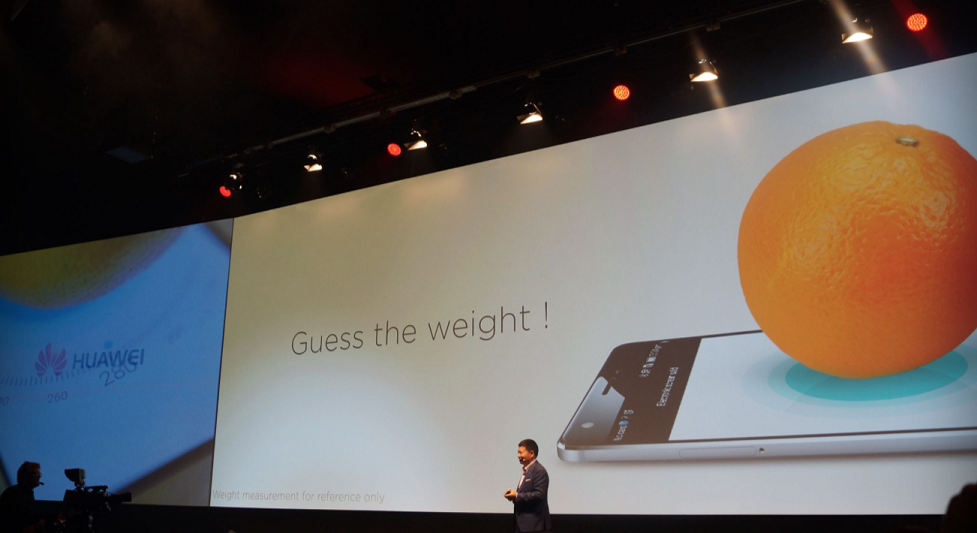 Short Bytes: Huawei, at the IFA international radio exhibition at Berlin displayed its new Mate S smartphone that could weigh small objects on its screen. We are not sure if this is an improvised version of Apple's Force Touch technology or Huawei just trolled Apple with its orange.
A
pple is big on innovations and is keen to show them at its
iPhone launch event
on September 9. The company is set to put in the
best features
in its gadgets including some of the most anticipated one's like the Force Touch.
But as the world awaits the Apple event, Chinese smartphone giant Huawei did something even more spectacular. At IFA, the international radio exhibition held at Berlin, Huawei took a page out of Apple's Force Touch technology (pressure sensitive technology) and took it to new levels as it weighed an orange on its new Mate S smartphone screen.
Force Touch is a feature first unveiled by Apple in its Apple Watch in September last year. After that, the feature was successfully integrated in its thinnest ever MacBooks.
Huawei clearly trolled Apple with its new devised application of weighing small objects by executing slight tweaks in the original technology. The technology, as Huawei displayed can be used in different ways and further improvised to create even better applications.
The orange weighed 280 gms by the way. However, there is an ambiguity regarding the maximum weight that the Mate S screen can handle before cracking.
Huawei's Mate S comes with a 7.2 mm thick 5.5-inch screen designed to withstand sufficient pressure. Mate S also features the Knuckle Control 2.0 technology aiming for a better user interaction like quick app launch features , a 13-megapixel rear camera with optical image stabiliser and dual-LED flash, and a special 8-megapixel front camera with soft front light for the selfie lovers.
Huawei has not revealed the price and the date of release of its Mate S as of yet. With the new features, Huawei is keen on giving a head on competition to its rivals in the US market.
Did you like Huawei's new feature? Tell us in comments below.