After getting banned from using Google's services on its devices, Huawei has been working on several alternatives, from App Gallery, a Play Store alternative, to an entirely separate O.S. known as HarmonyOS.
Reportedly, the Chinese tech gaint has been also testing a new dedicated search app that will fill the gap for the missing Google app on Huawei devices.
Huawei Search app
Last week, Huawei rolled out a Search App beta program for its UAE users, and an XDA developer managed to run it on his Mate 30 Pro.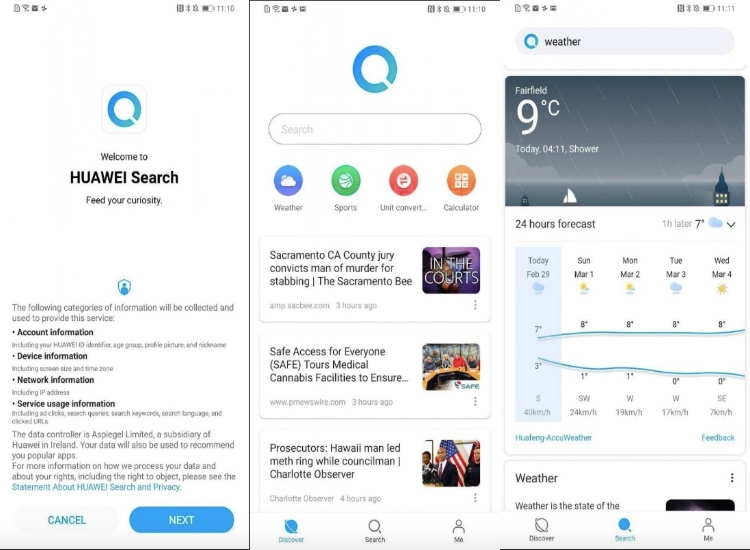 At present, the search app from Huawei is rudimentary, when compared to the Google App. In other words, there are no added features other than basic web searches. On the other hand, Google App is an amalgamation of Google Assistant, Google Lens, and several other Google services.
However, the app does support EMIU 10 dark theme. Also, there are shortcuts at the landing page, such as weather, calculator, sports, and unit conversions.
Apart from that, the Huawei search app includes the usual settings options — toggle search history, toggle safe search, change search region, change language, and a few more.
According to XDA, the search app from Huawei is powered by Aspiegel Limited — a Huawei subsidiary based in Ireland that manages the tech giant's mobile software services.
For now, the Huawei Search App appears to be a decent search app for trying out once, but not enough to replace the Google app. However, given the circumstances, Huawei might evolve it into a good Google app alternative.
Following Huawei's ban in the U.S., the Chinese smartphone maker has been on the U.S. Commerce Department's Entity List, which prevents Huawei from running Google services on its devices.