In response to UL Benchmark banning Huawei devices from their benchmark list, Huawei has rolled out a statement saying it will introduce a new feature called "performance mode" in their next EMUI 9 update.
Earlier, AnandTech discovered that Huawei loaded a mechanism on their phones for detecting benchmark apps. The tool introduced misleading benchmark results via boosting SoC power limits.
Reportedly, this prompted a massive backlash from Huawei users and developers. Following which, UL Benchmark, who owns 3DMark, officially banned Huawei and Honor devices from its benchmark app. The ban includes smartphones like Huawei P20 Pro, P20, Nova 3, and Honor Play.
Apparently, UL benchmark performed their own testing and found misleading results as well. The company used two different version of 3DMark – One which is available on the Play Store and a private version.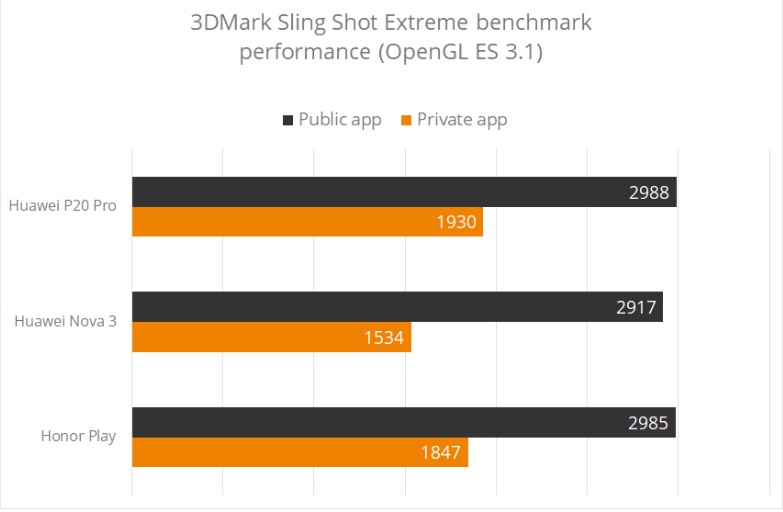 Even though the UL benchmark used identical tests, the performance results were 47 percent higher in the Play Store app than the testing app. According to the company: "This kind of detection and optimization is forbidden by our rules for manufacturers."
In the statement, Huawei said its innovative device use "artificial intelligent resource scheduling mechanism" which basically means their AI boost device's power whenever it seems fit. In this case, according to them, those were the benchmark apps.
If this "performance mode" does, in fact, see the light of the day, it would undoubtedly take a toll on Huawei devices battery and efficiency. So, it'll be interesting to see the real-life implications of Huawei's performance mode.