In the 'biggest update to Google Earth since 2017,' Google has added the new Timelapse feature. Timelapse in Google Earth combines 24 million satellite photos from the past 37 years to make a 4D interactive model. As the name suggests, the Google Earth Timelapse feature lets you go through a timelapse of how things have changed over the years.
Timelapse in Google Earth consists of photos taken from 1984 to 2020, which equals 20 petabytes (1 Petabyte is one million gigabytes) of satellite images. Google took these pictures and stitched them into a 4.4 terapixel video. The company says that this entire video is equivalent to over 5 million 4K resolution videos. That said, Google is also calling Timelapse on Google Earth the largest video on the planet.
In its blog post, the company has also promised annual updates to Google Earth for the next decade. You can use Google Timelapse to see how the planet has changed over the last 40 years.
How To Watch Timelapse In Google Earth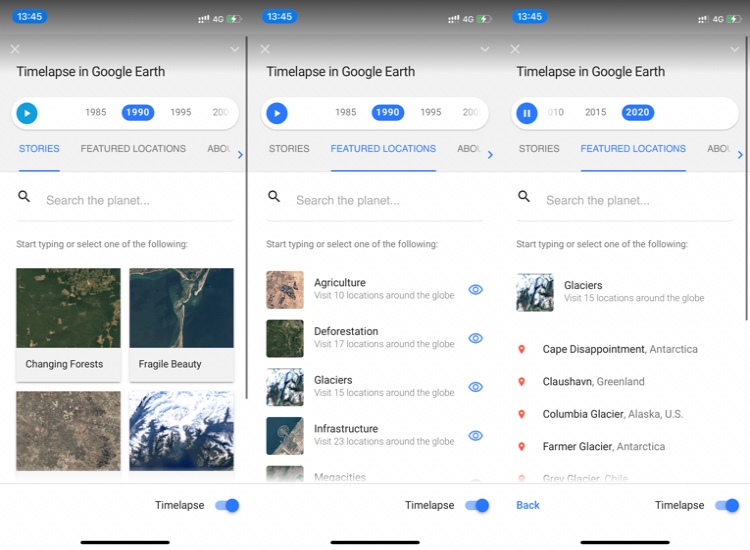 It is easy to watch Timelapse in Google Earth. Just go to the Timelapse website, and Google Earth will load it. You can also access it through the steering wheel or 'voyager' icon in Google Earth. There are two ways to explore Timelapse. The first way is to click on the 'Story' tab, choose from the given options, and start navigating through a series of videos on the same theme.
Another way is to tap on the 'FEATURED LOCATIONS' tab and choose the place that you want to see change. You can choose from 10 different themes, which are expected to increase in the future. You can play or pause Timelapse on Earth and can also jump to a specific year by clicking on the timeline in the navigation pane on the right side.
Beautifully Daunting
After seeing some of the videos in Google Earth, that's how I perceive the feature. Seeing 40 years of change in 60 seconds makes you wonder how beautifully some parts of the planet have evolved. For instance, the development of agriculture in the Al Jowf desert looks amazing.
On the contrary, the meltdown of the Columbia glacier will prove that global warming and climate change are no joke. Timelapse is definitely an amazing feature with a lot of potential. It can be put to good use to understand the shifts we've had in the past and to make better ones in the future. I believe there were some people who already had access to such imagery, but Google Earth just put it in everyone's reach, which means more people can see it and educate themselves on the changes in our planet.