The upcoming series Ray is expected to do wonders with its profound starcast and well-versed plot. The series would focus on multiple storylines by Satyajit Ray.
If you wonder where to watch this thrilling new Netflix series, you are stumbled upon in the correct place. Naturally, it already has fans on the edge of its seats. But when will these thrilling series be unveiled? Today, we will shed some light on the Ray Netflix series.
Ray Netflix Season 1 Release Date
The trailer for this ensemble of top OTT actors like Ali Fazal, Kay Kay Menon, and Manoj Bajpayee was revealed on June 08, 2021. Just taking a look at the trailer ignited the excitement among fans for the release of this series.
The wait is almost over, as Ray will be released on June 25, 2021. The series will be released at the usual time of 12:00 AM Pacific Time (PT) or 12:30 PM Indian Standard Time (IST).
Where to Watch Ray online?
You will be able to catch the action of the Ray series on Netflix once it's unveiled on Friday. Make sure to book the date, and you can head over to the Netflix page from right here.
Can I watch Ray on Netflix for free?
As of now, there is no way to watch Netflix originals without a subscription. But what you can do is rely on your network providers' offers to get a Netflix subscription without spending any extra money.
You can also avail Jio's postpaid plans that start at Rs 399 to enjoy a free subscription of OTT platforms such as Netflix, Amazon Prime, etc. JioFiber broadband plans starting at Rs 999 will also allow you to get your hands on a Netflix subscription.
What do you get in Ray Netflix Season 1?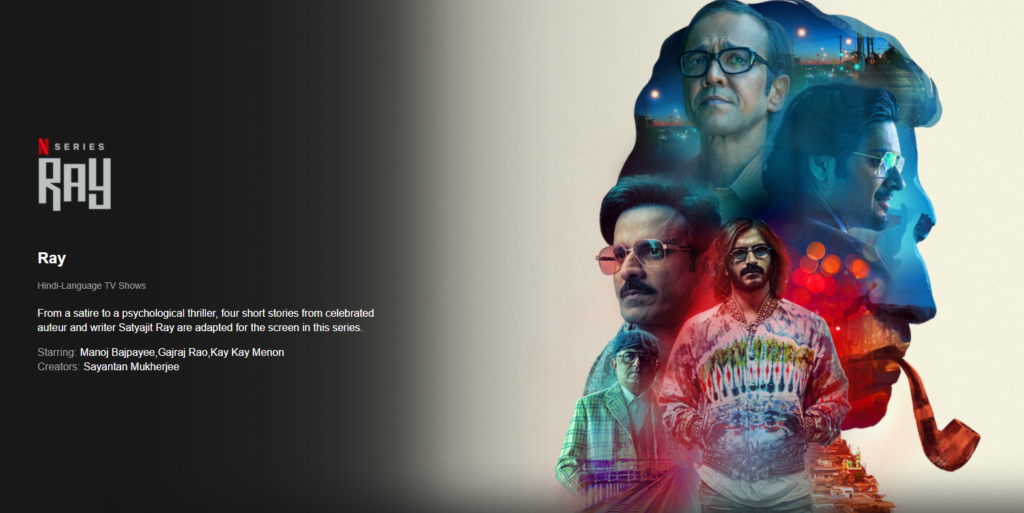 Ray will be based on four short stories by renowned writer Satyajit Ray. It is the perfect option for someone looking to indulge in a psychological thriller. Moreover, the star-studded cast will add another flavor to the stories.
However, you still have to wait until Friday to get a chance to watch this series. Until then, you can check out a few more titles like Jagame Thandiram, Manifest, and Loki.
Ray Netflix FAQ
How many episodes are there in Ray Season 1?
The series will feature four episodes and all episodes will be available to stream on June 25, 2021.
Who is the creator of Ray?
The show is created by Sayantan Mukherjee, who is known for his work in Red Panty and Akash ongshoto meghla.