We often have those days when slacking around is the only thing we want to do. Not that I am doing it (bosses, I assure you!) There are times when work takes a toll on us and we need to relax without our bosses knowing it. To solve this issue with wit, we have a new Chrome extension to do the job.
Developed by digital marketing firm Mschf, the new Chrome extension called Netflix Hangouts will allow you to watch Netflix during work hours, without your fellow co-workers or bosses knowing about it.
Netflix Hangouts basically opens up a conference call interface that gives people the impression that you are probably on a video call, trying to crack difficult deals. But it actually runs Netflix on your screen in a smaller window. 
So while your bosses think that you are working hard, in reality, you are either binge-watching the latest Stranger Things season 3 or maybe lighter and funny series such as The Office. This doesn't mean you can't go on watching the rom-coms you love.
All you have to do is head to Netflix and tap on the Netflix Hangouts extension that will be placed next to the search bar, and now you just have to begin watching.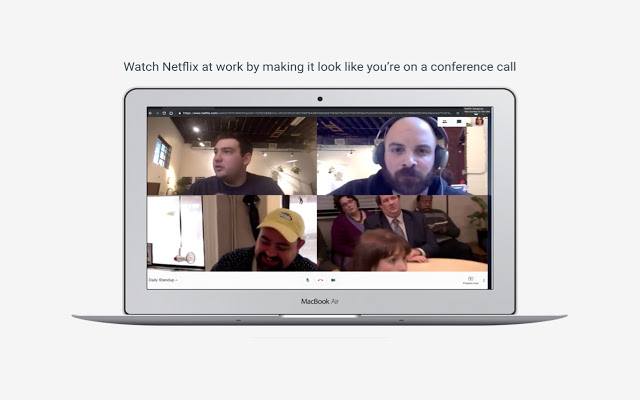 So, you are safe with this Chrome extension until someone passing by takes a better look at your screen and gets you busted. 
Nonetheless, it is still a useful tool for all the fun you need at work for days when everything is boring and those 15 cups of coffee also did not help.
You can download the Netflix Hangouts Chrome extension here.
In addition to this, you can check out our article on how to watch Netflix for free, if you don't have a subscription!