Google Docs is one of the best free word processors out there in the market. The fact that it's free to use and integrates better with your smartphone makes it a worthy choice for many users.
However, there is one feature that can be considered both its positive and negative aspect. Google Docs requires an internet connection to work and keep your data synced all the time. But there could be times when your internet connection goes down, or you might want to use Google Docs from remote locations.
Making the situation worse, if your internet gets disconnected while you're editing a document, Docs won't let you edit it further until the connection starts working again. That's when you might think about ways to use Google Docs offline. Thankfully, you don't need to search for long.
How to use Google Docs offline without internet?
To help the users in need, Google Docs comes with an offline mode that lets you edit documents without an internet connection. However, to use it, you have to do some homework in advance while you're connected to the internet over WiFi or cellular data.
Follow the steps mentioned below:
Open Google Docs in your web browser.
Click on the hamburger menu button on the left-hand side.
It'll take a while for Google Docs offline mode to set up.
After that, you can open the documents you want to edit. When there is no internet, the document files in the list appear as a list instead of thumbnails.
In the offline mode, you can only edit the documents that are highlighted in bold. The faded ones might be "view only," or their data isn't synced to your computer.
Other ways to enable offline editing in Google Docs
Alternatively, you can click the Turn On option in the notification that appears after the internet gets disconnected.

Next, click on Turn on offline access. The offline mode will be automatically enabled after the internet becomes active again.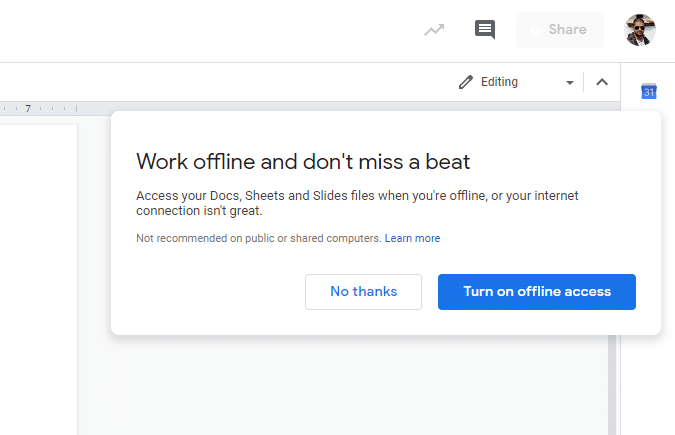 Offline mode works in Google Docs, Sheets, Slides
You'll notice that offline mode will be automatically enabled in Google Sheets and Google Slides. Also, you can access their documents in your Google Drive as well. This also means you can follow the same steps in any of these apps to turn on the offline mode.