G
one are the days when we shared files using USB drives and hard disks. With the increase in the overall internet speed and access all across the globe, cloud storage has become a cooler and more viable option. This has also given rise to multiple online sharing websites that make your jobs easier.
Even though such file sharing websites have a limit on storage, they are handy for instant sharing. In the past, we've also prepared a list of best online file sharing websites. A new file-sharing recently popped up on the horizon recently, thanks to the open source-loving folks at Mozilla. Named Firefox Send, this new service could be seen as a part of Mozilla's ongoing effort towards building a newer, faster, and more efficient web browser. Before telling you how to use Firefox Send, let's tell you its features —
What is Firefox Send? Why use it?
Firefox Send is a new experimental feature launched by Mozilla in the first week of August 2017. Mozilla has worked to make Send a no-nonsense tool that just works. Some people have also called it the Snapchat of file-sharing. While this analogy might not seem fitting to many, it's amusing.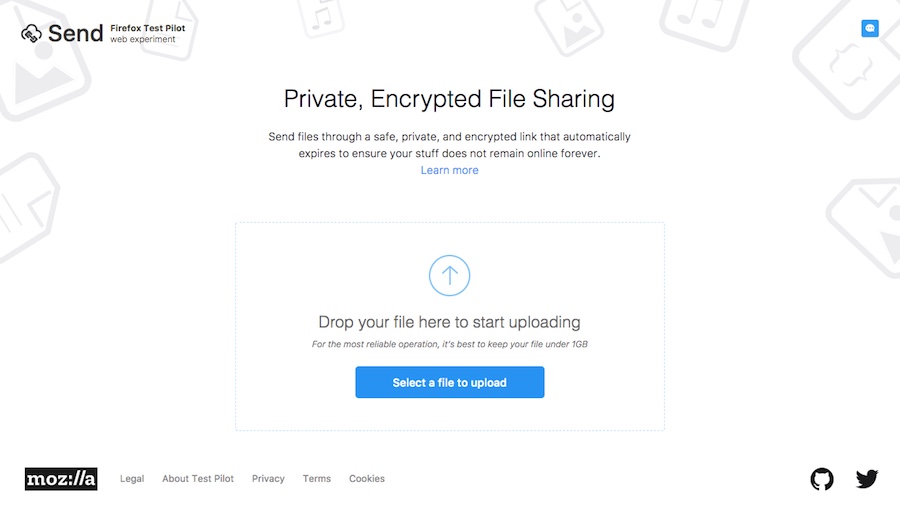 A lot of stress has been put to make sure that your data is secure while being transferred to another person. That's why the link that is used to send the file works only once. The file is encrypted and destroyed immediately after it has been downloaded. The file is also automatically removed from the Mozilla servers after 24 hours even if the receiver hasn't downloaded it. Hence, no traces are left.
Mozilla is a reputable name when it comes to online privacy and security, so you can trust them with your data. You can use Firefox Send to share a file as large as 1GB with your friends and family with ease.
How to use Firefox Send to share files securely?
Imagine the easiest online too that you can imagine and Firefox Send will be right there to compete. This free to use tool isn't just limited to Firefox–it can be used on Chrome, Safari, and other modern browsers as well. Send doesn't need any add-on to work.
Follow these simple steps to know how to use Firefox Send to share data:
1. You need to open your web browser and visit send.firefox.com. It'll show a neat and clean interface without extra fuss.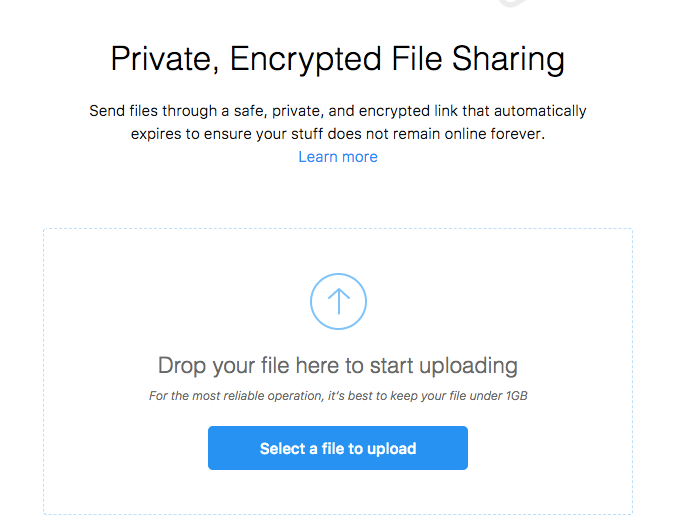 2. You'll easily spot the "Select a file to upload" button in the middle. You can click on this button to select the file to be uploaded or simply drag-and-drop it in the specified rectangular area.
3. As soon as you'll select the file, the upload will start. You'll also see the name of the file written in bold letters, so don't forget to double check that you're sending the wrong file.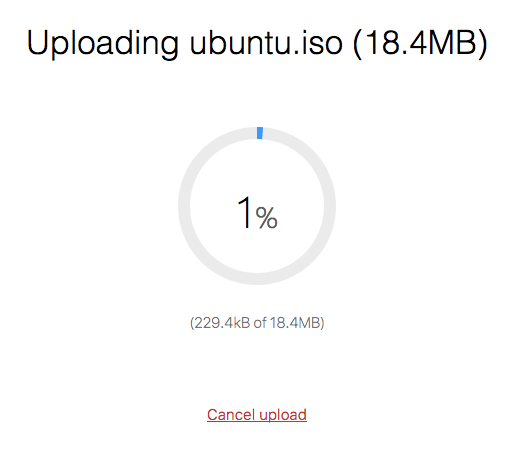 4. Once the upload is completed, you'll get a link. You can copy it to the clipboard with a single click and share it to the receiver. Just in case you change your mind, you can also delete this file instantly.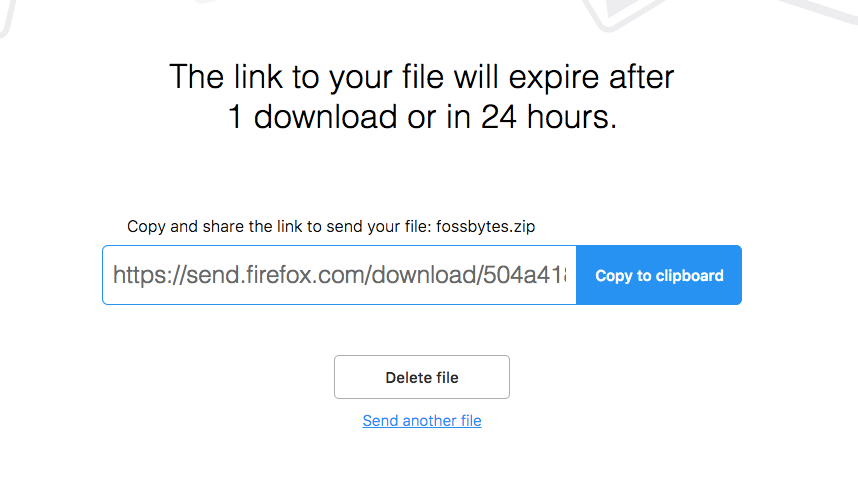 5. Here's how file will look to the receiver —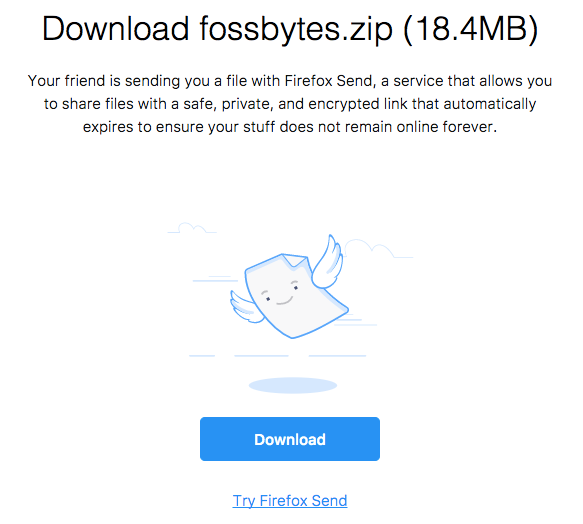 5. You can visit send.firefox.com again in the same web browser to find the uploaded file link and the expiry time. Let's suppose you've sent the file link but you wish to undo the action, in that case, you can delete the file from your end from this dashboard.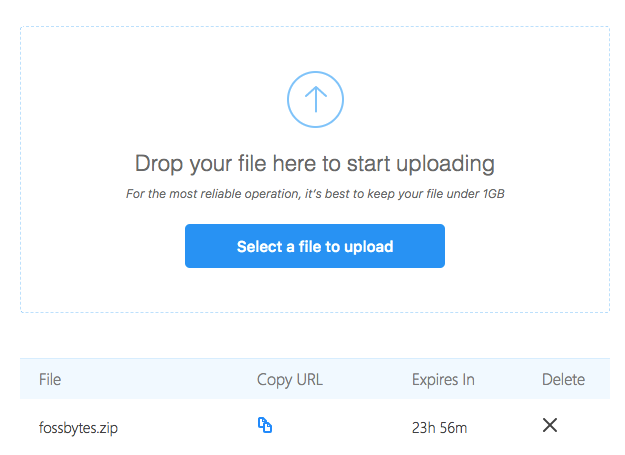 6. Here's what the receiver will see if the file is deleted or the link has expired —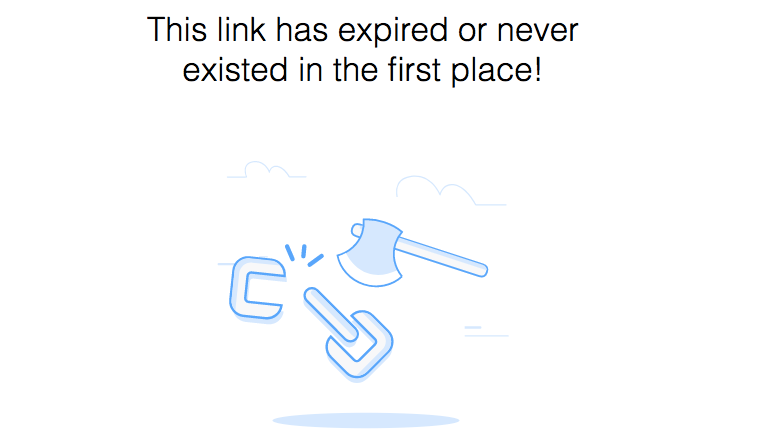 This was all about how to use Firefox Send. Don't forget to try it out and share your views with us.