On December 10, CD Projekt Red finally released the most-awaited video game title of 2020, Cyberpunk 2077. The first-person game is available for PC, Xbox One, PS4, Xbox Series X/S, PS5, and Google Stadia. Understandably, as soon as the game came out, several players started reported an incredible amount of glitches, especially in old-gen consoles. However, if you're a PC player who isn't satisfied with the performance of Cyberpunk 2077 on your system, then there's a solution.
Apparently, Nvidia released a new driver update, and CD Projekt Red recommends updating your drivers before jumping into Cyberpunk 2077. So, if you're wondering how to update your Nvidia Driver for a greater gaming experience with 'Cyberpunk 2077,' then go ahead and read the entire article.
What Cyberpunk 2077 GeForce Game Ready Driver Offers?
The new Nvidia GeForce Game Ready Driver brings support for Ray Tracing and performance-accelerating NVIDIA DLSS tech in Cyberpunk 2077 and Minecraft RTX. So, depending on your graphic card, resolution, and configuration, you might see up to a 60% boost in frame rates. So, you could understand why CD Projekt Red recommends installing the latest driver for a "definitive experience" with Cyberpunk 2077.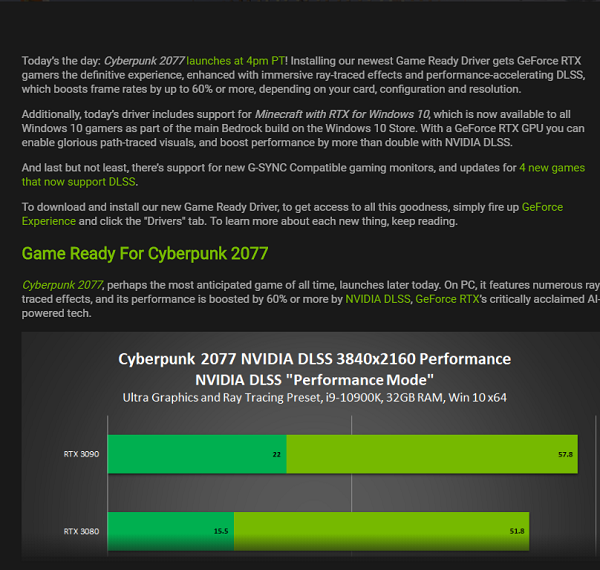 Update GeForce Game Ready Driver
Follow these simple steps to download and install the latest Nvidia driver update:
First, launch GeForce Experience using the System tray.

Now, scan for the latest driver by clicking on 'Check for Updates.'
You'll see GeForce Game Ready Driver (Version 460.79). Click on Download.

Note: If you don't see the driver after the scan, you might have already installed the latest drivers.
After the download is complete, install the driver.

Now, you'll see a considerable improvement in Cyberpunk 2077 frame rates. So, launch the game and enjoy its brilliance.
Also, you can download the latest driver manually by visiting NVIDIA's official website. There, you'll have to put in details like Product Type, Product Series, Operating System, etc., to download the driver.