Call of Duty Mobile introduced so much new content in Season 6 that players are still busy exploring.
There are two new small multiplayer maps, Rust and Saloon, which received an enormous amount of love from players. Recently, the Call of Duty Mobile also released a brand new Battle Royale Class, 'Poltergeist.'
Poltergeist is one of the most amazing Battle Royale class in Call of Duty Mobile. It allows players to go invisible for a few seconds, which means they can easily sneak up on their enemies to surprise them. 
However, a lot of Call of Duty Mobile players don't know how to unlock this fantastic Battle Royale Class. Well, if you're one of those players, then don't worry, because we'll guide you through everything.
Unlock Poltergeist Battle Royale Class in Call of Duty Mobile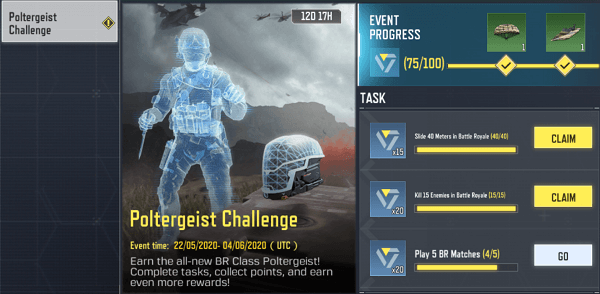 To unlock Poltergeist, you have to finish the new 'Poltergeist challenge' before 4 June 2020. Here are the tasks you have to perform in order to complete the challenge:
Play FIVE Battle Royale matches.

Kill 15 enemies in Battle Royale

Slide 40 meters in Battle Royale

Travel 300 meters with any vehicle in Battle Royale

Survive in Battle Royale for 20 minutes.

Finish in top 15 in Battle Royale Twice

Use class skill FOUR times in Battle Royale matches.
Claim Task Points To Get Poltergeist BR Class
Once you've completed all the tasks in Poltergeist Challenge, claim your task points to unlock the Poltergeist BR class. You can do that by following these steps:
Launch Call of Duty Mobile, and on the Main menu, click on the 'EVENT' option.


Go to COD Mobile events.

Now, go to the 'FEATURED' event.


Go to Featured events.
Once you have collected all the points, the Poltergeist BR class will unlock. You can cross-check by going to your Battle Royale Loadout.
If Poltergeist Challenge tasks are pending, then make sure to complete them before 4-6-2020, because that's when Poltergeist Challenge will end. Finishing all the tasks might feel like a chore, but know that unlocking the Poltergeist class is a once in a lifetime opportunity.