When it comes to privacy features, Facebook probably has gone where no company has gone before. It includes unchartered territories like asking people's naked pictures to help victims of revenge porn. Now, Facebook has introduced another privacy feature that can tell whether someone has uploaded your photo to Facebook's network.
Although it was first announced in December last year, recently the company has reached out Facebook users through their News Feed, notifying them that the face recognition system is being used "for more features."
Analyzing people's faces and storing them has its benefits. For instance, people can know if someone has uploaded their picture, regardless of whether they're tagged in it or not. Also, Facebook could tell you whether a stranger is using your photo as their profile picture and help visually impaired users identify people in photographs.
Um, no thanks, @facebook. I wonder how long this will be opt-in. pic.twitter.com/ek5kDzOOsF

— Walt Mossberg (@waltmossberg) February 27, 2018
Facebook doesn't store people's images directly; it creates a blueprint or faceprint of the face. The faceprint is somewhat unique because every human face has a unique design with different noes, eyes, jawline, etc.
While the use of face recognition seems to be helpful and would decrease unauthorized image uploads, still, it's a tradeoff between privacy and comfort. Facebook has been using face recognition to tag people in images for years. Maybe, after having anxiety for some time, many people wouldn't have much problem accepting the latest changes Also, it's currently opt-in and you can Turn off Facebook face recognition.
The massive amounts of biometric data that Facebook will feed its machine learning systems has sparked concerns. Perhaps, it's not what it appears from the crust. Moreover, the social network is also fighting legal battles focused on the face recognition itself.
However, the news feed also includes a vital piece of information. It tells how the face recognition can be turned off. Facebook says that the feature is 'Off' by default, but if you have enabled 'tag suggestions' feature, then it will be set to 'On.' You can turn it off anyway.
How to turn off Facebook's Face Recognition?
To turn off Facebook's face recognition on your Android, go to Settings > Account Settings > Face Recognition Settings. There tap "Do you want Facebook to be able to recognize you in photos and videos?" options. Choose 'No' to disable the feature.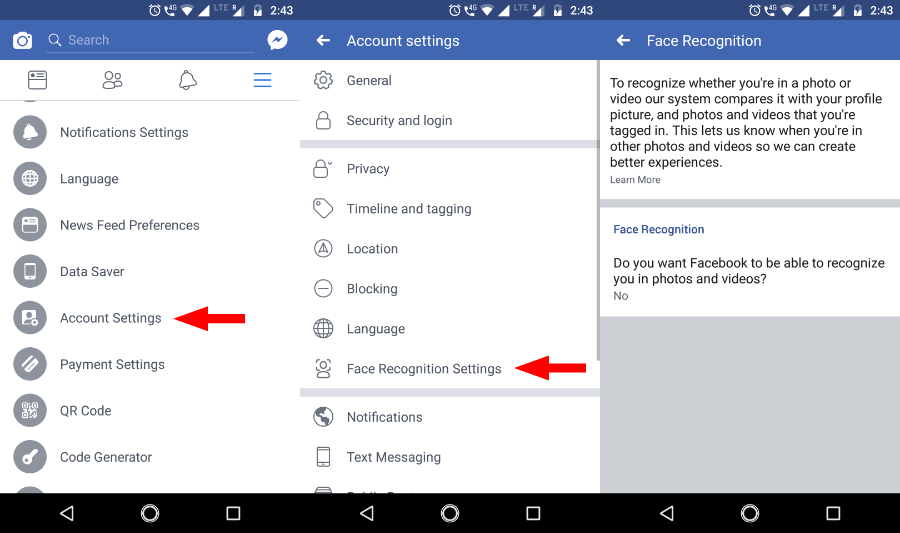 On Desktop, visit, Settings > Face Recognition. There click the same option and disable face recognition. It's a one time process to turn off Facebook face recognition. You disable it on one device, and the setting is applied to your Facebook account.

What are your views on this change? Share your views with us and keep reading Fossbytes.